As The Wirral hosted its biggest gig for many a year, Getintothis' Jake Marley sees signs of progression in The Sundowners as new material threatened to outshine those from their acclaimed debut LP.
Wirral played host to its biggest musical extravaganza since The Coral took over New Brighton promenade for A Midsummer Night's Scream alongside The Libertines in 2003. You could feel the hometown buzz immediately approaching the venue, everyone in the building there for the same collective reason and feeling the vibe massively. Hoylake Community Centre's main hall packed to the rafters, decked out in trippy lights, striking visuals and low-key aesthetics, all aiming to keep emerging musical talent in the spotlight.
Not many bands can say their first gig was a sell-out. The Mysterines however can. Still only in their teens, the trio led by the knockout vocal projection of lead Lia Metcalfe, set the scene aptly. Chiller-psych met with the bluesy-folk outer-tone of Metcalfe's past solo performances as bandmates, bassist George Favager and drummer Zak Mcdonnell, held it all together with tight, measured instrumentation. Three young musicians showing talent and professionalism well above their collective years.
You can't fathom where this project could end up in years to come but a 30 minute teaser shed enough light to conjecture big things in the not so distant future. All set to put out releases on Skeleton Key in the new year, these are musicians with a big future and they simply couldn't have anyone better guiding them at this stage.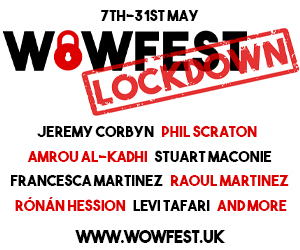 Read our Skeleton Key Records feature here
The progression of Marvin Powell continues to push new heights. Having witnessed Powell perform an understated yet powerfully pure solo acoustic set alongside The Sundowners at The Kazimier back in February, there's a perfect comparison to be made. Now, taking to the stage in Hoylake, full band in tow, there's a new essence around the harmoniously honest, 70s infused folk troubadour.
His songs are now layered with a distinctive thickness and the quirky vocal echoing from wall to wall has, to some degree, gone. Instead there's twin-tonal instrumentation licking your ears. Some of his earliest work has a newly found soul; tracks like Bees and Honey, Salt and Buried are brought to life backed by an increasingly tight outfit featuring the impressive key work and vocally harmonious subtlety of Shannen Bamford. Powell's record can't come soon enough and he's all set to do himself proud supporting The Coral in 2016.
Read our interview with The Coral as we look forward to their new album
Another artist whose progress this year has caught the eye is Louisa Roach or She Drew The Gun. Fresh from touring Europe with Fink, the outfit that stood before an expecting Wirral crowd is now more polished and tighter than ever. The effect that tour has had on the band cannot be underestimated, they've gone up levels in a matter of months. Recent release Where I End And You Begin glued the set together alongside the chiller psych-trip soundscape of If You Could See. Pure pedal-effect driven perfection.
There was even time for a fun re-invention of Sugarbabes' hit Overload which was as bonkers as it was weirdly enjoyable.
Then it was time for the main event, as Wirral's big hitters, The Sundowners entered the stage to The Dead Weather's hit I Feel Love. Hundreds packed into an intimate space to celebrate another killer year for a band that simply knows no boundaries. Having revealed greater creativity and diversity, watching the band grow to what they are today has been a thrilling trip. Indeed, the difference between the band of 18 months ago and the one that stands before you heading into the new year is staggering. You'd do well to find a duo with more chemistry, stage assurance and swagger than Niamh Rowe and Fiona Skelly and that just adds to the appeal.
Read our feature on 2015 GIT Award nominee, The Sundowners 
Picking a set will soon become hard for a band who still have many reeling from a debut that could justifiably make several end of year lists. As if pulsating hits like Soul Responding and Into The Light weren't enough, the quintet now leave followers struggling to wrap their heads around four new teasers, including the trip-funk inflected King Of The Dawn. The new material collectively hints at a sonic progression from their acclaimed debut LP, adding yet more off-kilter buzz and even looping synths to an already massive live sound.
The Sundowners even raised their own bar a little higher. Leaving the stage for a brief moment before returning with a rip-roaring rendition of The Beatles' classic Helter Skelter, sung to the rooftops by their loving Wirral crowd. A fitting close to a fantastic night in support of a Hoylake venue that could be a hidden gem for hosting future events.
Merseyside music in 2016 may currently be a mysterious blur but it's sure to feature The Sundowners and their Skeleton Key comrades heavily.
Pictures by Getintothis' Martin Waters.
Comments
comments