A singular voice against a monolith of sonic exploration, Getintothis' James Sullivan dives into the unique vision of Swedish singer and composer Anna von Hausswolff.
Swedish singer, pianist and composer Anna von Hausswolff heads out for a run of UK dates in March stopping off at Manchester Academy 2 on March 23.  
Von Hausswolff's third album The Miraculous was released in November, and swiftly made the top twenty of Getintothis' best albums of the year.
The record is a sprawling, glacial, monolithic, sometimes sludgy, sometimes folky masterpiece – tied together by her startlingly innocent vocal, a lone call holding back the tidal wave of her own compositions.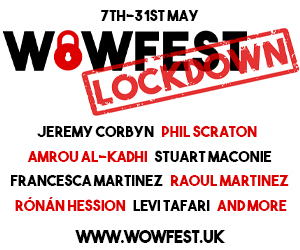 It's a singular proposition, and has reassuringly unique origins. The record came about through her pilgrimage to Piteå, a small town in northern Sweden on the mouth of the Pite River. There, the local concert hall houses an organ with 9000 pipes, also containing percussion instruments including a vibraphone and glockenspiel, capable of anything from looping to making 'screaming bird noises', in part due to some of the pipes being submerged in water.
Finally, with these 9000 pipes, she had an instrument gargantuan enough to express her vision, and in this hall her band set about recording The Miraculous.
Find out about other Manchester shows with our gig guide
There are echoes of Kate Bush, Swans and Mogwai in von Hausswolff's songs, and the world she creates. Her dad is the celebrated sound artist Carl Michael von Hausswolff and the apple hasn't fallen far from the tree; her music brings to mind how it might sound if Hans Zimmer were to soundtrack Pan's Labyrinth.
What's not clear is how Academy 2, one of the least inspiring venues in the city, can contain such a sound, and how she can recreate such a unique vision on the road. It's also a brilliantly stark contrast with headline band, Swedish hardcore legends Refused. If only the brutally magnificent surroundings of Manchester's Albert Hall were free that night.
Regardless of venue, expect an expansive, beating heart of a concert.
Anna von Hausswolff plays Manchester Academy 2 supporting Refused on March 23. For more information, click here.
Comments
comments