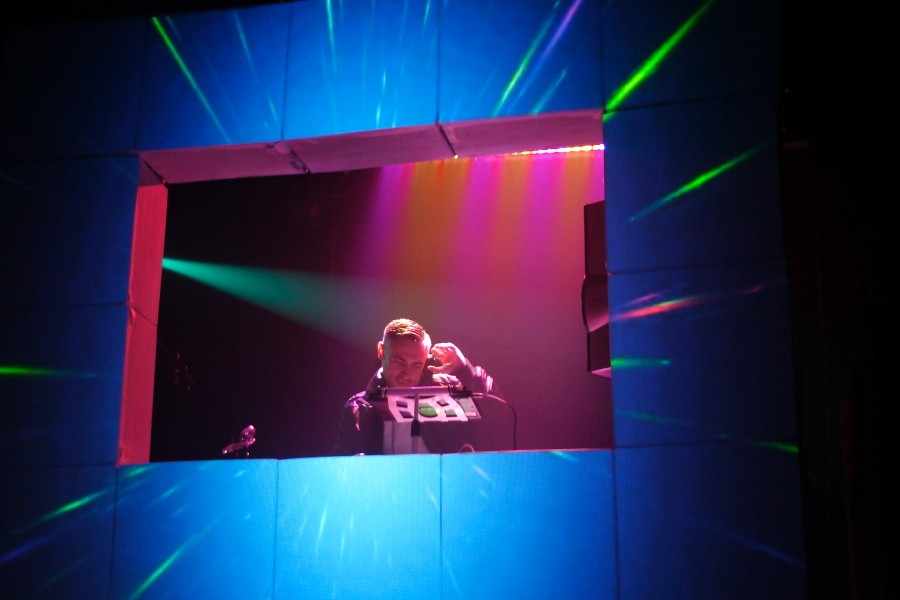 Getintothis' Glyn Akroyd reports from a night of puppetry, theatre and live score as James Shaw bought his Army of Noise to Constellations. 
All the benches laid out on the Constellations dance floor are filled by a nicely mixed audience of adults and children for James Shaw's Army of Noise, an intriguing mix of live acting and puppetry scored by a live DJ and spectacularly lit.  Shaw has recently won plaudits for his work at Manchester's Royal Exchange Theatre and Liverpool's Black-E and Lantern and Army of Noise is his latest creation.
The story is an oft told one, a tale of alienation and disaffection followed by redemption, and follows the journey of Asher, all baseball cap, headphones, hoodie and scowl, trapped in a life of gloomy introspection and angry silence and constantly locked in to the ubiquitous smart phone. Sent by his despairing social worker (vividly played by Zoe Vaux) to a work placement at World of Sound Records he is presented by the patient shop owner, an old lady with a 'seen it all before' chuckle and a gentle persistence, with a set of DJ decks. While trying the decks out back home grudging experimentation turns to rhapsodic flight as, via the music, and a little help from fellow traveller Claws and a curmudgeonly 'best to keep yer trap shut' sax player, Asher is able to banish his inner demon, Dr Sylence, and communicate with the world.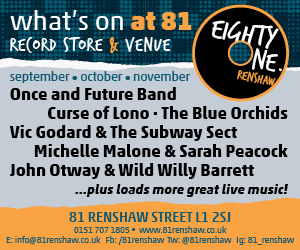 The GIT Award 2016 comes to Constellations in May
The stage setting has a dj booth in which champion scratcher DJ Rasp is playing and a series of large rectangular blocks seemingly randomly scattered. The play opens with Asher getting a good talking to from his social worker. His litany of transgressions (cutting holes in trampolines, trying to drown his swimming coach, an incident with a crossbow) draws laughter from the crowd. The puppets (Asher, the old woman, Claws) are about two foot in height, and are manipulated by two or three handlers, who move their arms, legs and head. One of them speaks the part, and despite being dressed in black there is no attempt to hide the handlers away. This appears somewhat unusual, we are used to puppets being dangled on strings from invisible hands. It's almost like watching a ventriloquist freed from the pretence of performing a tight lipped "gottle of geer" routine, but it is to the credit of puppeteers Austin Mitchell Hewitt and Barry Han that it doesn't take too long before we forget about the handlers and the character's personalities take over.
It is through their personalities and their interaction with the actors that the play really comes alive, although a parental discretion warning might be advisable as the ripe use of the vernacular in the exchanges between Asher and his social worker pulls no punches. The rectangular blocks are continually and cleverly realigned, becoming seats or literal and metaphorical pathways along which Asher and the others travel.
The music isn't half bad either, the sound system is spot on, clear and punchy and DJ Rasp plays a mix of original pieces written for the play and ghetto funk, not much of which we were familiar with but which sounded utterly contemporary, and Rasp's selections and mixing drew applause from the audience at various points throughout the evening.
The evening ends triumphantly with the social worker addressing the crowd as though they were Asher's peers in a school assembly and presenting a transformed Asher in his adopted role of DJ Noize. This is a neat device, drawing the crowd further into the performance, and DJ Noize's celebratory performance is rapturously received.
Photos by Getintothis' Glyn Akroyd
Comments
comments