Chatting to Sentric Music's Patrick Cloherty, Getintothis' Del Pike discovers what 'sync' is and how it is boosting the careers of many a new band… and a few older ones.
In the second of our pieces that shed light on those music industry figures who are so often overlooked, we drop in on Sentric Music. An independent music publishing house of ten years, Sentric aim to be as "disruptive" as possible. Our aim is to find out how, and to explore with them the fascinating world of synchronisation.
After a warm greeting from Patrick Cloherty, a Sentric employee of three years and the guy in charge of sorting out new and exciting music for TV, movies, ads and games, we settle down to chat about how that magical combination comes together.
So how do Sentric set out to be disruptive then? Patrick describes their line of publishing as "Music publishing like never before", he continues, "No-one's really done it the way we've done it… we operate on a 28 day rolling contract".
Their website boasts this quick turnaround clearly and also shouts out their promise to offer a publishing deal that guarantees your songs will be registered with PRO's (Public Rights Organisations) around the world. The company promises to track all royalties through their worldwide collection network and direct them straight into your bank account.
Patrick explains, "We tore up all the rules and put a fresh approach on it, which is, anyone can sign up and by going direct in International territories we can collect money for artists that they would have traditionally been missing out on." Amongst other attractions, Sentric offer unrivalled access to widespread synching.
The terms synch, or synchronicity in this context, may well be lost on the average music fan, so let us briefly explain. Patrick has access to thousands of artists via the Sentric books and has contact with an equally impressive client base of TV, film and advertising producers, and games companies. He is the go-to guy when those clients need a track to enhance their product. By forging a link and licencing these tracks, he is in effect… synchronising. This in turn provides extra value for their artists, and as a large quota of Sentric's acts are fresh, emerging artists, this works a treat, as clients are always keen to promote new music. "People come to us because we are at the forefront of emerging artists which is what we've become known for" says Patrick.
An example of the benefits of synch is outlined by Patrick when he tells us about his work with Saint Motel, a Parlophone signed band they are particularly proud to have on their roster. A piece of genius synchronisation of their track My Type with an ad for Phones 4 U led to them hitting the top 40 a week later and becoming the second most shazammed song of the week. Phones 4 U were not so lucky and closed down soon after, a factor that Patrick clearly states was "not our fault!", but Saint Motel have benefited from the exposure greatly. It's a catchy track full of hand claps and sax bursts, the sort of track that lends itself perfectly for advertising, Patrick tells me "We've placed that track in a lot of things now and its currently on a NOW TV ad".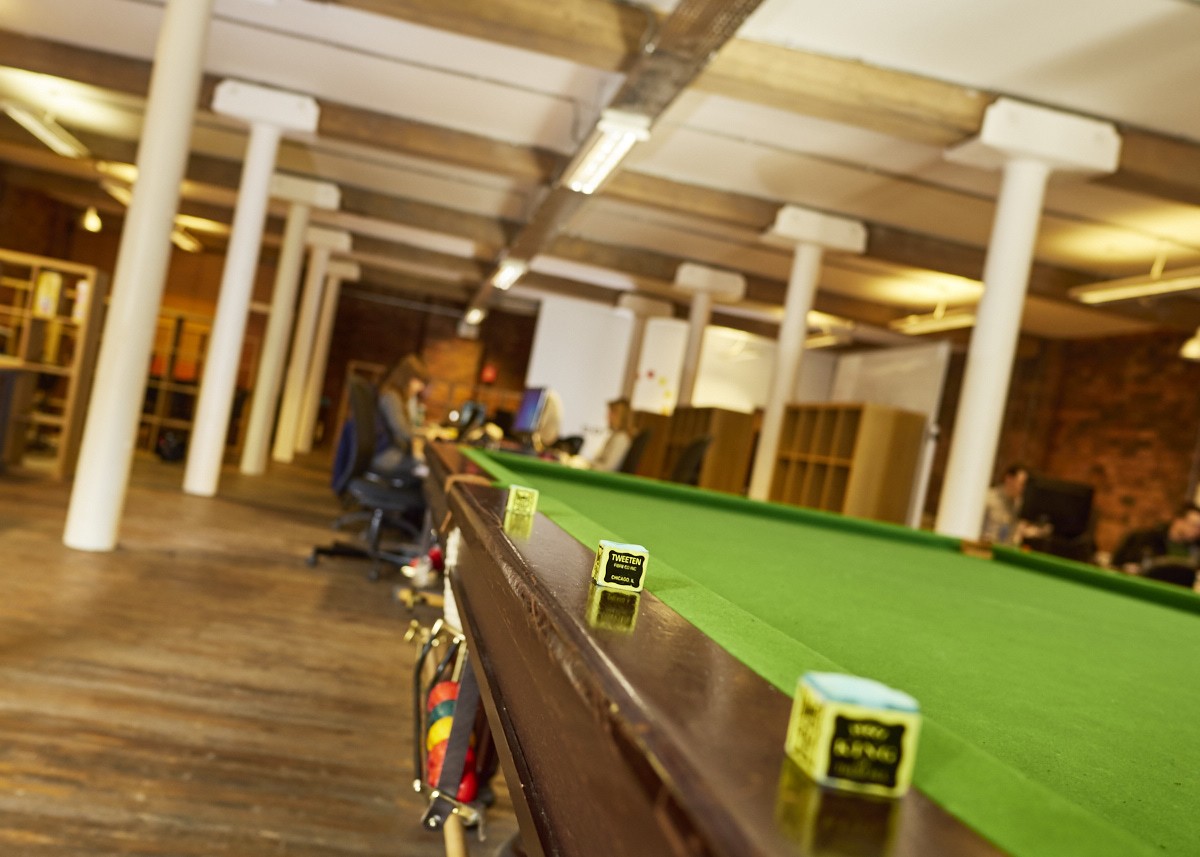 Relatively recently, putting your music to TV ads was seen as "selling out", particularly with established bands like Blur allowing The Universal to be heard on the British Gas TV ad, but Patrick sees this attitude changing. With album sales dropping considerably Patrick points out "Sync and live in the music industry have been the only two sectors to grow year on year for the past decade. It's created competition because now established acts who have been selling thousands of albums for many a year want in on it to compensate for poor album sales, they now understand more clearly the benefits of sync".
Matching bands and brands is not always an easy ride however and when offered an opportunity to work with Crabbies Grand National for a promo on Channel 4, their choice of artist almost didn't happen. Patrick explains how they found the perfect tune, an exciting punky tune entitled On the Run, a track that "just worked".
Unfortunately the band, a hard edged Post-punk outfit from Brooklyn, had the potentially problematic name, Cerebral Ballzy. The ad however which portrayed horse racing as the original extreme sport with images of Napoleonic horsemen and bare knuckle boxing against Sex Pistols style graphics was just too much of a good match that Channel 4 and Crabbies went with it – the outcome? A Music and Sound award.
The marriage of soundtrack and image cannot be underestimated and working relationships with regular clients has made for some outstanding results. Patrick is particularly keen to explain their longstanding deal with Made in Chelsea.
"Whatever you think of the show" Patrick points out "in terms of what they do for music and artists is amazing. They've put a lot of time and effort into building a brand around themselves and all they want to work with is new, exciting and emerging artists". There are at least one or two tracks in every episode that have been licenced by Sentric and the favour is repaid of sorts through Made in Chelsea's online presence. Their Played in Chelsea online playlist offers fans an opportunity to discover more about featured artists. Through attending the Music Week Sync awards, Patrick has discovered that Made in Chelsea is the most Shazammed programme two years running, "People go there to find new music".
A similar success story involves Tarek Musa, vocalist and drummer from Manchester Post-punk band, Spring King. Before forming the band "about five or six years ago" he sent Sentric some songs which he had written and Sentric really liked. One song which was licenced to Channel 4's Skins proved incredibly popular, but no-one knew who the artist was as he had no facebook or Twitter presence and no identifiable persona.
For the sole purpose of using sync to gain recognition, Tarek set up a purpose made band, Kankouran which led to further exposure and an E.P release. Patrick states "having sync behind it enabled him to create a new band".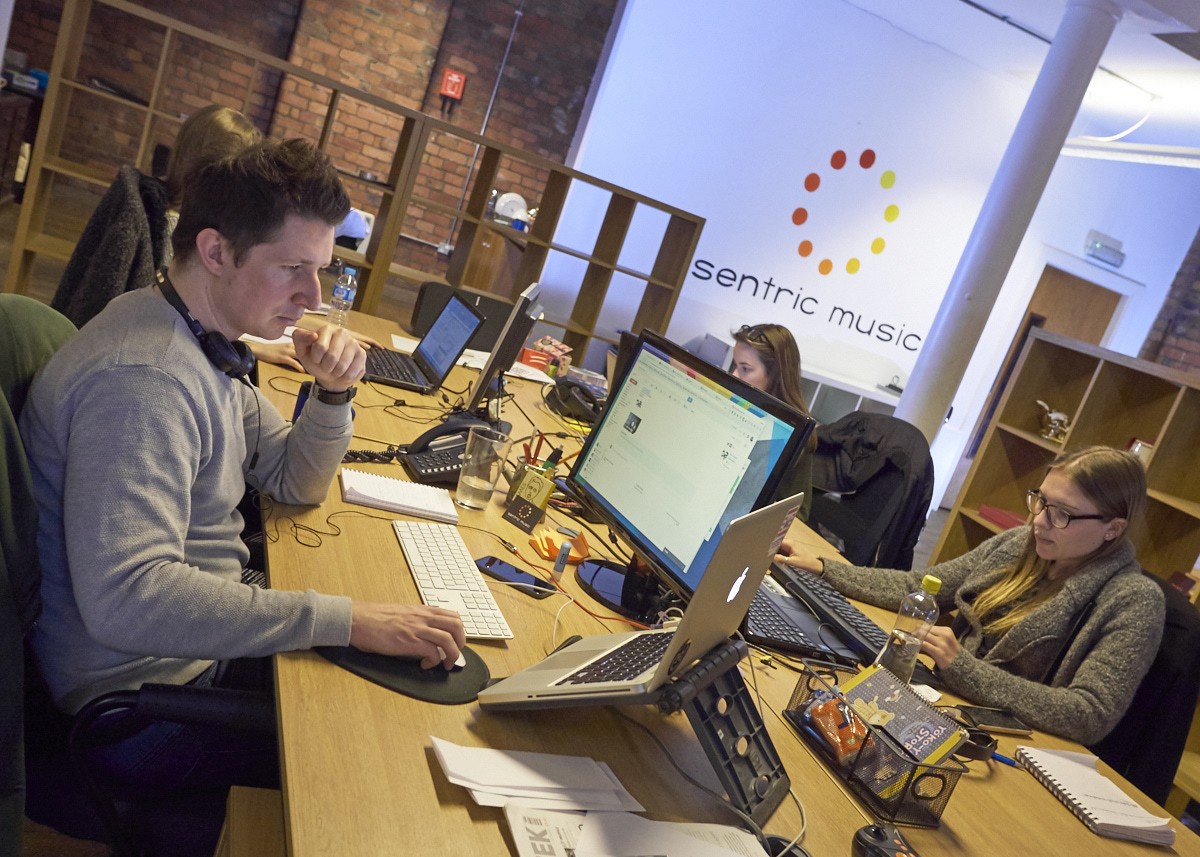 It is amusing when TV shows like Coach Trip and Homes under the Hammer cram as many tracks in as possible with comic effect when things don't quite match. Hearing Johnny Cash singing "I hurt myself today" over a compilation of accidents on You've Been Framed is a painfully prime example of this (We kid you not – this happened). We talk about how important it is to get this matching up of moods and moments right, and as Patrick reveals "BBC licence around 50,000 pieces of music a week", it's no easy task with such a high turnover of music.
We ask him how efficient they are in striking a deal with TV networks; "We can work to a brief in a matter of hours. We work to each client's tastes and each client has their own set of rules". We ask him about more specialised music and how they manage with requests for Jazz or classical when they appear to mainly herald traditional bands. "We mainly use new classical composers" he explains. This is in keeping with the company profile. "We have a bespoke quality, they come up with a creative concept and we can tailor to what they want with our bespoke network of composers. It's quite unique and the client gets what they need".
Read our piece on how Ditto Music are changing the face of new music from Liverpool
We chat about the importance of matching cool bands to cool brands and how the likes of Liverpool band Clinic found massive exposure following their campaign for Levis Jeans and their track, The Second Line. Patrick is fond of linking artists with alcoholic drink brands as they do interesting things, particularly Jack Daniels. "We work a lot with Heineken, its great how they want to work with new music and it works well because people who tend to go and watch live music also like to have a drink".
Films are another territory that Sentric work in and Patrick tells us of their involvement last year with the sci-fi hit Ex-Machina. Sentric published the track Bunsen Burner by CUTS for a scene that required a drone like tune to play in the background. Main interest however comes from European film-makers, particularly French and Belgian projects. Sentric are an International company now and although based in Liverpool, they have staff in London, Holland, America and Germany.
Much like Ditto Music, Sentric see the importance of working from Liverpool. Patrick and CEO Chris Meehan are both LIPA graduates. "Chris's three month work placement fell through at the end of his course" Patrick explains "So with approval from his lecturers he started his own company for three months and it snowballed into Sentric". Chris loved the fact that traditionally the music industry has been based in London "But we're in Liverpool, a city with so much culture and musical history. It's a city that matches our way of doing things, it's an upstart and it doesn't take things lying down".
As we wind down our interview Patrick lets us know who they are currently working with. They have just started working with Enter Shikari, Busted's Charlie Simpson, The Spook School, Imani, Blossoms and Milk Teeth who Patrick is particularly excited about. As a final thought, Patrick is proud to state "With Sentric in its tenth year now, we just want to continue to grow and work with even more established artists who are getting into Sentric. We are looking for different ways to benefit and empower artists. Regardless of what stage they are at, they might be an artist who has gone through the traditional publishing mill and has come and signed up with us, or it could just be an artist who has written their first song in their bedroom. There is value in everything and what we do is try and maximise that". It's an admirable sentiment and one which seems to be serving them well."
To find out more about Sentric music, their publishing deals and their Synch work, go to sentricmusic.com
Pictures by Getintothis' Simon Lewis.
Comments
comments