The rise, fall and rise of the fanzine. Getintothis' Cath Bore heralds the revival of a unique form of communication.
Zines, or fanzines, are making a comeback. A4 sheets of folded over paper, with wonky staples down the spine are bought and read at gigs and festivals more often now than for years. The independent spirit of a zine, a publication with no outside financial or political influence, is empowering. Zines allow honesty, and open unaffected opinion hard to find in mainstream media.
The modern day zine began in the early 20th Century in the United States when fans of science fiction started to publish their own stories. Zines were embraced again during punk, an ideal match with its DIY aesthetic. After that, young women in the (Riot) Grrrl movement of the early 1990s produced zines en masse, commonly with political and feminist content. Since the internet invaded our lives and changed how we communicate, e-zines largely replaced their paper predecessors.
But zines have made an unexpected reappearance. More bands, feminists and music fans are now moving towards the physical zine as a form of expression.
Before last year I'd written for the grand total of two zines, and longer ago than I care to remember. But in the last eighteen months alone, I've contributed to seven. Over half of them were professionally laid out and printed, some crowdfunded to pay for a quality printing service from affordable posters and banners printing companies. Foyles bookshop in London has cracked on to the zine revolution and currently has a front window display of zines.
The face and reputation of the humble zine is changing.
Abigail Tarttelin, author of award winning novel Golden Boy, and singer with GIRLBOY launched the I Hope You Like Feminist Rants zine last month. "I started to ask brilliant women I knew online and elsewhere if they could contribute, talking about whatever enraged, or vexed them. I asked them to see it as an opportunity to be quite personal, as opposed to writing about their field of interest in their career," she said.
I Hope You Like Feminist Rants is a collection of essays, articles and pieces of fiction from name authors like Kit De Waal and Shelley Harris, author of Vigilante plus comedian and actress Samantha Baines, alongside women with more everyday occupations. Writers of all kinds and disciplines have a real enthusiasm for this born again medium.
"I think what we have given contributors is the opportunity to decide what matters to them, to present their honest, undiluted selves to the world, and to work with an experienced editor concerned with their voices and interests rather than the tone and topics a newspaper wants to work in."
Abigail is passionate that her zine represents an array of views, rather than just the neat and tidy ones that tick all the PC boxes. "Women traditionally have had their voices silenced by men. Now something dangerous is happening on the internet: a tendency to no-platform, or aggressively troll those we disagree with. A silencing of women and feminists, by feminists and progressives. I think disagreement is healthy. I know we are strong enough to be able to argue against viewpoints we might find upsetting, and tolerant enough to listen to a point of view that is different from our own. But this is not the culture of the internet. By creating a paper zine, we can share ideas face to face, and perhaps have a more human reaction to writers who have been brave enough to put their ideas out into the world, hoping to make it a better place."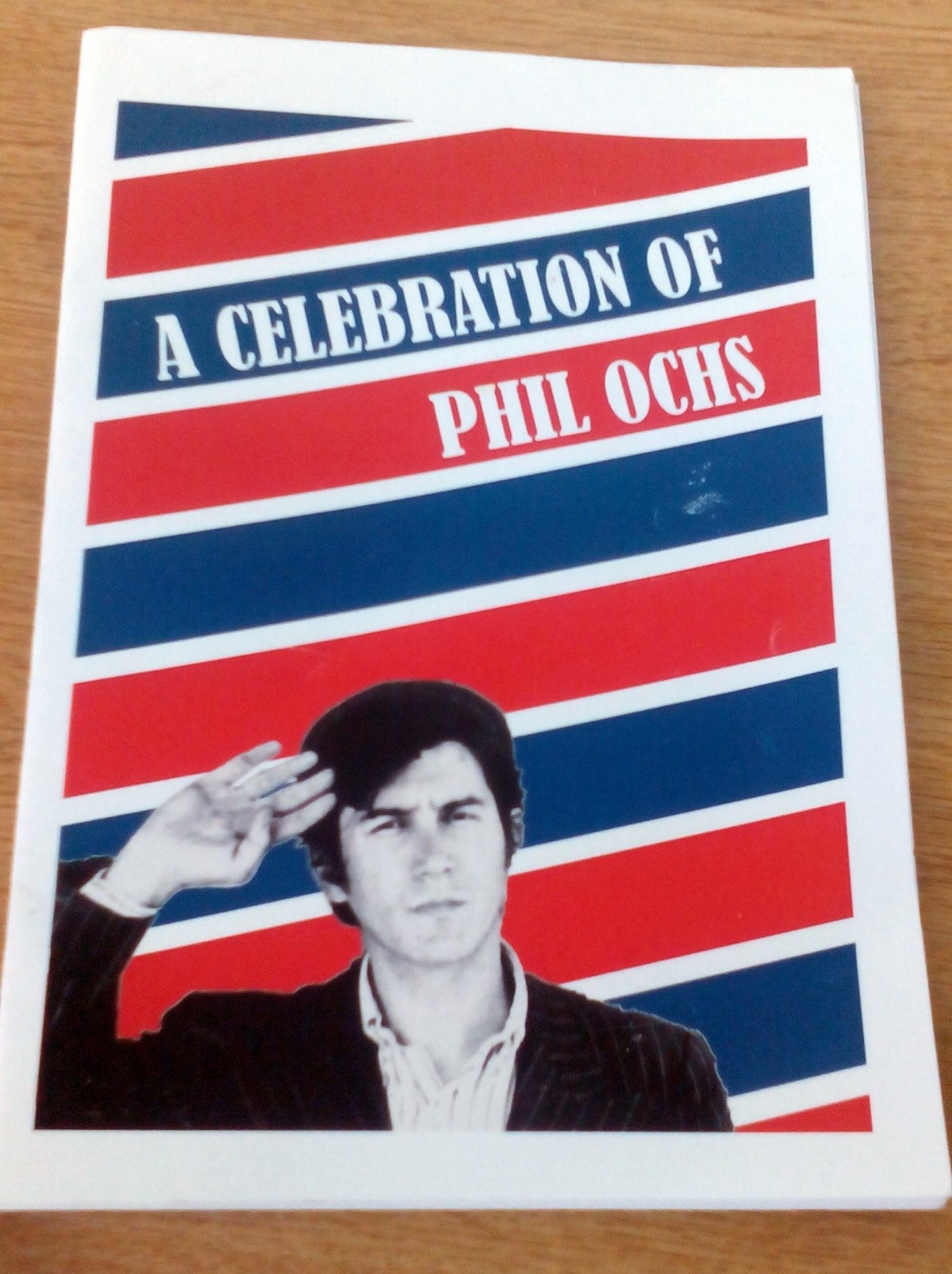 Indeed, zines are often a place for ideas typically left out in the cold. American protest singer Phil Ochs who committed suicide in the 1970s, would have celebrated his 75th birthday in December 2015 had he lived. The landmark passed with little comment or care from the music press. Ochs fan Huw Spink wanted to restore the balance, putting on a Phil Ochs tribute night in Liverpool and producing a zine to accompany the event. "A zine seemed perfect 'cos not only are zines easy to make and cheap to produce but in this world on MP3s and blogs, they are tangible," said Hugh. "Phil was all about making things that would last. In his youth Phil also produced his own zine – called The Word. As soon as I thought all this, even my own innate laziness couldn't stop me!"
"As Phil was something of an internationalist I was determined to get contributions from all over, so, thanks to the internet, I was able to get drawings and writings from Canada, Greece, the USA, Portugal and Chorley. The zine has been sent all over the world. Pretty cool really."
ALL HAIL HYENA are a band from Burnley. "We chose to publish Hyenazine as a way of satisfying not just our own desire for the paper medium of art but the hidden need for a motherfucking punk ethos revival, baby!" said the band's vocalist Mr Jay. "We want readers to feel educated, invigorated, titillated, shocked, embarrassed, confused and entertained by the content. (Drummer) Dr. Aiden reviews a new band in each issue and we include a comic strip by Sir Tom (ALL HAIL HYENA's bass player) which continues over as a series when new issues are printed. We have Spot the Difference, wordsearches and porn. We have lyrics to ALL HAIL HYENA songs."
"The zine scene is erupting again because magazines and television and the internet has become over run by mediocrity. Music has become safe. Photography has become watered down and twee. Art is a £1,000,000 sculpture erected by a building company in association with an arts funding project run by businessmen in suits. It's all bullshit and zines are popping into our existence to challenge all that."
Hyenazine will never be available online they stress to me, and the zine is sold for £3 each at gigs. Abigail Tarttelin is also keen that Rants' cover price is kept reasonable so that those on low incomes can access it. Zines aren't about the money, honey.
Lily-Rose Beardshaw is an illustrator for glossy A5 zine-come-comic Geeked! Magazine. "Most zines plough any profit back into funding future print runs of more zines," Lily-Rose explains. "So whether you make them yourself or contribute to one, you kind of have to do it for love, which isn't always practical if you're trying to make a living from your creative work. I've noticed comics festivals putting together zine anthologies with short comics by contemporary professionals as a kind of special event for the festival, though, so they're not strictly for amateurs, and that's also a good example of the social aspect of zines, the getting together of different creatives who are communicating with each other."
Creativity is important. "What was fun about making illustrations for Geeked! was that I just asked Sofia (Hericson, Geeked! editor) to send me whatever, so I got to illustrate an interesting mix of pieces, from articles on burlesque and polyamory to erotic Jarvis Cocker fanfiction. Actually, those subjects are all kind of sexual, aren't they!?"
"My old mentor once said that comics are a true socialist medium – because all you need to make and distribute them are a pencil and paper and a photocopier. The same is true of zines," said Lily-Rose.
Feminism and zines – changing the world with comic strips with artist Rachael House takes place at the Future Perfect: The Changing Face of Girls' Comics event at The Black-E, 1 Great George Street, L1 5EW on May 7 at 12 noon. Free entry.
Abigail Tarttelin takes part in Changes: Gender in the 21st Century on May 11 at Studio 2. 7pm start. Tickets £5/3
Comments
comments