Nominated for the GIT Award for the third time, Getintothis' Cath Bore talks to Stealing Sheep following their undisputed SXSW triumph.
Stealing Sheep have always been the sort of band who quietly got on with things, observing the world from a curious, almost other worldly angle. But the band had a tremendous year following the release of their critically acclaimed second album Not Real last April, and, newly returned from playing at SXSW in Austin, Texas, and were named one of Esquire Magazine's twelve biggest winners of the festival, alongside Barack Obama and Robert Plant. Not too shabby!
It feels like a marked shift in Stealing Sheep's fortunes over these months, as they emerge from the quirky corner of pop music they've resided in all this time. When I meet up with the band to celebrate their nomination for the GIT Award 2016, I get into my head it's a good idea to try to be an honorary member, even for an hour or so. It seems only right, a tribute of sorts.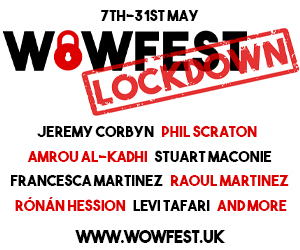 The trio's fondness for colour and concentration in visual presentation is well known, with videos so vivid and bold, and the Legs dance performance choreographed alongside the Mythopoeia shows at the Kazimier last year had them enjoying the delights of coloured tights.
So tonight this writer wears a pair of leopard print ones.
"We've got some of them! Wear that on one leg, red on the other!" confirms vocalist and guitarist Emily Lansley.
Result. We're chuffed, of course. Who wouldn't want to be a Sheep, after all?
They tell us about the SXSW festival as we enjoy a bottle of house red at the Buyers Club bar in Liverpool.
"We played three gigs and they were all really good. We played in a cube, in a hotel garden", keyboard player Becky Hawley tells us. "There was a good response from the crowd there and the general energy of the festival was really buzzing and fun and it was sunny, and I think that really changes everything. There was loads of activity, it was a bit like Sound City. Anywhere you're able to put a band, they'll try it. So there was bands playing in McDonalds, and shops."
"The first thing I saw [in the Esquire write up] was Drake," adds Emily. "A picture of Drake, and then us and I was like, 'Yes!' You don't know how you're going to be perceived really until we came back and it was – yeah, we did it!"
The North West triumphed at SXSW this year. "The Hooton Tennis Club guys went down really well, they've got a really festivally sound, lazy cool dudes on guitars having a good time. We saw PINS from Manchester, and they totally stole the show whenever we saw them. We felt really proud to know all these bands that people were mesmerized by," Becky says.
Becky and Emily, along with drummer Lucy Mercer, formed Stealing Sheep six years ago, and this year's GIT Award nomination is their third. It doesn't seem they've been around so long, maybe because second album Not Real is so different from debut Into The Diamond Sun, released back in 2012.
The GIT Award is coming! Check out profiles for all the other nominations here.
Emily: "It was quite a natural development but we wanted to move on from what we sounded like originally. Our tastes had formed and grown so much from that point. They do all the time. I mean, who knows what it's going to be like next time. Playing the guitar then not wanting that to be as prevalent anymore, we all wanted it to just be different. With the first one we were quite free."
"I was listening to the first one yesterday actually," Becky admits. "I was, 'This is cool!' It's really weird. I feel slightly detached from the people we were then, it was five years ago. So listening back I can't really remember being in the headspace where I wrote that part or sang that kind of melody. We do have different instruments now, but we go through different phases of liking different sounds."
EmiIy reckons the band writes very differently these days. "The context is different. Then, we'd not been in a signed band before. So I think we wrote quite freely. It's not a negative thing, but now we've got a lot of things to consider."
On the first album, Becky feels "it was more indulgent, every musician starts off satisfying themselves by playing things they want to hear then you start playing it to people and finding out what bits people respond to. That's really fun. It's like your crowd helps you develop your sound."
Stealing Sheep have worked on film scores over the past year. For London Short Film Festival's CATS&CATS&CATS night – the best in classic and contemporary cat cinema! – they performed a live score to classic short films by Alexander Hammid & Maya Deren (Private Life of a Cat, 1949) and Stan Brakhage (Cat's Cradle,1959), as well as featuring in the In Dreams: David Lynch Revisited show.
"That's back to the natural intuitive world we're natural at. In a way because it's not song structure. It's jammy, you play what you feel. That's always appealed to us, we're aesthetic people, we respond to imagery and colour and emotions you see in the footage. It's a guideline to follow, you create the audio world for it," says Becky. "In the pop world, and what we're doing with the band, our identity is stuck to it. So when you're doing it for a film or animation it doesn't have to be your personality that you're trying to show or express, it can be that film. You can put something in there that you wouldn't usually connect to yourself. Which is really freeing."
Last year, the band won the award for best music video at the Raindance FILM Festival for the single Not Real, directed by James Slater, whose work on Jamie T's Zombie won Best Video at the NME Awards 2015. This writer's personal favourite Stealing Sheep video is Apparition, the third single from the Not Real album. It sees the three women joining a Morris dancing troupe, directed by Dougal Wilson.
"Most of the directors we've worked with have known us for a long time and known what we're about and they come up with something based on that", says Becky, before Emily interjects; "But Dougal's idea was pretty much his own."
Becky: "We liked that because it took us out of the world we would usually have created and it makes it a bigger thing then, because it's not obvious for us to do. We had a more cameo part, so it wasn't really about us, it was about the Morris Dance troupe."
Stealing Sheep are off to Vietnam this weekend, to play some shows as guests of the British Council over there. This summer sees the band writing their third album, "potentially" for release in 2016. They are to play about ten of the smaller UK festivals and currently working on new songs to come out as singles. Becky describes the songs as "sort of in betweeners", before the new album comes out. "They're going to come out over the summer. They're not ready yet, we went to Margate to record them and we're in the mixing and arranging process at the moment. During the release of these two singles we might play Bristol, London, Liverpool, Manchester and do some really nice interesting things in each place rather than a big tour.  Focus on some special shows probably towards the end of summer."
Can they reveal anything about the new album?
Becky laughs; "We'll tell you when we've written it!"
We polish off the wine at the end of the interview and the two women prepare to head off to into town to celebrate a friend's birthday. By now, we really do want to be a Sheep. so rush down to Primark in case it's still open, to pick us up some red tights!
The GIT Award 2016 take place at Constellations on May 14. Tickets are available here.
Comments
comments