Getintothis' Paul Fitzgerald was there to take in the whole show, not just some of it, as Violette Records launched the first of their Societa events at Buyers Club.
Violette Records pretty much exists as a vehicle for the new music of one of Liverpool's most renowned and well-loved songwriters, Mick Head. His most recent work, which puts this ridiculously prolific talent at the very centre of an ever evolving renaissance, under the Michael Head and The Red Elastic Band moniker, is the reason Violette exists.
As Head goes from strength to strength, singing himself fitter all the way, he's back on the stage, finding a new comfort in what he does, and again, writing some of his finest work, as evidenced by his most recent recordings, the Artorius Revisited EP. Given his back story, the man seems to take comfort in discrediting the sceptics, almost defying himself along the way.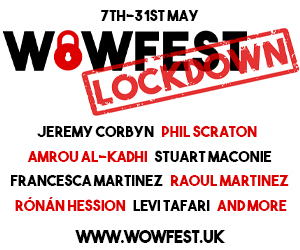 La Violette Societa is, or will be, a series of events, happenings, that will take in a mix of poetry, spoken word, music, and art, and it's all the brainchild of Head and his friend, and enigmatic man-of-mystery known simply as Roy.
The inaugural event began with a recital by Liverpool-born, and London-based poet and author, Paul Birtill. Reading from his collection of poetry, New And Selected Poems, he delivered his work with his trademark hangman humour. Poems of despair, death, disease, death, decay, distraction and vegetarianism. And more death. The sellout crowd of amused and bemused onlookers' attention held firm throughout, hanging on Birtill's every last dark and deadpan word.
Joni O'Shea followed Birtill. O'Shea was, of course, Mick Head, solo, and acoustic with a set of classics hewn from the Shack days and the later material of the Red Elastic Band. Stand alone class songs like Newby Street, and the ever wonderful Streets Of Kenny, imbued now with an almost nostalgic look of the shoulder at his past darkness, but delivered here with such visceral meaning. His appearance here was probably one of the worst-kept secrets in town, preferring as he did to be a side attraction, one of three acts, and not the headliner. There was mention of 'Roy', and his involvement in establishing the Societa events.
Another artist experiencing something of a renaissance is Nick Ellis, formerly of The Maybes? As well as preparing to release his new EP on Mellowtone Records, Ellis heads up The Blue Soul and is here to round off the proceedings with a ridiculously tight and well-punched outset of melodic RnB stompers. Blue Soul indeed.
Heartbreak City is a highlight of the set, driving solidly throughout, and wrapping us all up in Ellis' classic characterisations. Insightful and naturally poised songwriting as interesting and intriguing stories evolve throughout. This is what Ellis' does so well. The night, being on a school night suffered slightly as many of the audience left after Head's set, but it bothered The Blue Soul not one jot. They blasted through their set regardless, and the crowd who were there were all the more grateful for that.
La Violette Societa has all the makings of becoming a memorable set of 'were you there?' events. There's no fixed pattern, no pre-set plan as such, just ideas being played out ad hoc, and as they come along. The events won't be tied to any one venue or any set dates. They'll come, and they'll go. The week after this first event came news of the second.
On Tuesday May 31, La Violette Societa will call at Studio 2 for what looks to be another fine night. With appearances from Marvin Powell, and Dan Rhodes, and an all too rare sighting of 'Roy' on the cards, the night will be headlined by Aviator, bringing their Northern psych pop stylings to the Studio 2 space, this is their first show since blowing the roof off the packed out room above the Bridewell last October.
Fronted by former Shack and Cast man, and Red Elastic Band bassist, Pete Wilkinson, this will be a show truly not to be missed. Wilkinson's songs are strong, heavy, melodic, typically rhythmic pockets of pure pop, and will be a more than righteous addition to the Violette Societa catalogue. Another sell-out show in the making here from Violette, or "Aunty Vi", as Mick Head calls them, take your seats down there early, Roy's expecting you.
UPDATE: Photographer and film-maker Mark McNulty has produced this short of Head's rendition of Cadiz – watch it below.
Photos by Getintothis' John Johnson
Comments
comments