In his latest Lost Liverpool column, Getintothis' Paul Fitzgerald revisits the early 90s, and a French TV documentary based on the beginnings of Liverpool's post Thatcher resurgence.
In 1992, Liverpool looked and felt a very different place. Different to what it had been, and unrecognisable compared to what it would become. Wondrous, yes. But different. Post-Thatcher, the embers of the damage done still scarred the landscape, the scars were still raw, and the wounds deep and open. But the music was strong, scenes were re-creating themselves, constantly evolving, and some great bands walked amongst us. Rave culture and acid house had recently found us, with arms as welcoming as when we had found it, and Ecstasy was still in its first flushes of youth. We were down, but we were not defeated. There was colour and light to be found if you knew where to look, or more importantly, who to buy it from. The counter culture, and the DIY ethic stood strong, and as ever, the music. We've always had the music.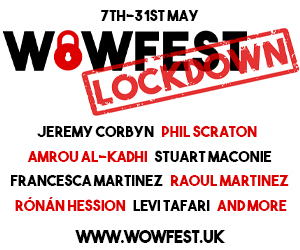 Into this bruised and battered landscape, in February 1992, walked Jerome De Missolz and Evelyne Ragot of Noe Productions, a French TV documentary production company. Wanting to capture the feel of the city at this time, and the spirit of its art, its music, they arrived plan-less, with only a loose idea of what exactly to drop onto the canvas, and how.
The inception of what would eventually become You'll Never Walk Alone, or "that French film" as its so often referred to, stems from two main influences. There were the many strong links between Liverpool and Paris, which we've documented in previous Lost Liverpool columns. As well as this, Sara Cohen and former NME journalist Kevin McManus had written a book, Harmonious Relations, a study into popular music in Liverpool family life. Based on the cross generational love for, and playing of music in several Liverpool families, the book was published by National Museums and Galleries on Merseyside, and is still available both in the city's libraries and museum bookshops. It proved a good starting point for Noe Productions' project.
On arrival in town, Jerome and Evelyne looked up a couple of leads from friends in Paris, and the Cohen/McManus book, and began putting their ideas together.
Filmed over a week, the film takes Ian McCullouch, Mick Head and Edgar Summertyme as its centre-pieces, spending time in pubs with them, taking long strolls around the city's nightime culture, and its surrounding areas. McCullouch is in a positive and buoyant mood most of the time, as he explains the influence his hometown has had on him, the world, as well as, crucially, on itself. In that last respect, he makes some valid points, if a little Aussie White flavoured.
Mick Head plays with his daughter, and delivers raw versions of some Shack classics in his mother's kitchen with brother John, as well as a trip to a deserted and almost derelict New Brighton. He buys a bag of sprouts off a man in a pub (25p, top quality), and discusses the addiction he was only just, at that time, beginning to struggle with.
Edgar 'Summertyme' Jones is in there, some great footage of him rehearsing and gigging with The Stairs, listening to records at home, discussing his influences, and watching Rainbow stoned. The Real People make an appearance too, in all their swirly, hazy, early nineties swagger. There's a chance meeting with ex-Beatles manager Alan "you can have them, Brian, they're not worth a carrot" Williams, who, in a somewhat "tired and emotional" state becomes quite angry that a foreign film company should be filming in Mathew Street, of all places, without his permission. Alan Williams angry. Who'd have thought it?
From Earthbeat to Arthur Lee and Shack, the city's black music history and the first girl band with guitars – check out Getintothis' Lost Liverpool columns
Some young pretender or other gets to interview his 80 year old Nan, before she sings a song she wrote about his Granddad. That same young pretender's band were filmed for the documentary, but were cast asunder onto the cutting room floor, almost certainly as a consequence of an upset caused by another member of the band arguing over the correct positioning of a light.
An all too brief, and almost cursory visit to the streets of Toxteth, finds a run down, disillusioned community, disenfranchised and distanced by decade upon decade of cold and uncaring governmental neglect, and oppressive policing. Calvin Smeda and Osi, from the stunningly underrated Liverpool hip hop band Bantu, make the point about record companies' collective lack of interest in black working class British music, something we looked at in Lost Liverpool #3. Salient points, all too common, and a situation which has remained unchanged for decades.
You'll Never Walk Alone documents the city at a difficult time, it takes its lead from the many characters, just a few of the individuals who sought out the light, and looked for the brightness in a time of thick set darkness. This film is not without its critics, its fair to say. The shots of For Sale and To Let signs, of former glorious architectural wonders boarded up, an over reliance on the depiction of negativity and despair. Hard times, highlighted in a stark and brutal manner. The fog and the rain. Images of litter strewn back allies, the graffiti and broken windows of a hopeless and helpless time.
Yes, there's negativity, but it may be born of the necessity of context. The need to match that darkness against the search by the artistic people of this endlessly creative and optimistic city for the new, the colourful, the shiny new beginnings. The search for, and belief in, the good times, the fresh air of the river, the new ideas and changing ideals of a tough Northern city. Maybe that's what Noe Productions were aiming for with You'll Never Walk Alone. A walk through the city today, by day or night will give a different perspective, a re-positioning has taken place, a renewed and constantly evolving positivity surrounds us, and as always the counter culture, our music and art remain strong, ensuring that the colour and light we all sought back then remain undimmed, undiminished and unswerving.
Rumours abound of a re-visit by some of the original Noe crew to film a look at the many changes that have taken place in Liverpool in the intervening 24 years.
This old pretender is certainly up for it.
Watch You'll Never Walk Alone, 1992 below.
Comments
comments