Sound City 2016 continues, Getintothis' Shaun Ponsonby weighs up day two down the docks.
As seasoned professionals, Getintothis make our way to the main stage for day 2 of Sound City to find the area directly behind the sound desk pretty much waterlogged. They were jet-washing the overflowed bathrooms from the night before, consider today's higher winds and in the potential words of Homer Simpson; "Mmmmm, sewage".
It doesn't deter the bands. Arabians Temenik Electric were a great start to the day and sounded like some lost Brian Eno/David Byrne collaboration. Crowds were sparse, either due to recovery from last night's shenanigans or because of the Rock & Roll Marathon happening throughout the city made it difficult for people to reach the site. It's a problem faced by the moody Anchoress and Mercury nominee C Duncan – who surely should have been on later in the day – which is a shame as they each pulled out very good sets.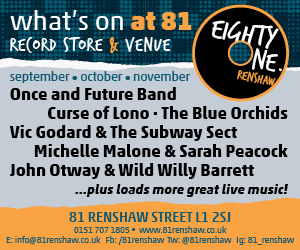 Not surprisingly, GIT Award 2016 winner (and former Coral man) Bill Ryder-Jones pulled the largest crowd. Another act we'd have expected to play later in the day, he held most of the crowd to attention, but as strong as his material is, he isn't a natural frontman and probably isn't best suited to the big stage.
Be sure to check out the rest of our Sound City 2016 coverage here. 
In contrast, INHEAVEN's material isn't as strong as Ryder-Jones', but they have much more charisma. After Neon Waltz, Shura was a bit of a relief. They had the most powerful female presence on the main stage, and it was more than welcome. Their electronic pop was perfect as the sun beat down on the dock. Although, when they announced a song called Too Shy, it tragically ended up not being the Kajagoogoo tribute that this festival so desperately needed.
Over at the Cargo Stage, South Korea's Patients were fucking rock stars. They looked the part and they were the most charismatic act this writer saw all weekend. It almost didn't matter about the quality of their material, but luckily the material was stellar. The only band today who actually made us scream and shout.
They were hard to follow, but Canadians Wake Island held their ground. They started a bit dank, despite their opening to the crowd; "Come forward, let's have some fun". I don't know if we could call it "fun", but ended up being worthwhile sticking around for,
Foxtrott initially played to next to no-one, but there was something eccentric about her that made people walking by take notice. And, let's be honest, who doesn't love a good flugelhorn?
As we left, we stopped in at Tim Peaks Diner, curated by The Charlatans' Tim Burgess. DJ Bear Growls headed the Bowie Disco, which was probably the most fun this writer had all weekend. He nailed the "end of festival vibe" to an almost impossible degree,
Pictures by Getintothis' Martin Waters and Vicky Pea.
Comments
comments