On the final day of Sound City Getintothis' Vicky Pea finds comfort in familiar faces.
After being tied to the Cargo stage for most of Saturday the time had come to stretch our legs and so we headed to the North Stage where Liverpool lads The Night Cafe were transmitting their feel good youth-infused brand of rock to an early and keen crowd.
After rejoicing in our pleasant start to the day we were whisked away and found ourselves below deck enjoying a very intimate gig with The Dandy Warhols. Brent and Courtney delivered a handful of acoustic renditions featuring You Are Killing Me and Bohemian Like You, a rather special treat somewhat under appreciated by an audience who didn't seem to realise they'd won something.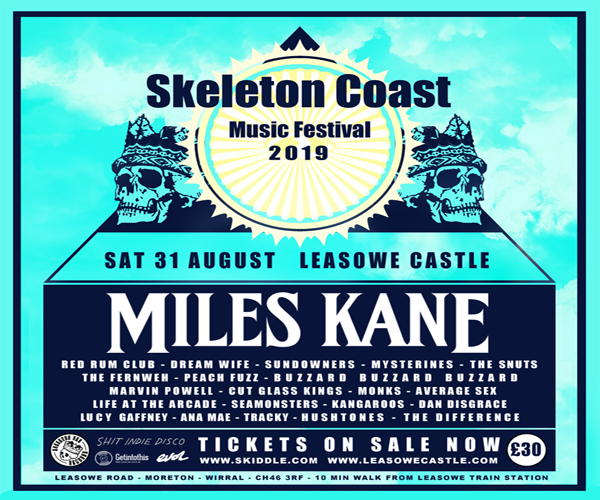 Back on the North Stage Trudy and the Romance were attempting to rattle hanging heads back to life with their throwback knee trembling melodies. Pink Kink join the boys for an unforgettable and unyielding cover of The Beatles' Don't Let Me Down. It's something to behold.
Over on the main stage their mentor and GIT Award 2016 winner Bill Ryder-Jones is in receipt of a large late afternoon audience who lap up material from his latest album West Kirby County Primary, part of us just wishes that considering tonight's headliners, the gig could have been a little later in the day.
In the Record Store tent Brazilian hybrid outfit Aldo absolutely tear the place down with passers by squeezing themselves into all available entrance spaces and spilling into the pathways to discover who's behind such an attention grabbing noise. Dance/Electro/Punk/Hardcore/Disco/Funk/Rock – we're not sure. Whatever the pigeon hole, they're rewarded with a rapturous round of applause once they bring it to a close.
Top of the Liverpool buzz pile Pink Kink play "their last show of the fruit era". What that infact means we're sure to find out soon. A new artistic direction, new material or perhaps more drastic changes are planned however we hope it's not a departure from what the band are doing now, as it's a crowd and critic pleaser without a doubt.
With whispers of power issues spreading across the Sound City site we decide to head back to the trusty North Stage and take in a trademark set from Peter Doherty. Once you get past the headlines and the history Pete remains one of our greatest musical storytellers and tonights set is energetic, charming and at times a shambles, everything we've come to love about the man.
With newer material mixed in with classics including Last of the English Roses, You're My Waterloo and an incredible set ending Fuck Forever his fans descend into a state of pandemonium. Chants of "Peter is a scouser" ring out and true to form he replies "That's got nicer. It used to be a lot worse." He compliments the beautiful riverside view, you know, if you '"ignore the bogs" and encourages the crowd to go wild and they oblige.
Putting a positive twist on tonights power issues, after leaving the North Stage it becomes clear The Coral are still in full swing, and so the swarm breaks into a light jog down to the Atlantic stage where 4 more hits await, and they're the biggest hits of all. Bonus.
Photos by Getintothis' Vicky Pea
Comments
comments