With his solo project away from the mighty Mugstar, the band's frontman Peter J. Smyth proves his prowess just as powerfully in mellower musical surroundings, Getintothis' Patrick Clarke discovers. 
As frontman of Mugstar, Merseyside's heaviest hitters when it comes to searing, muggy psychedelic rock, Peter J. Smyth knows a thing or two about how to bludgeon an audience into submission.
Yet on new 17-track album Black Smoke, out next month, there's a rare opportunity to hear the musician stripped of his the usual arsenal of ferocious drones and colossal, rolling guitars that his bandmates provide, armed here with barely more than an acoustic guitar.
The album will be released through God Unknown Records, the acclaimed label headed by Mugstar bandmate Jason Stoll on June 3, and is an intricate, intimate listen, crafted around buried lyrics and lines thought forgotten by Smyth until he worked in a music shop, at which point the acoustic came calling.
For more Mugstar action, check out our interview with the psych rock colossi following their nomination for this year's GIT Award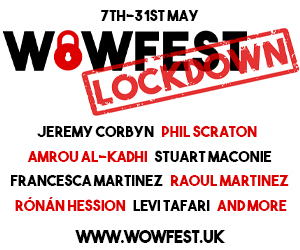 Dominated by Smyth's deft finger picking and uncomplicated vocal, singing words of 'stark observations', 'austere contemplation' and 'urban alienation', inflections of extra texture are used with delicacy; a glint of piano here, a buried, melancholy buzz of electronics there, barely audible but utterly essential to an a record of acute craftsmanship.
Black Smoke will be released by God Unknown with a limited edition run of 500 bright red vinyl copies. The video for Joan, from the album, can be seen below while three more tracks, Black Smoke, Red Missiles and Rosa are available to hear on the album's Bandcamp. Smyth will also perform live instore at London's Rough Trade East on June 9.
Comments
comments