Getintothis' Matthew Wood keeps things as eclectic as always with a dose of avant-garde, a little bit of Belgian shoegaze and some experimental electronica from the capital of Pakistan.
Single of the Week
Marissa Nadler – Janie In Love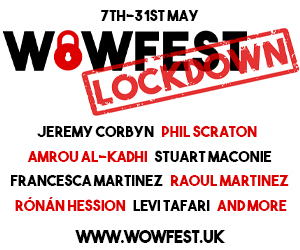 Plucked straight from her outstanding latest album Strangers, Marissa Nadler is carving something magical out of her dusty folk foundations and has begun incorporating elements of dream pop. Big, woozy guitars and a floaty ebb and flow mean Nadler flows in a similar vein to her East Coast counterpart – Lana Del Rey, and that can never be a bad thing.
The video is entirely her own work, featuring labour intensive stop motion, sand sculptures and sinister imagery; Nadler has the talent and she's not holding back in proving it – an artist of the truest form.
This really is an outstanding song and one of many from the full album, get listening!
The Lemon Twigs – These Words
A marvellously whacky track that flirts with Zappa, smooches with King Crimson and like many of us, has a life-long love affair with those four chaps from Liverpool.
Produced by Foxygen's Jonathan Rado, the teen brothers Brian and Michael D'Addario share similar foundations to the Foxygen duo Rado and Sam France. Finding a love for the avant-garde and psychedelic from such early ages, it's clear why such a collaboration came about.
The track opens in a carnivalesque manner, with spiralling bass lines and playful squelches of synth before dropping into a plodding ballad form with a dreamy chorus that is belted out to the heavens as the track progresses. Much like the Abbey Road medley, this one will keep you well on your toes.
Sadly there's just one UK show in London announced so far, but with the buzz about these Long Island boys, there will no doubt be a more extensive UK exhibition to follow.
Mad Brains – Seven 
Taken from his latest EP Breakfast At Sunset, London-based Widnes lad Mad Brains combines with Carlos Yarza and a Super 8 Camera in this reclined, icy cool dose of hip hop.
Amid the unnerving interludes of reversed chatter, Mad Brains' lyrical connection with the tranquil plonks of a synth are soothing while his effortless delivery is somewhat downtrodden by the qualms of modern life.
As a former GIT Award nominee, you know it's gotta be good.
Newmoon – Head Of Stone
Belgian quintet Newmoon possess a sound that teeters on the brink of something that could obliterate asteroids; often colossal and monstrous. At the same time they cleverly intertwine rich, beautiful, shoegaze harmonies that owe so much to the likes of Slowdive and The Jesus and Mary Chain.
Head Of Stone rockets into the stratosphere, pounding and soaring before levelling out with rapid taps of hi-hat and otherworldly vocals that blur into the wall of sound that swallows up everything in its path.
Creating a vast ocean between shoegaze and hardcore while retaining elements from both shores, Newmoon are riding a monstrous musical wave, a wave that is no doubt going to be followed by others of its kind.
Their debut album Space is out October 14 on PIAS.
Mallrat – For Real
A real feel good summer anthem here for you from Brisbane's 17 year old Mallrat. Musically it's fantastically simple, a hook of 80s piano chords serve as the bedrock while the drum beat needs no bells or whistles to bring the track to life.
This simplistic approach is one harnessed in her lyrical choice, depicting a mundane day of getting coffee and smiling at each other, but with the added aspect of young love charging the track with a youthful, charming innocence.

Sam Gellaitry – The Gateway
Another teen sensation for you here, born in 1997 and hailing from Stirling, Scotland, Sam Gellaitry is a wizard behind the Macbook and is single handedly opening up a blackhole of electronica that is gradually swallowing up the masses.
The youngster is currently conquering American soil with his trap-infused electronica, riddled with meandering piano samples and snippets of guitar that wouldn't sound out of place on a Julian Casablancas and The Voidz record.
For those of you who don't react well to the whole 'trap' genre, myself being one of these, be sure not to toss this one amongst the YouTube hype crap. Gellaitry skilfully blends genres making this one particularly hard to pin down, but my, it does get your head bobbing.
The Academic – Mixtape 2013
It's massively tricky for run of the mill alternative rockers to make a breakthrough nowadays, those guys who just wanna slam four chords, sing of youthful adventure, top it off with a rip roaring solo and sign off to drink a beer.
The Academic are proving themselves an exception to that very rule, harnessing a ferocious energy that they channel into their live performances and a knack for tapping into the most fundamental, yet fantastically catchy melodies.
Mixtape 2013 may be a tad reminiscent, but the Irish quartet certainly have youth on their side, already with a host of crowd favourites in their arsenal; the future is bright for The Academic, and they may have dodged those 9 grand fees.

Clay – Honest
Clay are just starting out; their debut headline tour is afoot, they juggle their rock and roll lifestyle with supermarket jobs, and not all of them are yet out of their teens. Despite this, their music displays a passionate commitment to pop, and what's more they're out to bend and distort boundaries with a gutsy vein of experimentation.
Honest is a track much like a beating heart; at a first listen it may be just a monotonous pulse, but the more you hear it the more you unveil an assortment of currents that pump this track full of a unique energy. A coolly executed use of progressive effects and a distinct, powerful vocal are put to great use within the band's evident core love for pop.
You can check out the Leeds lads on August 7 at Studio 2.
Nawksh – First Friend
When music is as dark, wild and experimental as Nawksh's is, you begin to wonder where he might draw his inspiration. Well his inspiration is no secret, a resident of Pakistan's capital Karachi, video game producer Danial Hyatt delves into a fantasy world in his own head, going by the name of CERATYL.
His debut LP, Mythic Tales of Tomorrow II is as close as we can get to the sounds, creatures and secrets that lurk inside Hyatt's head. Our first flavour, First Friend is a frantic, tribal trip along a dense, dark path, full of wonder and sinister overtones.
With his history of progressive artistic endeavours such as offering people clay capsules full of download codes and other goodies at the Creative Karachi Festival, Nawksh is crafting himself a massive sense of intrigue. You can discover more secrets on August 19, or better still catch his set at this year's Liverpool International Festival of Psychedelia on September 23.

Wrekmeister Harmonies – Light Falls
Prolific musical collective Wrekmeister Harmonies return with members of Godspeed You! Black Emperor in their latest project Light Falls, out September 16.
This teaser is taken from the final track of the album, My Lovely Son Reprise and features the dark, smokey vocal of a melancholy JR Robinson, who reflects solemnly upon his son moving away from home. Somber strings suffuse the snippet while a plodding pluck of heavy strings creates a gentle rhythm.
If the rest of the album can live up to the nature of this dazzling snippet, it will be a beauty to behold. Wrekmeister Harmonies embark on tour with our Single of the Week artist Marissa Nadler, let's just hope they bring their shows to the UK very soon.
Comments
comments