As Foxygen descend on The Kazimier for a valedictory performance, Getintothis' Paul Higham finds a band drowning in bloated excess and struggling to offer much beyond the pastiche.
There is often a fine line between homage, pastiche and parody. Staying the right side of this imaginary line is a challenge and one that Foxygen were not fully able to pull off in a typically energetic performance heavy on theatrics.
On their latest album the triple …And Star Power the band revealed the concept of being taken over by an imaginary band from outer space, "it starts out as a classic Foxygen album, and then it's gradually taken over by this band called Star Power. They're from space. Maybe. I don't know. It's a loose concept." It seemed that this concept has taken hold in their live show, with singer Sam France embracing a wild and deranged persona, spending as much time in the audience as on stage.
It was just that the band didn't seem fully able to pull it off.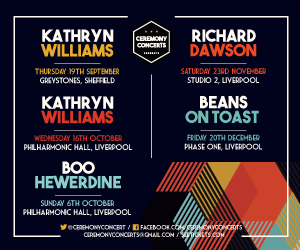 Where their earlier work has alluded strongly to the west coast psychedelia of the 1960s, this showing offered greater nods to the glam excesses of the 1970s. Opening number We Are The 21st Century Ambassadors of Peace and Magic set the stall out. Radically reworked from the album version, it was frenzied and frantic yet veered too much towards the comedic for this reviewer's tastes.
Much of Foxygen's charm has always been derived from their unwillingness to take themselves too seriously. The band have long been derided in some quarters for being derivative copyists but their appeal has been in their lightness of touch, the audible equivalent of tongues placed firmly in their cheeks.
The last album was criticised for being too sprawling and lacking focus. Similar criticisms could be justifiably charged at their live show. It was just too overblown, too much emphasis on the visual appeal and not enough on the music, which felt surprisingly flat and lacking inspiration. It could not even be said that this was a triumph of style over substance, for both elements were distinctly lacking.
This was evidenced not just by the excesses of Sam France's charmlessly eccentric performance but in the stage presence of three female backing singers, whose dance routines seemed to hint at a pastiche of sorts. We weren't quite sure what it was it was taking off.
That comes down to the crux of the performance. It felt like a big elaborate joke although one that wore itself increasingly thin as the evening progressed. We couldn't be sure what the joke was or if it was on us.
Much more successful was support act H Hawkline, proving that he has the talent and ability to step out of the shadow of Cate Le Bon to forge a successful career himself. Touring his current album, the excellent Le Bon produced In The Pink of Condition, the Welsh singer revealed himself to be blessed with an audacious talent for melody, a lyrical quirkiness and a gentle and self deprecatory humour.
Where Foxygen lacked obvious charm, H Hawkline had it in spades.
Musically he borrows much from that Welsh psychedelic tradition so beloved of the likes of Super Furry Animals or Gorky's Zygotic Mynci but has found his own distinctive sound. Jittery and angular guitar lines work their way around deliciously offbeat lyrics to create something really quite special. Guitar-led melodies come from so many angles that his music is unpredictable and exciting. It defies categorisation its melding of different styles comes together in what fees like near perfect pop-music.
Of course it helps when you're backed by a killer band. Stephen Black, better known to many as Sweet Baboo, is a cult performer in his own right. Yet his guitar work tonight was exceptional as he stood to the side and let his close friend draw the deserved acclaim from the swelling crowd. Undoubted set highlight was the penultimate number, a welsh language song that was a raucous evocation of classic underground 60s psych. The sort of thing you might find tucked away on an obscure European psych compilation. It was thrilling.
The lesson from tonight seems to be that charm and understatement most often triumph over bloated excess. It takes a rare talent to carry the latter while the former is much more forgiving. On their final outing as a band, Foxygen revealed themselves too limited to carry this reviewer along with them.
Pictures by Getintothis' Tom Adam.  
Comments
comments