As Dinosaur Jr. prove there to be life yet in old dogs, Getintothis' Paul Higham reports on a reformed band revelling in late career success.
To comeback or to stay away, that is the question facing bands of a certain generation. To potentially sully the memories from first time around or to create new ones of equal merit. It must be forever a dilemma. Yet Dinosaur Jr. have reformed and have done so to critical acclaim while preserving and renewing the fragile relationships that had previously caused the union to rupture. Crucial to their reemergence is Lou Barlow, bass player to the stars.
Pixies recent comeback been met with a lukewarm reaction. As if in an episode of Deal or no Deal the audience, it would seem, has spoken; in order to execute a successful reunion all parties need to be on board. With the often traumatic relationship between J Mascis and Lou Barlow having been resurrected it appears that Dinosaur Jr. have neatly sidestepped the tribulations of their Massachusetts contemporaries.
For where Kim Deal called time on the Pixies, Lou Barlow has been accepted, if not initially with open open arms, then certainly with good grace by J Mascis. And what's more the new material produced by the band shines, feeling like it has been part of the set for an age. New album opener Goin Down finds the band on refreshed and invigorated form. If set opener Thumb, from 1991's Green Mind, saw the band finding their feet then they sure did kick on from there, proving that songs from their new LP, Give a Glimpse of What Yer Not to be as commendable as those that have preceded it.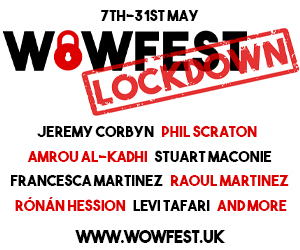 An early set highlight was the Lou Barlow-led Love is the Law, confirming for many this to be a highlight of the new album. Elsewhere Watch The Corners from 2012's I Bet On Sky was received with a rapturous reception reserved usually for enduring old favourites. Indeed Mascis' guitar playing, and the band in general, felt entirely invigorated and emboldened playing the new material. Far from being an obligatory chore to get out of the way in favour of the early career mainstays, there seems to be a genuine enjoyment in playing the newer songs.
The band seem possessed of a rejuvenated air throughout. It helps that the Arts Club is sufficiently equipped to cater for what remains one of the most obliteratingly punishing sounds in alt-rock. The trio really know how to create a noise. At times spectacularly so, to this extent that you had to pinch yourself that it was merely a trio creating the cochlea-exfoliating waves of sonic pleasure.
We'll happily refute any grumblings we heard on the basis that Dinosaur Jr. have rarely sounded better. J Mascis' guitar solos soared with a refined imagination and an impeccable other-worldly nonchalance while always remaining true to the song. His solos never lack congruity and always feel integral. Never do they scream look at me. In fact Mascis appears so shy that his trademark guitar motifs feel languid in delivery, almost to the point of being lackadaisical. The contrast between the noise generated and the attitude conveyed is polar.
Yet it was always thus; this was trademark Dinosaur Jr. Unapologetically loud and abrasively melodic, Mascis played with an air of casual isolation, slow and lugubrious, as if all the noise was carrying on around him. Barlow by contrast was a confusion of movement. Sweating to the point of his shirt changing colour and with his bass guitar all low-slung, his excess provided a neat counterpoint to Mascis' minimalism.
Much has been said of Dinosaur Jr.'s vocals. Indeed we overheard murmurings of discontent, that they were inaudible, too low in the mix. Yet we beg to disagree. Raising the vocals too high would destroy all sense of sonic subtlety. We all know the lyrics. We don't necessarily need to hear them with absolute clarity, for what matters is the effect. Mascis' lyrics exist only for the sake of harmony, almost as an extra layer of instrumentation,
It is true that the audience reception was best received for the old favourites. The Wagon was probably the highlight as the trio were enhanced by an extra drummer and guitarist. Feel the Pain provoked the first real urgency on the part of the moshers, while the impeccably performed Freak Scene was met wth understandable hollers of delight.
Cats Eyes at Liverpool Music Week: "Our sound is like the apocalypse"
There's always a question mark around bands that reform. Cynical accuastions abound. Motivations are questioned. Yet the classic triumvirate of Mascis/Barlow/Murph have now been together longer in their second phase than in their first and have made more records together to boot.
This might just provide the template yet its obvious really. Reunite to make music, to further your art. Because you want to. Because it matters. It sure has worked for Dinosaur Jr.
Opening the night were Sheer Attack a full throttle band that fused punk rock with a heavy blues and hard-rock sensibility. In the context of the night we're not sure it entirely worked, in part because of the lack of audience interaction and despite the attention of two willing mosh-pit duellers. It certainly did, however, offer an entertaining opening to the evening. Blessed with an exuberant barrier-vaulting singer, Sheer Attack did their best to warm us up as well as voice a much-needed moan at a venue that charges in excess of £5 for pouring a can of Danish beer into a plastic cup.
With a fast-paced and dextrous bass-player alongside an assertive guitarist, Sheer Attack brought a worthy arsenal to the party yet somehow they missed out – albeit marginally. While they have undoubted appeal to a certain audience, and their Motörhead-influenced hard-rock will find many adherents, perhaps they were a little to straight-forwardly hard-rock for a Dinosaur Jr. audience weened on a diet melodious alt-rock. Having said all that, they did as described. It was truly a Sheer Attack and they did more than enough to turn heads and suggest themselves worthy of further investigation.
Dinosaur Jr playing Tiny live at Arts Club for Liverpool Music Week.

Posted by Getintothis on Thursday, 27 October 2016
Photos by Getintothis' Tom Adam and Vicky Pea.
Comments
comments