MCM Comic Con returned for its second Liverpool event where Getintothis' Vicky Pea played it cool – well, almost. 
MCM Comic Con and the fanfare that surrounds it returned to Liverpool's Exhibition Centre this weekend for its second annual event.
On the surface, not much appeared to have changed from its debut outing in 2016, after all "if it ain't broke, don't fix it". The MCM brand has been onto a winning formula now for over 10 years, made even more evident with its successful expansion away from the capital and into the regional events that bookend their crown jewel which takes place in London and attracts well over 100,000 people. We're told we can expect up to 25,000 people to flock to the riverside this weekend alone.
One thing that does change is the stars. This year's event certainly took a step up from its inaugural outing with Sam Jones, aka Flash Gordon, leading the way, and the queues, with David Soul, Paul Michael Glaser and Antonio Fargas of Starsky & Hutch fame causing a stir just a few tables away.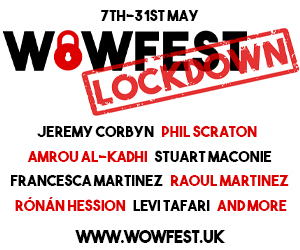 The ever popular worlds of Doctor Who and Sherlock were represented with fifth Doctor, Peter Davison and fan favourite Louise Brealey. Danny John-Jules returned for his second year, this time joined by Red Dwarf co-star Chris Barrie who seem to be greatly enjoying their most recent resurgence.
It's hard not to be somewhat sceptical about the celebrities that attend these type of events. Charging anywhere between £10 and £30 for an autograph, let alone a photo, but it must be said that except for one noticeably miserable looking guest who we didn't have to foggiest who he was anyway, the stars on show all appeared to be in high spirits, engaging with the fans who took the time and money to have a moment with their idols and none more so than Sam Jones who came across more like his character from TED than we could have ever hoped for. Hopefully Liverpool showed him a good Saturday night in similar vain.
Having attended last years event it felt very much business as usual. With our press passes around our necks and cameras targeting whatever drew our eye we'd like to think we were playing it pretty cool, nothing we haven't seen before. That was until a certain theme caught our ear. The mistakable Game of Thrones theme. Then we saw it. The Iron Throne. Dammit, they'd got us.
Despite all the headline guests it was a prop that thrilled us the most. Plenty of others too as hundreds of people took up the chance to have their photo taken upon the throne that has captivated so many millions of people. Just as we had reacted to seeing the throne elsewhere attendees of a more experienced ilk were reacting just the same at the sight of the two of the most recognisable cars of the 1970's. It was fascinating to watch people turn a corner to discover a prop they recognised and may have even loved at one point or another.
The majority of the Comic Con set up consists of the marketplace. Rows upon rows of stalls and vendors, from big name brands to independent Etsy sellers all fighting for each and every sale. Not that there was any shortage of them. We'd wager pretty much everyone who entered the room over the course of two days left with something. Even we treated ourselves to a couple of custom cupcakes.
Desperate kids running enthusiastically up to parents to ask for "just 10 more pounds please!" became a sign so common we started to get deja vu. The popularity of 'Mystery Boxes' seem to have skyrocketed with every other stall offering their own variation, making the most of the desire of potentially bagging a bargain. With ticket prices being surprisingly reasonable in this day and age (kids still go free here!), the cash that exchanges hands makes what must be astronomical stall fees well worth it for the vendors lucky enough to beat the competition to a prime place on the floor.
The Kids Zone and creative areas take up one length of the room. Artists scribble away working on custom requests or portraits, children are encouraged to give it a go themselves and have their work added to the attendees gallery. Once again the event lives up to being one of the most family-friendly dates for the diary made all the more obvious by entire family units moving about the convention expertly themed, none more so than this adorable Mario family.
Meeting your heroes, buying some goodies and posing with props aside there is one thing in particular that we would encourage people to attend for.
The cosplay. Still somewhat a dirty and misunderstood word that sets off nerd alerts for many, it's the reason that we've come back. Most of the time we don't even know what we're looking at, or who people have dressed as, but it's undeniably awesome. Whatever you think about it as a hobby or pastime, when you see a truly brilliant costume of a character you love there is no way you're leaving unimpressed.
A hilariously perfect Comic Book Guy, an annoyingly beautiful Joker and Harlequin pairing, an entire Incredibles family, paper mache' Rick and Morty, a dashingly handsome Jafar – you just never know what you're going to see (check out our gallery below to get an idea) – but you will see something that'll catch you off guard, make you grin and feel a little giddy for a moment or two.
So for the second year in a row we implore you to get on the Comic Con bandwagon and add it to your 2018 to do list. Young or old, you'll have a ball and realise it's the masses that end up as the main attraction.
Photos by Getintothis' Peter Goodbody and Vicky Pea
Comments
comments