False Advertising, newly returned from the SXSW festival in Texas, talk to Getintothis' Cath Bore about plans they have for the rest of the year. 
We find False Advertising in an Air BnB in Barcelona. It's the morning after the night before, when Jen Hingley, Josh Sellers and Chris Warr played their first ever European show in the city at the Minifestival de Musica Independent festival. Jen is enjoying a 'nice' coffee, Josh anguishing over a jigsaw made out of a photo of the BnB's owners ('I hate it. But I do it every day'), and Chris is freshly out of the shower ('I'm squeaky clean now').
They deserve this snippet of quiet time; it's a busy fortnight for the Manchester based garage rock three piece with a love of melody and hooks, freshly returned as they are from SXSW in Texas, and just days before they hopped over to Liverpool to play their set at Threshold Festival. Yet they're jetlag free and still buzzing from the Texas experience.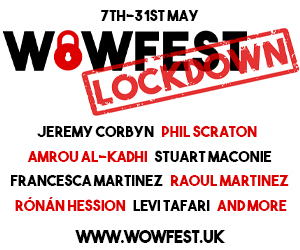 Josh: "Going there was unreal, I'd never been to a festival on that scale before. I'd never even been to the States actually. While we were there everyone was super nice, really helpful. Everyone wants everyone else to do well, which is really good."
Chris: "In small venues in the UK, bands are exchanging sideways glances and there's a competitive spirit there slightly whereas if you're in the US and you're with a load of British bands you're all mates straight away, completely different."
Josh: "That's the beauty of it, there's so many bands playing you can usually catch them another time. It always works out and there's no bad blood if you miss a band cos you're playing or something, everyone understands. It's just nice."
Check out the full line up for the first ever WRONG Festival
The SXSW acceptance and experience was made all the sweeter as Jen wasn't expecting False Advertising to bag a coveted slot when she initially applied on the band's behalf.
"In this band there's a level where you're aiming high, which is the dream level, and to stop you being like that you have to make the realism level balance out," she explains. "The reason why the band works is because there is a level of realism but you can't let that stop your dream level. I realised how much hard work it would be and if we got it it'd be very difficult. I knew it would be ambitious because we're self-managed."
False Advertising have done a bloody good job self managing so far. As well as being picked for SXSW, they won funding from the PRS Flash Funding award, released a 7″ single Give It Your Worst on Too Pure Singles Club. They played Sound City, Dot To Dot and Kendal Calling last year, with more festival bookings this summer.
"Firstly it was necessity, we wanted to be a band, we started by doing our own demos," explains Jen. "Chris has been working as a freelance producer on and off for the last few years. He had access to studios, we began our band in a studio and we didn't need anyone else because we were doing everything even in a small way. We weren't playing gigs at the beginning but we did begin it completely without anyone else, us existing was the difference between making a Facebook page and having not made it, the day before! No one was there telling us to do anything and it's continued that way. We've had people come in and give us a hand here and there, people helping us with bookings, it's been really helpful."
"There's been key times where people have helped us, it's always been for a single or a short period of time which is quite nice because there's people we've met, we can ask questions and we can benefit from their experience a lot of people have been happy to share their stories."
False Advertising have done things 'backward to front', according to Chris. The first release, the eponymously named album in 2015, was followed by the Brainless EP last year.This year there are plans to put out a string of standalone singles, starting with Not My Fault, which was released last week.
"When it comes to the press they're really only interested in albums or singles, not EPs. We thought if we focussed on some singles, did really great videos for them and made sure they were really solid songs, because we've got a big repertoire already to play live we don't need the material to play live but as a vehicle to progress," says Chris. "And throwing more money at PR and radio plugging, because when we first got involved we didn't realise how important that was. We thought pie in the sky, if your music's good enough it'll be fine but in reality you do still need to push it and shout about it or you won't get anywhere."
"You need someone else doing it for you or else it seems weird," he adds.
In recent months, they worked with mental health charity MIND and Hull organisation The Warren Youth Project. Backed by the Joe Strummer Foundation, the resulting Three Minute Heroes album, released digitally last week, and includes False Advertising's So Sick.
Josh: "It's mental health awareness. Essentially they are doing a drive to get kids to know it's good to talk about any problems they have to anyone, their friends, their teachers, family members, that people shouldn't hide away from things like that."
Jen: "What they did with the children was to run creative writing workshops where they allowed them to get loads of thoughts out. It's not quite poetry, it's like a stream of consciousness whatever they wanted to write really and making them feel really confident that they can write whatever they want. All the bands got given the results of these creative writing workshops it was all completely anonymous we had all these potential lyrics to use and ended up writing this song."
"I'm in a band partially for my mental health because you're doing a day job that potentially gets you down and maybe doesn't give your life much meaning," reveals Chris. "If you're in a band it feels like you've got a purpose. For me the job and the band are in equilibrium. One feeds the other and it keeps me sort of sane."
The band tell us of a shared fandom of music they loved, growing up, and which ones have stayed the distance; Incubus, Deftones, Radiohead, Queens of the Stone Age and 'early' Biffy Clyro. Of Biffy Clyro, Chris reckons, "Those guys have gone slightly more mainstream now but their first three albums were frickin' amazing and had a big impact on all of us, the songwriting is very clever  and very musical, there's a lot going on that if you're a musician there's a heck of a lot to sink your teeth into.'  
So yeah, False Advertising as individuals were mad keen on music as teenagers, as they are now.  Predictable enough. What's so unexpected is Chris's big reveal.
 "You did the Fightstar fan club,"  he teases Jen.
"We don't talk about that," she says hurriedly.
Oh yes we do. Tell us more.
"I ran a fan website for them and about a year after me and my friend started it their website got hacked, then we became the official website for about a year. We always got backstage to all the shows, the guys were really nice and really friendly and really supportive because obviously we were really into them and wanted to help and provide a space for fans so we had this forum."
"If you sell out in a kids' pop band and try to do a proper thing afterwards it's a bit of a lesson to be learnt there really," opines Chris. "Poor Charlie (Simpson, of Busted and Fightstar). They could have potentially done a lot better. I think there's a limit to potential success because of that."
Jen shakes her head and takes a swig from her coffee. "We'll talk about this later."
Moving swiftly on, the trio have put together some very impressive videos over the past two years to accompany releases and, going along with their DIY approach and ethic, do much of the work themselves. In the video for Dozer, the music journalist is a bit of a character; he asks such deep and probing questions, a favourite being, "what MAKES False Advertising?" So, I ask you now, what does make the band?
Jen: "It's simplicity.  It is what it is and we don't add many fluffy bits. One of our next singles has piano in it, that's quite exciting because it felt right for the song. We don't make it unattainable live."
Josh: "It's the genuineness of it. We're not trying to be people we're not. We always push ourselves but we don't want to portray an image that we don't have. We try and make that come across in the music."
Chris: "We wanted to go back to basics in a way. I was making dubstep and stuff when we started the band and I wanted to pick my guitar up again. Three people, no backing tracks, just playing the music. If we stop playing, the music stops. We put the music first, maybe that's what makes False Advertising."
False Advertising play WRONG Festival on April 22 and Sound on Duke Street on Friday October 27.
Comments
comments