Back at helm of Unknown Pleasures, Getintothis' Jake Marley unearths three more irresistible new music gems.
I first came across Maddy Storm when she posted a quite simply breathtaking demo Shoreline online around a year ago. Back then it struck as a listening experience I wouldn't forget in a hurry, even as a demo it felt gloriously quirky, it's slightly raw edges just added to the captivating atmospheric glaze.
Now a year later there's a new, polished Maddy Storm single in the world, the phenomenal – To The Sun. A stunning track that comes alive in a dim candlelit room in complete silence. It truly is music that sounds best in the dark – beautifully atmospheric, building instrumentals and strikingly dramatic vocal power that spans a range of styles, you really can't go wrong. You can go and be mesmerised in person too as she supports the equally superb Bryde at Manchester's Castle Hotel, April 24.
Missed out on some Unknown Pleasures? Check out the archive here
Derby outfit Starwheel are also quite the ticket. I recall taking notice and really loving their 60s tinged cosmic flight Broken Glass on first listen last year when they were picked to support a band I'm very keen on, Neon Waltz and then being subsequently grabbed by their phenomenal Temples esque track Drip Feed too.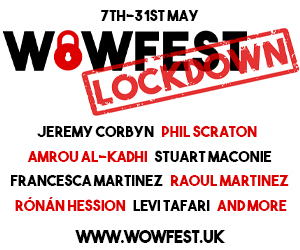 Drifting effortlessly between psych-rock and shoegaze is their thing. A thing Drip Feed does so well, whilst scuzzy new track Slow Down, a terrific dose of 90s gaze-rock with gritty guitars and relaxing gauzy vocals, finds a cosmic-rock middle-ground. Starwheel have four tracks doing the rounds online and they're all great in slightly different ways. Get stuck in, enjoy.
Finally we've gone stateside with awesome Arizona four-piece Draa. Fans of Johnny Marr's sublime guitar work in The Smiths will purr at the opening guitar riff of Even In My Dreams (All My Life) – a truly glorious shoegaze track carried by its tight rhythm section and hooky, jangly guitars ably coated by MacAndrew Martin's airy vocal.
Comments
comments