It seems our man Banjo hates encores.  Let's ask him for more.
Everyone who has even been to a gig knows how this works.
A band will finish their set, walk offstage and then we all hang around, shuffling our feet and looking at the stage.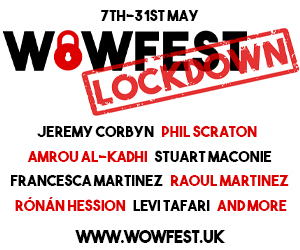 We become slightly bored and conversation is stilted. The atmosphere is similar to when you phone for a taxi from a friend's house and have to make awkward small talk while you wait for it to arrive.
Small pockets of people will shout or stamp their feet, as much to fill the time as anything else. Then, just as we're thinking of leaving, the band will return to the stage and play another couple of songs. This rigmarole may even play out more than once.
Welcome to the predictable pantomime of the encore.
The idea itself is a good one – if a band has played particularly well, and if the audience demands it enough, an impromptu return to the stage in order to continue the party can only be a good thing – the inference being that the gig was so good that an ordinary set is just not enough and second helpings are needed.
The reality however is that bands will plan an encore and build it into their set so that it in effect becomes part of their setlist. Anyone who has retrieved a setlist from a gig has probably seen the encore songs listed, probably separated from the main set by a line.
There is a sad predictability to it all and, once expected rather than earned, all it really means is a strange, unwelcome pause in proceedings.
Worse still is the undeserved encore. Again, we have all probably experienced this where a band play a lacklustre set to lukewarm applause and we all start to make our way out of the venue grumbling that they aren't as good as they used to be when they return to the stage, thanking people for bringing them back (we didn't!) and play their big hit single. Again.
PiL played their early gigs and left the stage with no prospect of an encore, an act that was seen as provocative and even mean, despite the fact that they played the same number of songs and length of set as if they had gone through the encore charade.
In the post punk years, when convention and expectations were being challenged and evaluated, some bands shunned encores as obvious, boring cliché. New Order flatly refused any such notion for many years, finishing one of their early Liverpool shows with the line "That's it, you can all go home now".  Later they relented on this front and became known for the unpredictability of their encores, which is pretty much as it should be.
The first time they played Joy Division songs live was as an unexpected encore treat.  Later of course they gave in to the predictability of encoring with Blue Monday, but when you wrote the best-selling 12″ single of all time and you're on the nostalgia circuit, what else are you going to do?
The Wedding Present have realised the absurdity of the encore and no longer perform any, including all songs to be played in their normal set.  They do this with a good grace, rather than with the truculence of early New Order, and calmly announce this policy at the beginning of a gig.
No one is ripped-off or short-changed and a full set of songs is still delivered.  Yet this is deemed to be the exception and has become a thing often brought up in interviews with the band's leader David Gedge.
In the 90s, Pixies became so bored of gig expectations during a tour that one night they played the entire set in reverse, coming on stage to play their three-song encore, leaving the stage and then returning to play their full 70 minute set.
90's baggy popsters Shed 7 are a band who know what an encore must be earned by their audience as much as by the band.  After a gig in their hometown of York, the audience quietly awaited an expected encore and the Sheds responded by nipping out of the stage door and heading off home.
Personally, I remember a gig by Shoegazing also-rans Chapterhouse, in support of their disappointing second album, where they returned to the stage after an unispired and ill-received show as we all filed out of the exits.  When they started up again, we didn't stop and continued out of the building and away from the least deserved encore this writer has witnessed.
Getintothis' 2017 Festival guide to the best in the North West
No less a person than Elvis Presley also refused to do encores, the intention being to always leave the audience wanting more – an approach that many bands who foist unwarranted encores on their sated fans could do well to heed.  The famous phrase "Elvis has left the building" originated at a show where Presley's fans screaming for more threatened to disrupt that order of the show.  The famous phrase was broadcast over the PA system to let the fans know that the great man was no longer available for an encore.
On the other side of the coin, The Cure are a band who have a reputation for epic encores, sometimes performing as many as five of the blighters.
Now while it is a treat indeed to have a 150-minute Cure gig, just  think how much better it would be without all the gaps every three songs or so towards the end. Maybe Bob and the boys need a few breaks for rest and refreshment these days, but surely their gigs would only be improved by removing the pauses between the many songs that comprise a Cure encore? Then they could maybe even squeeze in an even more extended version of Faith!
As ever though, there are exceptions to this viewpoint.  Prince encores were known for their unpredictability, at times with him returning to the stage 40 minutes later and performing with the house lights on. Factor into this his impromptu sets at aftershow parties and some of the stale predictable routine of the encores disappears.  Maybe this is all that's needed – some imagination and flair and encores could be different.
In fact, it's not the practice of encores that grates because although it's always good to get a little extra of something you like, it's the sheer predictability of it, the air of vaudeville.
Rock and Roll was never meant to be something that conformed to age-old rules or traditions and it is a little disconcerting seeing people we told were different following the same rules as panto. What next? Radiohead's audience yelling "It's behind you" as overly made up villains hide behind the bass amp? Do we really want to see Skepta carrying forward a tradition that owes more to music hall than a burgeoning underground scene?
Personally, I'd rather see a band play their set, give their all and then leave the stage triumphant and sweat- soaked knowing that they have done all they can. I'd rather see my rock n roll mean it, see bands commit to it and not follow in the footsteps of Arthur Askey (ask your dad). Let's leave that sort of shit for the Ed Sheerans of this world shall we?
Comments
comments