The year in Liverpool's live music scene culminates in a certain summer jam this weekend, as Getintothis' David Hall reports on a party in the park.
Hey, have you heard of this thing called LIMF? Yeah, stands for Liverpool International Music Festival, apparently. Somebody told us that it's kind of a big deal around here. Largest free music festival in Europe, and that.
The time has come. It's LIMF week. With the festival and its burgeoning offshoots chewing up everything in the Merseyside live scene this week, there's precious little room to move. And very little to tell you about at LIMF that we haven't already drilled into you, if you were paying one iota of attention to Getintothis over the past few weeks.
But one event doesn't mean the world stops turning, so if you're in the market for some fresh new sounds, LIMF isn't the only calling point. In the smaller Merseyside venues this week, there's plenty to get your teeth into. All that and we get to take our own booze to Sefton Park at the weekend and get seven shades of fucked up to some great music.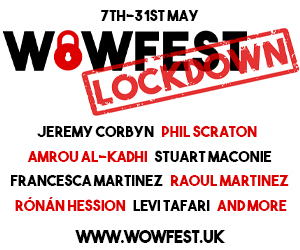 Liverpool International Music Festival: Sefton Park and various venues, Thursday July 20 – Sunday July 23.
You've probably got your weekend all planned out, but let us take you through LIMF's various goings-on, one last time for good luck.
LIMF 2017 stage times, full line up for Sefton Park Summer Jam – plus win a VIP experience
LIMF 2017 – The 13 must-see acts playing Liverpool's Sefton Park
Fresh Faces featuring Oya Paya: The Cavern, Wednesday July 19
A Fresh Faces lineup featuring Deep Cuts Live alumni Oya Paya, Leicester psych post-punks Jouska, Liverpool indie-pop outfit Azura Kings and the hypnotic Flightworks are poised to hit Mathew Street's historic Cavern venue.
The Bido Lito! Social featuring The Fernweh: The Shipping Forecast, Thursday July 20
The atmospheric folk of The Fernweh headline this cosy night out in The Shipping Forecast's basement laid on by our friends over at Bido.
In support are the melancholy existentialist country-pop sounds of Gintis, plus the gleefully trashy Hannah's Little Sister.
Tiger Twins: Buyers Club, Saturday July 22
A Liverpool gig is on the cards for 'tropical indie' (read, 'glossy, loungy surf pop') Leeds outfit Tiger Twins, with support from the grungy chaos of Fez, plus four piece Bedelia, who have recently released their addictive debut single Hong.
Cartier 4 Everyone at 1 featuring God Colony: Kazimier Garden, Saturday July 22
Party girls and boys Cartier 4 Everyone present a banging lineup following the resurrection of Liverpool's much-loved Rat Alley venue.
God Colony's filthy rhythm and bass featuring MC Flohio headline, with support from Farhood and Gribs.
There are still some scraps leftover for Getintothis' Gigbites! Refrigerate properly and reheat thoroughly.
The Soapgirls: Maguire's Pizza Bar, Thursday July 20
Liverpool Acoustic Extra, featuring David James Robertson, Pete King, Derek King and Jenny Byrne: 81 Renshaw Street, Friday July 21
Upcoming events to keep an eye on

The Music Manual Summer Shindig: Buyers Club, Saturday, August 26
Local cats The Music Manual present a two-stage all-day party in the sun (warm weather subject to change) at Buyers Club.
The first wave of acts announced so far are Nick Ellis, Edgar Jones, Mike Murphy of The Wicked Whispers, Dawn and The Embers, Jo Mary, Mary Miller, Tori Cross, Pale Rider and DUSST.
Music Manual head honcho Lauren Jones teases more to follow, saying: "With new artists and favourite faces, there's something for everyone at the Summer Shindig with Buyers Club. Two stages and lots of surprises, this first announcement is just the beginning…". Get in there.
Comments
comments