With tracks from emerging artists to some returning favourites, Getintothis' Matthew Wood brings the latest edition of Singles Club.
Single of the Week
King Krule – Czech One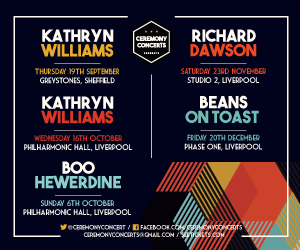 A most welcome return from Archy Marshall, his first release under the moniker, King Krule since 2013's 6 Feet Beneath The Moon.
Marshall has always pushed elements of jazz and hip-hop to the forefront of his music, fusing his jangly guitar licks and baritone, often raspy vocal with tripped-out drum beats . Here he loses the guitar in place for some super soft ambient chords that shimmer like moonlight on water, while a mellow, trip-hop beat steps through its entirety.
The track soon melts into piano and sax solos, classy elements to round off an all round classy track; the production is exquisite and Marshall's lyrical efforts gleam once again.
Omni – Southbound Station
The second single from the wonky Atlanta trio's forthcoming record Multi-task, Southbound Station is a familiar frenzy of guitar, bass and drums; twisting and turning and wonderfully entangled.
The main guitar hook is lively and friendly and Omni always seem to take influence from a rich palette of musical 'colour', with darker drums and bass counteracting primary coloured lead guitar parts that shuffle and throb like a drunken kid in a mosh pit.
Omni play Strange Waves Festival II at  O2 Ritz, Manchester on September 2, twenty days before the release of Multi-task.
Alessandro Cortini – Perdonare
Best known for his time performing and recording with industrial rock pioneers, Nine Inch Nails, Italian-born multi-instrumentalist Alessandro Cortini is set to release his third solo LP, AVANTI (October 6).
After unearthing Super 8 films from his childhood, Cortini strived to add sound to the captured memories, effectively scoring his own life and cementing them in his conscious memory. Seeing the imperfections in the vintage footage, Cortini hoped to mirror this in his music, recording his synths live for a raw, unpolished finish.
Musically minimal and drenched in nostalgia, the dark, brooding bursts of synth are tinged with a sense of melancholy, of loss, as these memories are indeed just that and cannot be relived in their fullest form.
Here's the Social media reaction to the JAMs return to Liverpool – Welcome to the Dark Ages
Margo Price – Weakness
A Singles Club rarity but here's a glimpse of the Nashville, Tennessee country scene from honky-tonk favourite, Margo Price.
Rich with all the aspects you'd expect from a country number, Price robs a liquor store, starts fires and rides off on a motorcycle to the sounds of slide guitars and fiddles as she depicts struggles of alcoholism and personal weakness.
Taken from her latest EP of the same name, out now on Jack White's Third Man Records. 
H. Hawkline – Impossible People
The latest from Welsh psych-pop icon, H.Hawkline (Huw Evans) taken from his Heavenly Records release, I Romanticize. Moving in very much the right circles, Evans has toured with prominent alternative figures such as Foxygen, King Gizzard and Devendra Banhart while the record boasts the touch of both Cate Le Bon and Warpaint's Stella Mozgawa.
Impossible People resounds with a similar charm to Le Bon; vibrant, kooky and down right catchy. Evans' vocal is smooth as silk and his friendly Welsh twang works so well with the tone of the track, coupled with a bouyant wonky chord organ.
He embarks on a headline UK tour starting September 6!
Dead Pretties – Confidence
Bringing a buzz in the South of late, London punk trio Dead Pretties vent their anger at the Western media and Kim Kardashian in this gutsy wedge of fuzz.
A meaty bass line opens the track before front-man Jacob Slater's bluesy shout rasps over the urgent, pounding intro; these boys aren't here to faff around.
Funnily enough the chorus oozes 'confidence' and the key is in the delivery of the track sounding at once effortless yet so full of energy, we've got high hopes for their live performance.
You can catch these at Strange Waves Festival II as well, September 2.
The War On Drugs – Pain
A Deeper Understanding arrived just four days ago, and this, their final release from the record is everything we've come to admire from Adam Granduciel and co. It's massive sun-drenched jam overflowing with shimmering acoustic textures and finely measured solos.
Graduciel's vocal falls like sawdust upon the elegant layers of guitar, burning bright in unison as the track reaches a fuzzy, rewarding climax.
Comments
comments