Ahead of next weekend's main event at Camp and Furnace, Getintothis' Sinead Nunes enjoyed a night of psychedelic cinema at FACT.
An evening of short artist films can sound a bit intimidating, a bit of a gamble even. You're signing up to see a lot of cinema, by a lot of people you (potentially) have never heard of – and unless you're into exploring obscure, European indie flicks, this will be a new experience entirely.
What can make offerings like this work though, is when there's a clear narrative, theme or message uniting the work; enter Lesley Taker, Producer/Curator at FACT. Inspired by the themes of excess and overwhelming sensory experiences which run throughout this year's International Festival of Psychedelia, Taker has pulled together six artist shorts to form the programme Too Much Is Never Enough.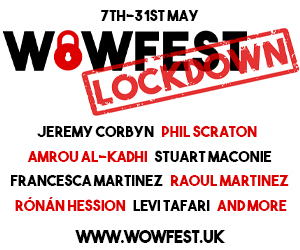 Filled with textural opulence and retina-searing colour, the hour of curated artistry flows beautifully, giving a sense of the scope of what psychedelia really means; aside from mind-bending wah-wah pedal tones and dreamy 60s drug sequences.
Liverpool International Festival of Psychedelia 2017 – Ones to Watch in the brutal Baltic Triangle
An excerpt shown from Rachel Maclean's Over the Rainbow (2013) references a work of literature often cited as a key influence for the acid movement: Alice in Wonderland. In this absurdist short which utilises horror movie tropes and appropriated audio, a girl performs for a talent show host, whose reflection in the mirror is not always as it seems. This uncanny duo, both played by Maclean, appear completely zany in cartoonish bubblegum pink and sky-blue costumes, complete with unsettling doll-like face paint, unnerving the viewer as the visuals and audio warp and sync.
Laure Provost's Swallow (2011) is another stand-out piece, using fractured light and pastel-tinted clips to create a beautiful, lilting glimpse into a trippy gathering of individuals. Set outdoors, using waterfalls and rivers as her fluid backdrop, Provost invokes a sense of time and space constantly shifting, with a sparse soundtrack punctuated by the melodic in – and outtake of breath.
Sensual and visual excesses challenge the viewer to consider how we physically experience the shifting states before us. None more so than Lotte Meret Effinger's Surface Glaze (2015), an aesthetically pleasing, yet discomforting super high definition montage of paint oozing over hairy flesh, brightly coloured oils dripping over neatly manicured fingers, extreme close ups of indecipherable body parts and beautiful, ethereal-looking orchids soundtracked by twinkling oriental jingles and eerie drum beats.
If you missed the programme at FACT, fear not, as this smorgasbord of sensory opulence is available to view in its natural habitat at this year's International Festival of Psychedelia. Housed in Camp and Furnace's Blade Factory, the PZYK Cinema will offer a space for acid heads to unwind and expand their minds, with films running throughout the weekend.
Liverpool International Festival of Psychedelia takes place September 22-23.
Comments
comments