Enter Shikari brought the noise and surround sound to Liverpool, Getintothis' Luke Chandley reflects on the opening night of their tour.
The start of a nationwide arena tour is supposed to begin with huge fanfare.
Unfortunately for tonight's headline act, Enter Shikari, there was a slight feeling of disappointment. Liverpool, a notorious hard sell on the live circuit, and the first show on their current tour, was downgraded from the Echo Arena to tonight's venue, Liverpool Olympia. Not a great start. However, it's how the show concludes that's the key issue.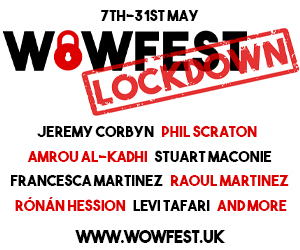 First up were long-time support artists for Shikari, Astroid Boys who surprisingly came on to both little appreciation and an even smaller crowd, as most of tonight's audience were still filtering slowly through the doors.
Their sound is a mix of hip-hop and rock with a drummer, a part-time guitarist and a DJ to compliment the pair of front men. We weren't sure what we were going to get, and we're still not sure what we got. A mix of inventive drums, quick lyricism and little else. It was unique while their short set lasted.
Main support act Lower than Atlantis were a different kettle of fish.
More of a traditional rock act than Astroid Boys, the four-piece delivered their brand of dark riffs with verve. They did their best to fluff up the crowd in front of them (which had grown considerably as the night moved forward) by screaming the usual "Liverpool, what the fuck is up?" and drawing a response by only a few of the sea of fans in front of them.
It seems they had to do a little more than that to excite these Liverpudlians.
Things start to warm up nicely as they asked the room to create a corridor in the middle of the audience.
The band requested a circle pit as they broke into more of their meaty rock, and the room duly obliged. It turns out that is what it takes to excite these Liverpudlians.
From doom to black metal & Mastodon – check out Getintothis' latest in heavy sonic sounds
Part stage show, part musical experience. That's what we had heard about an Enter Shikari gig.
It would be interesting to see how that went on a) this tour and b) in this smaller venue.
To start was a 10-minute backing track acting as a warm-up, to the theme of a 1950's-style spy mission. It was theatrical and intriguing if a little drawn out. One thing it did, though, was build up the excitement in the room. As the band finally came on stage, we were chomping at the bit to see the main event.
Enter Shikari have always been a curious band. Part electronica, part rock. An unnatural fusion of sorts.
With their first few songs we were treated to that fusion as we were served up bold lighting and impressive surround sound. Speakers were cleverly positioned in each corner to create a fully immersive, and genuinely unique, sound experience. The music hit us from all angles.
As the band moved through their catalogue, from the heavier, earlier work, to their more considered later material – there was a clear difference in style. The fans, however, noticed no difference.
They adored, moved and shook to whatever was being thrust into their ears. They're a dedicated bunch, from wall to wall and song to song.
The problem with Shikari, as they're affectionately known as, is that they're a messy band – there's a lot going on in almost every track.
Why Sleaford Mods are the most vital band in Britain right now
The way each song is put together proves impressive live, but we found it hard to find a rhythm.
The kids who had come tonight, the ones we spoke of previously, clearly disagreed. They sang along and proved that, even with a venue change, the band will not regret coming these ways to play shows in future.
For our part, it was better in sight than in sound, but for the thousand other bodies in the room, it was worth the venture out of town.
Pictures by Getintothis' Gary Coughlan
Comments
comments