As Flight of the Conchords kick off a UK tour, including a date in Liverpool, Getintothis' Luke Barr argues that there's no place of comedy in music.
Comedy music – it's not a joke and it's not ok.
On the whole, I don't think that I'm a cynical person. I can easily enjoy life's frivolities and happily do so with a smile on my face.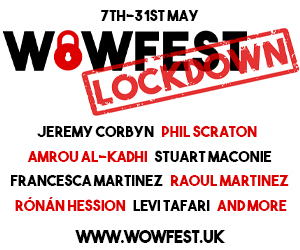 I dance, I occasionally dress up (begrudgingly), I laugh etc… Yet when my new and fairly questionable housemate asked me two weeks ago if I wanted to buy tickets for an upcoming Flight of the Conchords 'gig' at the Echo Arena, I nearly baulked.
£60 a pop for around two hours of musical tripe, also accompanied by an 11,000 seater laughter track – I think I'm alright you know. I'd rather stay in and watch the Hollyoaks Omnibus on repeat. However, in a weak bid not to sound as purposefully miserable as Morrissey or like a pent-up Daily Mail reader (the two things are not essentially linked…), please let me now explain my rather irrational reasons for hating on 'funny music'.
Reason No.1 is simple… It's just not that funny. For me, comedic music is lodged in the same bracket as 'funny' t-shirts or novelty mugs. The ones that quote phrases such as 'I survived man flu', 'sex, drugs and sausage rolls' 'I'm great in bed… I can sleep all night' – you know the sort.
The type of gut-wrenching attire soon to be caked in Lynx Africa, previously purchased from the miscellaneous clothing section in a gadget shop or second-hand on eBay.
Funny music is the equivalent of Christmas cracker jokes, crass birthday cards and writing 5 3 1 8 00 8 on a calculator.
Whether it be Weird Al Yankovic, Tenacious D, The Lonely Island or whoever else, I have just never been able to savour someone singing to me in jokes, never mind paying money to watch it live. Like the prat that I am, I take my music seriously and I much prefer it to make me cry rather than laugh.
In preparation for this bizarre form of cathartic self-therapy, I forced myself to complete some painstaking audio research, with it not taking long to frustrate myself into a furious musical frenzy. I listened to a whole host of comedy music (only rarely reaching the end of a song), ultimately coming to the unsurprising yet clear conclusion that it is still shite.
I truly fail to believe that anyone has ever stuck on a bit of Weird  Al for their daily commute to work, relying on the hysterical lyrics of Eat It and Fat to provide them with a much-needed smile on a Monday morning. Stick on The Smiths and be miserable like me. Reflect on how much you despise your job, think of ways of how to escape from your lifeless relationship and also crucially question your entire being… Do the usual Monday stuff, and as a rule, swerve the funny music.
Bizarrely enough, there is actually a comedy music festival – Festival Supreme – which was launched back in 2013 in the United States. Hosted by Jack Black and Kyle Gass as Tenacious D, the festival puts on some of the most prominent names from the alternative and side-splitting world of 'funny music' and amazingly, this event is also attended by real and living people.
This actually brings to the foreground an odd question of mine… Have you ever been round to someone's house and they've stuck on a bit of spoof music for your shared entertainment? Or, have you ever seen someone walking round proudly donning their Weird Al t-shirt or their Flight of the Conchords cap? I would suggest not.
Anyway, I digress. In a bid to help fans regain their breath (and consciousness), 2017 was a fallow year for Festival Supreme, although its website has since confirmed that'll sadly be back once again this year.
As for reasons No. 2, 3, 4 and 5… I've actually been unable to put enough rational thought into making what would be such a wholesome list on why I hate spoof music, therefore, I will now instead provide you with some of the 'most FUNNY' songs EVER to help you make your own minds up:
Weird Al Yankovic – White and Nerdy
Just the 122 million views on YouTube here for Weird Al.
The original parody artist who's notably served up 'hit after hit' for a number of decades now, succeeding in his career thanks to queasy puns that are almost enough to make one weep genuine tears.
He's previously stated that one of the few artists who rejected his musical advances on a consistent basis was Prince…if you didn't need any more reason to love the latter.
However, one must hold their hands up in highlighting Weird Al's musical longevity and how he's attracted an avid cult fan-following. He has somehow outlasted some of the artists he's covered, consequently creating a career that has spanned over four decades and led to 14 studio albums. Good on you, Al, but I'm afraid your comic covers are still right at the top of my musical hit list.
Flight of the Conchords – Business Time.
It was quite a tricky task to choose just one bug bearing song from the infamous folk-rock New Zealand duo, however, this is probably the one that rings most distastefully in the ears although Hiphopopotamus vs. rhymenoceros ran it a close second.
As a whole, I think I can refer back to my earlier (and sole) argument here, being that spoof music just isn't that funny, or maybe it is that Southern Hemisphere humour is just a bit too subtle for my liking..
Tenacious D – Tribute
If there was one exception to one's entire rule about hating funny music then this song could be it. Primarily because it is actually a decent track and has a catchy melody, but also because of Dave Grohl's appearance on drums and as Satan in the music video.
While the lyrical content is obviously comedic and I still can't stand the weird singing accents, one can take slight solace from it being a solid music production.
The Lonely Island – Jizz In My Pants
Another hysterical classic formed with the help of Hollywood here… "Last week – I saw a film. As I recall it was a horror film. Walked outside into the rain / Checked my phone and saw you rang and I Jizzed in my pants."
Now, I don't claim to be a comedic or behavioural expert, but surely, just surely, this is not we;ve become reduced to as a sophisticated human species. Think of some of the best lyricists from generations gone by, and now compare their sublime pieces of writing to this back-of-the-school-textbook humour written above. Must do better.
The Lancashire Hotpots – You Could Get Hit By A Bus Tomorrow
The final track on this side-splitting mixtape comes from a band much closer to home.
Formed in December 2006, the group from St. Helens at least try to put a modern and topical take on their musical content, much rather than just singing about 'Jizzing in pants'. 'Yesterday I were on't beach, drinking San Miguel. Now I'm in an airport car park, and I don't feel well' – Purple zone. Now, while the music produced by the Hotpots is undoubtedly questionable, the meaning behind their tracks is honourable and for this I almost admire them.
Now, to conclude this educational essay – which is obviously what this was planned to be – I would ideally insert a cut-throat statement from Liam Gallagher, although fortunately for Weird Al, he has only ever had it out for the likes of Radiohead, Blur and Coldplay
However, I will leave you with one final question/thought.
What is it you want from your music? Happiness, support, melancholy?
Whatever your musical motive may be, please be sure to consider this before you ever click 'add to basket' on a £60 ticket to watch the Flight of the Conchords. Please believe me when I say, it really won't be that funny.
Songs should not be used as vehicles of comedy and to be honest with you, I am actually not too arsed if this does make me sound cynical. Cynicism is at the core of great satire.
P.S. Should anyone care to question my committed and fixed conflict with comedic music, then please feel free to fire over any tracks that I'll undoubtedly never listen to.
Comments
comments