This week's Unknown Pleasures sees Getintothis' Mike Stanton explores murky gothic synthwave, new wave synthpop and 80's inspired dream pop.
Baby Sounds is the first release from California-based Vandal Moon's soon-to-be-released album Wild Insane. Driving and hypnotic, Baby Sounds is a dark slab of synth-goth pulling inspiration from The Cure, The Chameleons and Gary Numan. Blake Voss, founder and vocalist, sounds like a genetically spliced version of Robert Smith and Marilyn Manson perfectly complimenting the neo-noir synthwave and doom-laden atmosphere.
"I cover a lot of themes of alienation and dystopia on the record. We're living through a dystopia right now. The internet is slowly killing us all with its incessant input, and I think we know it. But we're so drawn to it, that we'll be damned if we can't convince ourselves otherwise. Myself included. I'm victim to our brave new world, and it came through on this record very naturally," says Voss.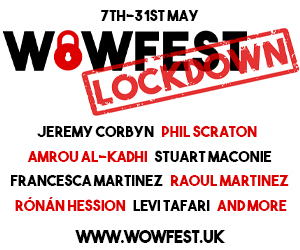 Baby Sounds covers subjects such as love, death, violence, seduction and mortality, reflecting the current socio-political climate and the struggle to retain our collective and individual humanity. Ballardian soundscapes never sounded better and Vandal Moon have constructed a record to soundtrack 21st century angst.
Wild Insane will be released across digital stores and streaming platforms on April 20, but will already be available for pre-order via Bandcamp as of March 9 with Baby Sounds available for download immediately upon order.
LIMF 2018 reveals Example, Hacienda Classical, Young Fathers for Sefton Park festival
Dream pop quartet BOYS released their shimmering new single Hollywood on March 2 and it is a blissed-out haze-wave track of rolling soundscapes and evocative tones.
Written and recorded following the conclusion of their debut US tour last year, Hollywood captures the band's creative tendencies in full flow with delicate tones and warm, fuzzy guitar work drawing obvious comparisons to Beach Fossils, Real Estate and Wild Nothing.
BOYS create a spacious gossamer shoegaze on Hollywood evoking the 80's dream pop of Echo & the Bunnymen, it's all subdued guitar textures, subtle but driving bass and haunting strings. Ross Pearce's vocals are washed and plaintive, almost echoing, and swirling in-an-out of the mix adding to the spectral ambience.
Hollywood is available on all digital platforms.
Rodney Cromwell has been exploring the chilly, new wave synthpop of the early 80's for several years now and on Comrades he perfectly encapsulates alienation, cold war dread and sci-fi dystopia. Where the debut album Age of Anxiety drew on personal demons, his new material deals with the current social and political world of misinformation and paranoia. Comrades is a robotic turbocharged rebel song for the twitter generation, inspired by recent upheavals in the UK.
Sonically, it sits somewhere between Kraftwerk and Pye Corner Audio.
Comrades is really the twisted soundtrack for the post-truth world reflected with minimal synths and vintage drum machines recorded on detuned analogue gear.  Melody and dark humour combine with simple motorik rhythms, soaring bass lines and the bleeps of retro synths to conjure images of brutalist architecture, transmitter arrays and monochrome nightclubs.
The forthcoming Rodney's English Disco EP will be released on red vinyl 7", on CD and digitally via Happy Robots Records.
Comments
comments