Iconic performing arts university LIPA announces its end of year showcase, Getintothis' Lewis Ridley, Billy Strickland and Sarah Pitman pick out the top eight artists performing.
Once again this year, The Liverpool Institute for Performing Arts have launched showcase festival 2ube Xtra.
An institution steeped in performing arts history, LIPA has produced artists that have achieved success on a scale from local to international.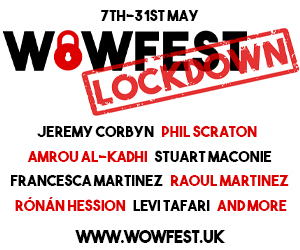 Graduates include Dan Croll, The Wombats and Stealing Sheep, whilst one of Merseyside's most recent chart successes Circa Waves have strong links to the university.
Tickets to 2ube Xtra are free, and In addition LIPA will be streaming the entire festival online through their Facebook page.
All seven nights will take place in the Paul McCartney Auditiorium at the university on Mount Street, with four acts per night showcasing the best of LIPA's produce.
The festival kicked off last week, with four-piece Motherhood headlining; they impressed at 81 Renshaw in September. Cloud Factories featured the following night.
The festival sees a pleasing balance of gender and style, Jessica Ray headlined on Tuesday night while Californian Alex Dunaway and Georgia Black feature on the final, sold out night of 2ube Xtra.
We've taken great pleasure in picking 8 ones to watch from this year's festival bill.
Bandit
Lively four piece indie band Bandit feature on Wednesday, 25 April and are honing the art of domesticity. Like many others before them, they take a youthful energy and tell tales of mischief and the consequences of such. Their influences are no surprise, and include former LIPA students The Wombats as well as both Catfish and The Bottlemen and Arctic Monkeys who evidence similar flexibility.
Jakkals
Jakkals utilise the tried and tested rock triad formula. Their sound ranges from the dark and moody to electric, and the inclusion of saxophone throws in an odd unexpected twist. They've secured the second slot on Thursday, April 26, their style may be suited better to a darkened basement but LIPA's venue can absorb their radiating power instead.
Idle Frets
Sellouts in the right sense, Idle Frets will close 2ube Xtra in front of the 330 capacity Paul McCartney Auditorium on Friday, April 27. A UK tour has seen them call into London, and Manchester's Jimmy's and following Friday's set they'll head to Scotland for further dates. Teasing new music, it's likely that this set and tour will mark the transition from hopeful to established.
Jessica Ray
From singing covers in her living room to being on the verge of bringing out a single all of her own, Jessica Ray brings a fusion of soulful blues vocals and pop rock melodies. She has a winning formula putting a bit of sass into her performance and is passionately vocal over issues such as women's rights.
Rosie Samaras
Rosie Samaras brings a unique blend of traditional dance beats mixed with more contemporary styles and amazing vocals. With a stage presence and vocals similar to that of rising star Dua Lipa, Rosie is sure to be able to mimic her success in the near future. Rosie Samaras has secured the first slot on the opening night, but arguably should be higher up the bill.
Liverpool Sound City 2018 venue guide – a tour of the Baltic Triangle music hubs
AZTEX
This five piece band, based in Liverpool, have a fresh indie/pop sound. Formed two years ago, they released their debut single Talking to Myself shortly afterwards.
AZTEX manage to seamlessly blend summertime pop sounds with quad vocals and 60s surf pop riffs. They play the opening night of 2ube XTRA.
Secret Smokes
Liverpool duo Secret Smokes are nothing short of impressive. With a self titled EP under their belts, the catchy stand out track on said EP is Built to Self-Destruct..
Smokes are plain and simple hard rock and hook the listener in with memorable guitar riffs and vocals. Definitely a band to keep a watchful eye on, they play on Wednesday, April 24.
Cave Party
Offering a mixture of talents as well as a mixture of sounds, Cave Party proved themselves with the mighty track No Lies.
Cave Party have great potential, we can only hope that in the future they release some new recordings because they sure as hell have something special going on, perhaps this festival can showcase some of them.
Comments
comments