Boy Azooga release a debut album and play Liverpool next month, main man Davey Newington talks Getintothis' Cath Bore through his story so far.
Boy Azooga played Liverpool for the first time last September, part of a short UK tour supporting fellow Cardiff residents Estrons.
Boy Azooga's half hour set came as wonderful surprise to those of us present, four lads in plaid shirts, frontman Davey Newington bearing more than a passing resemblance to a pre-Beatles John Lennon, albeit Lennon a smidgeon more wholesome.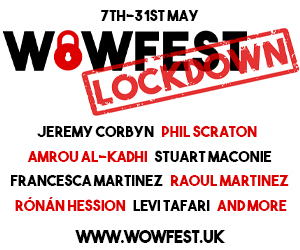 The four piece hit the ground running that night at Buyers Club from the get-go, with cheery, psychedelic dance-pop, pulling from an impressively broad musical palette, digging into funk grooves before flipping back out again. With hand held percussion, audience maracas participation was a must. By last autumn, they – Davey, backed by Daf Davies on drums, Dylan Morgan (keys/guitar) and Sam Barnes (bass) – had been playing live as a unit for just under a year. But enjoying them that night, one assumed much longer.
Davey started writing songs aged fourteen – he's 26 now, but stayed behind the drum kit in bands for the most part until months ago, picking up the sticks for the first time at the age of six and later playing in various Welsh orchestras and jazz outfits. He comes from a musical family; his parents meeting as members of the BBC National Orchestra Of Wales. His father plays violin on the new Gruff Rhys album, Babelsburg, out on the very same day as Boy Azooga's debut.
'My folks definitely influence what I listen to, my dad especially always had a very eclectic taste. A lot of film music growing up but he was also really into Paul Simon. So I grew up listening and loving loads of different stuff. And not bogged down by genre definition.'
I used to play Tony Hawk's (skateboarding) computer games quite a lot as a teenager and those soundtracks are incredible,' he adds. 'They have some really amazing old school hip hop on them and stuff like the Dead Kennedys as well. Now as I've got older, I try and absorb as much as possible. My drum teacher Graham, he encouraged learning loads of different styles of rhythm, Latin stuff, the more you know it broadens your musical palette.'
Over the past couple of years Davey drummed for Charlotte Church's Late Night Pop Dungeon. He found the experience expanded his scope and ambitions about what he might achieve with his own project.
'Those gigs were a considerable jump in size to the ones I'd been doing previous. Doing those bigger gigs definitely boosted my confidence. I was still on the drums but being in front of that many people…I definitely started feeling a bit better. I think when I was younger I was a lot more self-conscious than I am now. Now I'm, 'fuck, let's enjoy it'.'
Pop Dungeon isn't a set up for a musician who's a shrinking violet, is it?
'No, it's pretty wild!'
On writing and recording his own material,  'The more I did it the more I was really enjoying it. I'm really glad I did because it's been loads of fun. It's cool seeing your songs come to life. I played them to my girlfriend and my mum and dad but very few people heard it for a long time. It's only over the past year or so that other people have heard it.'
Other elements shifted, push him forward into creating Boy Azooga, things clicking into place. He went to the Green Man festival and got a shot in the arm from seeing Hippies Vs Ghosts play.
'They were such a good gig…I was so inspired by that gig I was, right, this time next year I want to play Green Man with my band and then we were lucky and it actually happened.
Over the past few years I'd had a feeling to do it and take it a bit more seriously and stuff, but that gig was definitely the defining moment. And I remember when David Bowie died, I got into the Black Star album and the impact he had. I watched a bunch of interviews with him and he said you should always be on the edge of your comfort zone or whatever and I was yeah, I'm going to give it a go. It's still a bit new!'
When I speak to Davey, it's the day before Boy Azooga's television debut. And not just any old telly show; the band are playing live on Later with Jools Holland.  And it's a mini Welsh takeover of sorts, with fellow Heavenly artist Gwenno, and the label's alumni Manic Street Preachers also performing.
'I'm excited but terrified as well,' he told us. 'It goes in waves.'
Seeing Boy Azooga play and talking to Davey, it's obvious he's on a permanent buzz about how well things are going. It's refreshing to see enthusiasm for all the firsts – the first telly performance is an obvious one, but skipping through the band's social media there's a genuine sense of excitement from him, and the other members, as events unfold.
Being played on Radio 1 and 6 Music, interviewed by Mike D of the Beastie Boys for his show and more, all of it, carries with it a palpable excitement. He recorded some alternate versions of songs at James Hoare's (Ultimate Painting, Veronica Falls) studio in London late last year.
'You should've seen me in his flat! His studio is insane. I'm a proper fan boy. I'm not one of these people who'll play it cool. The first thing I was to him was, "YOU CHANGED MY LIFE!" I did Loner Boogie and Jerry (from the album) and then I covered some by KEYS, a band from Cardiff.'
Those recordings will be available in the future, Davey's not sure when as yet.
He is enjoying the unexpected twists and turns Boy Azooga's success brings. When he sings Loner Boogie on Later.. 24 hours after our chat, he's unable to resist amending the lyrics to fit the occasion: 'I got a screwed up heart on BBC 2!"
The 1,2, Kung Fu! album is out in a couple of weeks and was written and recorded by Davey, and produced by his friend Dr Ed Boogie aka Eddie Al-Shakarchi, the live line up brought together after the album was finished.
'The nature of how we worked it would be… I wouldn't see Ed for a couple of weeks and he'd send me the mix and I'd listen to it and refine it in my own time. So the songs were written that way it wasn't "ok this is the final recording now", but almost using the recordings as a way to enhance the songs.'
It's all sounds so simple, like everything's come together so quickly and easily. Get a band together, sign to Heavenly Recordings, end up on Later…, and the record's not even out yet.
'I've been playing in bands since I was 13 and the fact that anyone seems to give a shit about what I do is really exciting. Having played to empty rooms so many times. I feel very lucky,' he confesses.

The videos for songs William Onyeabor-inspired Face Behind Her Cigarette, Loner Boogie and the sweet affectionate Jerry resemble in part a karaoke screen, the lyrics playing along with the song. The idea is borrowed from the American funk band Vulfpeck.
'I spent so long worried about if the vocals were loud enough I thought it'd be cool for the lyrics for the choruses to be easily understood. A lot of music I'm into, the lyrics are buried quite a bit. I thought it'd be cool if people could understand the lyrics. It's a bit of fun, some of the songs on the album are a bit dark. I wanted something a bit fun as well. Not too serious.'
And we can sing along at home as well…
'I'm a massive fan of pop music really. There's a night called there's a place in Cardiff called the Blue Honey Night Cafe, they do karaoke there on a Wednesday and it's so much fun. I think that might've spilled the inspiration of the videos.'
Are you a karaoke king? Please say you are.
'No, not at all! But definitely after a few I have been known to scream through Fight For The Right To Party…'
1, 2, Kung Fu! Is released 8 June.
Boy Azooga UK headline tour dates:
5 June – Edinburgh, Sneaky Pete's
6 June  – Middlesbrough, Westgarth SC
7 June – Liverpool, Shipping Forecast
12 June – Cambridge, Portland Arms
13 June – Margate, Tom Thumb Theatre
14 June – Leicester, The Cookie
15 June – Carmarthen, The Parrot
16 June – Newport, Le Pub
Comments
comments