With the British summer as temperamental as ever, Getintothis' Sinéad Nunes presents her back up plans, in case it all goes wrong.
Baltic Weekender
1 – 4 June, 24 Kitchen Street, Constellations, District + more, £25 (day ticket) £45 (weekend ticket)
For those of you green with envy at all your mates swanning off to All Points East or Field Day in London this weekend, fear not, because Baltic Weekender is bringing some big names to Liverpool for three days of electronica, techno and dance music. Highlights include Helena Hauff, whose New Years Day show at Kitchen Street wiped the floor with the rest of the local NYE offer, Ninja Tune's Romare, South London rapper Ms Banks and English electronic producer Objekt.
Open Culture: Summer Arts Market
2 June, Liverpool Cathedral, 10am – 6pm, £3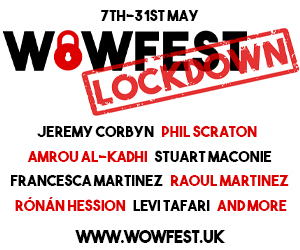 It feels like Merseyside's biggest arts and crafts fair only just happened (remember the winter edition) but its already summer and Open Culture are back with the best shopping experience you could hope for. Get down early to avoid the crowds (or not, if you don't mind braving the heat inside a sweltering hall of bodies) and browse stalls from over 200 of the region's best artists, designers and makers, as well as a gigantic vintage market in the basement.
Film Screening: Stalker (1979)
7 June, OUTPUT Gallery, 6pm, No ticket information available
New venues pop up every day in Liverpool, so if you missed the buzz around Kazimier's new gallery space OUTPUT, you can't be too hard on yourself. Based in the workshop adjacent to the Kazimier Garden on Seel Street, OUTPUT is an independent gallery showing work exclusively by Liverpool-born or -based artists. For their first film event, its Tarkovsky's Stalker (1979), a Russian science fiction classic which follows three men as they traverse an apocalyptic, fiercely protected wasteland known only as "The Zone", considered one of the greatest pieces of dramatic cinema ever created.
Made from Light: The Art and Science of Renewable Energy
11 – 17 June, Tate Liverpool, 10am – 6pm, FREE
Renewable energy is considered to be a recent technological development, but in fact it has a long history, and for centuries the possibility of harnessing the power of the sun has inspired scientists, engineers, writers and artists alike. In Tate Exchange, University of Liverpool will be offering a programme of creative workshops and talks, exploring art, science and the history of renewable energy as well as the chance to add your voice to an evolving energy soundscape that will be performed over the weekend.
Thank You For Playing (Screening) + Curator Tour with Lesley Taker
13 June, FACT, 6.30pm, FREE
When Ryan Green, a video game programmer, learns that his young son Joel has cancer, he and his wife begin documenting their emotional journey in the form of an unusually beautiful and poetic video game. Thank You For Playing follows Ryan and his family over two years through the creation of That Dragon, Cancer as it evolves from a cathartic exercise into a critically acclaimed work of art that sets the gaming industry abuzz. Curator Lesley Taker will lead a tour of the exhibition States of Play: Roleplay Reality ahead of the film, contextualising this unusual and beautiful creation within a world of alternative gaming realities.
OPAVIVARÁ!: UTUPYA
until 24 June, Tate Liverpool, 10am – 5.50pm, FREE
Venture into Tate's third floor gallery to discover UTUPYA, a playful and interactive installation from Brazilian collective OPAVIVARA! – their first UK exhibition. Responding to urban public spaces, galleries and cultural institutions, OPAVIVARA! trigger interactions between people by transforming everyday objects into something new and engaging, to stimulate more relaxed behaviours and cultural exchange in public spaces. Here, visitors can don animal prints, lay inside a gigantic hammock, and share their thoughts over herbal tea, inside the gallery space.
Tate image credit: Joseph Beuys, Sun and Pylon 1946. Tate / National Galleries of Scotland. © DACS, 2018
Comments
comments