WIth the dust settled on the Baltic Weekender, Getintothis' Amy Chidlow looks back at a diverse and popular event.
The success of Baltic Weekender proved just how important the Baltic Triangle is when it comes to showcasing Liverpool's musical talent.
A mixture of good weather, great bands and cutting-edge technology brought together an impressive turnout across multiple venues.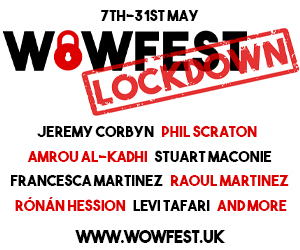 Despite an amazing set which had plants shuffling off the shelves in the constellations garden, Dub Defenders received a disappointing audience due to the curse of being first on the set list. That being said, the mighty duo will have their time to shine, and to a more suited crowd, at next week's Positive Vibrations.
Constellations became the heartbeat of the entire weekend; its garden was perfect for the sunny weather and it wasn't long before the queue to get in seemed a longer wait than some of the set times. A tip for those attending next year, get there early! And while we're on the subject, a solid well done to all the staff and security throughout the hectic weekend who kept the queues moving and the beers flowing.
Liverpool music gig guide: Boy Azooga, Positive Vibration Festival 2018, Blossoms and more
Back to the music, Friday continued to punch out great acts including bass music legend Chimpo and High Focus Records own Ocean Wisdom. The London born rapper is known for his speedy skills behind the mic, something we were lucky to experience alongside an impressive light display in the Constellations Observatory. Finally, representing the techno and house scene is Omar S who finished the night off over at kitchen street.
Sadly, the weather wasn't as kind throughout the weekend but, being a northern city, it's never stopped a good turnout. To lighten the mood, the afrobeat's of Dele Somsimi get the day started by, under direct instruction, gets the crowd to dance with a side step. Beach balls and inflatable sharks fly round the garden and later, surrounded by a circle of synths, Romare delivered his set in the coolest of manners and with some serious skill.
Over at Kitchen Street, the garden is literally rammed with people, to get inside is to sacrifice a good 20 minutes of your afternoon. Perhaps an over exaggeration but the venue really was booming. The same goes for Hangar 34, at soon as the venue opens later that day, its queue stretches out the door. The whole weekend left its goers spoilt for choice.
A rich mixture of house, techno, hip-hop, afrobeat and everything in-between.
Comments
comments