The gig guide is a more chilled out affair this week, so Getintothis' David Hall pours a long one and sits you down in a deck chair.
We have a delightful selection of gigs to tell you about this week. So, no hard sell needed. No upfront overarching theme to this guide. Just five classy picks featuring everything from first wave punk to the latest in pop maneuvers.
See, this is one of our favourite kinds of week. All of the gigs across town in the next seven days look to have grouped together effortlessly. The kind of events that will bring people together with a beer in their hand, a smile on their face, and maybe even the sun on their brow. If we're lucky of course.
That's certainly the case with Liverpool Calling festival, which features a billing of mostly rising stars. Looks like you're just as likely to discover your new favourite act there as in one of the smaller venue efforts in Gigbites this week.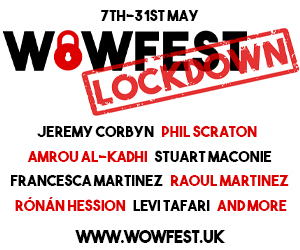 We're all entitled to a break every once in a while, and it seems like the Merseyside gig scene is no exception. This week has the feeling of being organised from a hammock. So strip down to your budgie smugglers, and slap on some sun cream.
Peruse these lineups at your leisure.
LANY: O2 Academy, Tuesday June 19
LANY (an acronym of Los Angeles New York, yet pronounced "Lay-nee") do not hang around. Having formed in 2014, they released their debut album last year and already have the follow-up Malibu Nights in the can for release later this year.
Think of a American version of The Script with this three-piece, and you're getting somewhere close. They're a big deal overseas though, having recently sold out an arena in the Philippines.
Katy Perry: Echo Arena, Thursday June 21
Pop sensation Katy Perry has come a long way from being the I Kissed A Girl girl. Last year's Witness was her fifth album, and featured Chained To The Rhythm; the most-streamed ever song on Spotify by a female artist.
Her last Merseyside visit was on the Prismatic tour in 2014. This time Perry brings Hailee Steinfeld in support, on a tour which was estimated to have grossed around $28.1 million in 2017 alone.
The Bido Lito! Social: EBGBs, Thursday June 21
Our friends and colleagues of the pink pages Bido Lito! host their monthly show of no fixed address. This time they descend the stairs of EBGBs for a midweek show city centre show.
The lineup features the noisy dissonance of Wild Fruit Art Collective and the angular art-pop of Beija Flo, plus Hannah and the Wick Effect.
Liverpool Calling 2018: Baltic Triangle, Friday June 22 – Saturday June 23
The latest bijou festival to call the Baltic Triangle home, this weekend sees Liverpool Calling start its 2018 edition. It's something of a reboot for the event, which was forced to cancel at short notice in 2016 and went on to skip a year.
But 2018 sees promising headline turns by Pulled Apart By Horses, The Wytches, and Demob Happy. There are a host of local bands on show too. The likes of SPQR, Peaness and False Heads are also smattered across the bill. Day and weekend tickets are still available.
The Skids: O2 Academy, Saturday June 23
Legendary punk originators The Skids were formed in Dunfermline in 1977. Their original lineup released a new album earlier this year with Burning Cities, and now the Scots hit the road in support of it.
They'll be sure to also play the hits, like The Saints Are Coming and their best-known track, 1979's single Into The Valley.
Read Getintothis's Peter Goodbody's interview with The Skids' Richard Jobson here.
For the other events that fell through the cracks this week, scoop into Getintothis' Gigbites. You dig?
George Benson: Philharmonic Hall, Thursday June 21
Adam Jay, The Cascaders, The Difference, Brass Antelope: Zanzibar, Friday June 22
Dogtooth: Hangar 34, Friday June 22
Iain Till, Mudcat Landing: 81 Renshaw, Friday June 22
The Plan: Zanzibar, Friday June 22
Professor Elemental: Central Library, Saturday June 23
John Bramwell: Arts Club, Saturday June 23
Maddie Stenberg: Zanzibar, Saturday June 23
Upcoming gigs to keep an eye on:
Emel Mathlouthi: Invisible Wind Factory, Saturday July 7
This one is bound to stay firmly off the radar – you know how many column inches those boys with guitars take up – so listen carefully; we shall say this only once. Liverpool Arabic Arts Festival presents Tunisian born singer, songwriter and producer Emel Mathlouthi, a woman often referred to as the voice of the Arab Spring.
That's because Mathlouthi speaks out about such issues as equality, diversity and inclusion. But her music comes first, and that's where she mixes traditional Tunisian influences and instruments with electronica. A fiercely independent artist with an identity very much her own, this Invisible Wind Factory gig is bound to be a sleeper hit.
Comments
comments