Iron Witch played their only 2018 gig in Liverpool, Getintothis' Nedim Hassan was witness to a night of crusty doom-laden sludge that will live long in the memory.
Descending the stairs from the brightly lit Sound Food and Drink with its endless supply of upbeat funk and soul classics into their dark, bleak basement feels entirely appropriate for a night featuring some of Liverpool's finest sludge doom merchants.
A cold, pale blue light illuminates a stage full of Marshall amps and an ominous looking skull stage banner.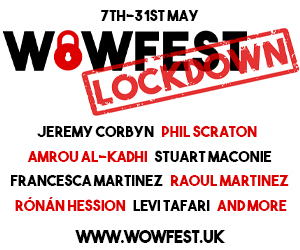 Groak take to the stage and take no prisoners. A barrage of primal screams, accompanied by devastating, bludgeoning riffing, this three-piece's noisy brand of crust punk-infused sludge sets the scene perfectly for what is to follow.
Coltsblood are a last minute addition to the bill, replacing noise merchants Drought due to injury. Yet they threaten to steal the show throughout their mesmerising set.
Their brand of what they term "unfathomable doom" is majestic on songs such as Ascending into Shimmering Darkness, which combine guitarist Jemma McNulty's elongated resonant guitar melodies with the fury of Jay Austin's whirlwind drumming and John McNulty's deep guttural vocals.
As if to provide further testimony of their power, at one point, Jay assaults his drum kit with such force that one of his sticks snaps in two.
Raising his bass above his head, a triumphant Rick Owen salutes the crowd as headliners Iron Witch launch into a crushing set of songs taken from their acclaimed album A Harrowed Dawn.
Standing in front of the stage, with his back to the crowd, vocalist Dave Mould is a conduit of anguish and hatred. His tortured growls on the colossal Machinery of Hatred give way to agonised screams as the song builds in intensity.
Highlight of the set is Belly Full Of Rats, which envelops the anger in a riff that compels the devoted audience to nod their heads in obedience.
A quick bout of fevered moshing takes place, but this is largely a performance that requires the audience to stand, head bang and respect the power of Iron Witch's thickly distorted soundscapes.
When it is over, one member of the crowd turns to his friend and says "bone-crushing." No further summary is needed.
Comments
comments