Africa Oyé is back for it's 26th iteration and is in rude health as Getintothis' Peter Goodbody discovers after a weekend in Sefton Park enjoying the sun and dodging the rain.
It's the weekend we look forward to every year, for Liverpool does this event so well. Oyé is brilliant. We could leave this review at that. Skip the rest.
Pity then there was a massive dump of rain as we arrived at Sefton Park on Saturday afternoon, just before Kasai Masai came on stage. There were plenty of people taking shelter under the trees around the Review Field and fewer than we remember from previous years actually in the field itself.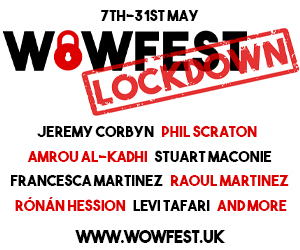 But the rain passed and the site began to fill such that by the time Marema started her excdllent set it seemed we were back to normal Oyé attendance levels. By 5pm the place was jumping as far back as we could see.
The reception given to Sonah Jobarteh was immense as she walked on stage plucking at her incredible kora. It's obvious many here remembered her appearance two years ago where, despite the rain, she pulled a blinder. This year was no different. Liverpool <3 Sona Jobarteh.
We'd also reckon a good chunk of the audience was younger than we've seen in previous years with the result the sets from DJ Edu in between acts were greeted with just as much enthusiasm as the acts themselves. The youth were singing and dancing to all he could throw at them.
At the far end of the field, Trenchtown always proves a hit, with DJ sets away from the main stage keeping a sizeable crowd entertained. Maybe we're cynical to wonder if this is because of its proximity to the main bar. But, hey, they were all having fun as they kicked a large purple beach ball around amongst the grooves.
The site felt bigger this year, too. There were more merch stalls than previous years and more great food offerings. Our Senegalese chicken curry was delicious. All manner of jewellery, clothing, trinkets, pictures, posters and, of course, cds were on offer. Given the opportunity (and the space in our belly) we really liked the look of the Greek street food and the Thai and Indian offerings, too.
Saturday closed with Rocky Dawuni. We feel slightly uneasy about saying he was a kind of cheesy end to the day, but he didn't quite gel with us. For sure, he has a popular appeal and all the moves – he's a natural headliner and a massive character. But it's all a bit, well, been done before. It's fine, though and the crowd love him. We leave them to it and head off for a kebab.
It was a cracking first day effort from Oyé and a demonstration of how good is this festival.
Sunday's weather forecasts are confusing. A mate texts us and says there's gonna be torrential rain between about 5 – 6pm. That doesn't square with our iOS weather app, which gives us decent sunshine for the day. But, he's ever the optimist.
Anyway, we're back at the Park in time for Cuba's Son Yambu who belt out a strong latin vibe with aplomb to an audience that's much bigger than this time yesterday.
But the highlight of the day, perhaps the weekend, was the amazing singing and general sass and swagger of Cape Verde's Lura. Just about everybody we spoke to was blown away by her voice and cool moves as she sashayed her way around the Oyé stage. There can be no doubt she won plenty of hearts today.
Sunday's headliner, Inner Circle, were a fitting close to the festivities and drew a massive crowd to the main stage as they romped through a pretty classy reggae / dub infused set.
That this festival can remain free is remarkable; that it can attract world class bands and singers is even more so. Oyé has consistently been voted one of the best free festivals the country has to offer time after time. Songlines magazine has rated it in its Top 10 Festivals (whether free or paid) for the past six out of seven years.
And it's easy to see why. Oyé is quite simply one of the best things Liverpool does. The atmosphere is always chilled and friendly; the police presence is minimal because nothing more is required. The organisation is superb and the stewards helpful. The beer is reasonably priced as well and every pint goes towards keeping Africa Oyé going for years to come. We did our bit because, although it's free at the point of delivery, it's worth paying for.
Oh, and the best bit. Our mate was wrong. It didn't rain.
Images by Getintothis' Peter Goodbody and Warren Millar
Comments
comments