Louis Berry brought his European tour to a close at Liverpool's District and Getintothis' Peter Goodbody was part of the congregation of believers.
Louis Berry has no shortage of fans as tonight's sell out at District proves.
Full of confidence, dressed in trademark all black and waving his acoustic guitar around, Berry's arrival on stage was one of the most anticipated at any gig we've been to recently, save perhaps for the adulation meted out to Gerry Cinnamon. This was the final night of a month long sojourn around Europe, which had taken in gigs in Amsterdam, Cologne, Brussels and Hamburg amongst others. The Liverpool gig was billed as the Homecoming and so it was to be.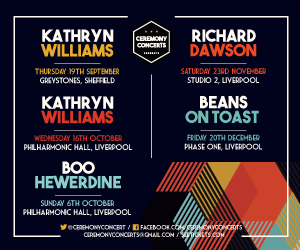 Originally from Kirkby and very much a scouser, however, Louis Berry doesn't feel a part of the Liverpool scene. He does things differently and on his terms. His sights are on bigger things. On his website he declares he wants to be the biggest male artist on the planet. That's an arrogant and precocious boast. But after tonight, we see where he's coming from. And, you know, he may just get there.
But first there was the warm up.
Berlin Airfield opened. "You all good?" they asked a respectable early crowd in District. It was a short set of catchy punky tunes from a band playing the biggest gig of their short career (they only came together last year). We reckon they may not be unfamiliar with the works of Oasis, albeit in passing. You get the idea – there's that kind of feel about them. Blessed with youthful good looks and an enthusiasm to match, we'd be keen to see more of them in future.
The Racket are familiar to regular readers of these pages and probably don't need much introduction. Aptly named they tear into an energetic lad rock kind of vibe (we mean that in a good way). It's tight drumming and R'n'B riffs all delivered apace and steered by lead singer Callum Codd. District is pretty full by now and Storm Hector is starting to brew outside – there are Yellow Weather Warnings in place for later this evening. All of this seems weirdly appropriate. They have a headline tour coming up and it's bound to be mayhem.
The Racket talk debut headline tour, causing 'chaos' and being a Widnes band
But now it's time for the main man. Chants of Louis, Louis started in the crowd well before he was due on stage. The faithful are out in force.
Then the lights go down and the band runs on stage followed by LB and a launch straight into Rebel, Nicole, 25 Reasons. "We're back in fucking town", Louis bellows after Rebel. And a hat tip to District – "There's no better venue in the world".
The grin on his face is as wide as that of a Cheshire Cat and the sweat's showing on his face by the third song in. "I wish I was down there with youze. It's sick". And it is.
There's a proper mosh pit going on for .45, people on shoulders, arms swaying. The lot. This is a mini festival gig. No matter it's as hot as hell in here by now. And we're only on the fourth song. You can see where this is heading.
The pace slows for Cocaine Baby, but not the intensity. There's a clever blues / country cross over going on with Prince of Thieves which gets us wondering whether this is the root of the Louis Berry appeal. He cuts across genres, pigeon holes and basically anything he doesn't like. It's just music, after all. And it's damn good. And a hot and sweaty District wouldn't have it any other way.
There was a mass singalong for Restless. Even the hardcore smokers outside in the Yard came back inside for this one. Coming to a YouTube channel near you, it was deffo the most videoed song of the night.
From there it was a sprint to the finish, perhaps with Laurie being our fave of the night.
It's clear Louis Berry's star shines bright. He has all the right ingredients: attitude, style, swagger. But most importantly he has the material.
And then he tells us he's got new songs on the way that are even better than anything he's written before. We cannot wait to find out if that's true.
Images by Getintothis' Tom Adam
Comments
comments