With their debut headline tour underway and a new single on horizon things are looking up, Widnes four-piece, The Racket, spoke to Getintothis' Amos Wynn ahead of Saturdays EBGB'S show on Saturday.
The Racket are currently on tour. with featured dates in Leicester, Sheffield and Manchester, and with Liverpool this coming Saturday shaping up to be a big one. All this comes before the release of their second single, as things continues to look prosperous for the Widnes outfit.
The Racket's lead singer Callum Codd describes the wait for the tour was the "calm before the storm."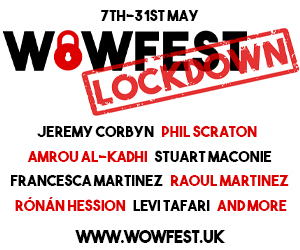 "We had a few weeks off before our big tour in June, so we are just trying to organise how we are going to pull it off because we don't have a clue how we are getting there."
Drummer Dom Eaton adds, "it was just a bit of a boring time, our bassist Colby went holiday, and we were just going to the pub and writing, to get stuff ready in time."
With this being their first headline tour, guitarist Mike White admits "it is weird seeing us on the poster with all those dates, it hasn't hit us yet, but it will when we are hungover after one night. The shows will be shit-hot, we are playing a long set and it will be brilliant."
Callum says they will "keep it dead exciting with all fast songs to keep the crowd going," whilst Dom believes every night will just be 'chaos.'
Out of their previous gigs, Mike can pick out three standout shows that stick in the memory.
"The first ever gig we did in Widnes was at the Snig, which is a tiny shit pub venue. We played there unannounced and 200 people ended up being there. We had a great time; we couldn't believe the electricity in the room."
That gig was the first one that Mike's mum and dad went to, ending with disaster for his dad.
"He was fuming, he walked through the room holding two pints in his hand and ended up having both knocked out of his hands in the chaos."
The other two memorable gigs were the bands sold out single launch, whilst the other was their appearance at Night and Day Café in Manchester; "it was the nicest gig we've done, everything came into place musically and the crowd weren't too violent and just into it."
One of their most recent gig in Leeds is also one that sticks in Callum's mind.
"We had loads on new songs to test out, and despite not knowing anyone we got a really good feeling from them and it went down well. It is different now we have gigs where people we genuinely don't know are jumping round."
Mike reminisces about a similar gig in Liverpool, where after the soundcheck the band decided to go for a few quiet pints only to find a whole street of people who were going to their gig.
"Some people were there without a ticket and getting turned away crying their eyes out, it was mental and surreal."
Dom describes it as 'an amazing feeling' having so many people wanting to see them.
The band recently supported Louis Berry on his tour, with numerous eventful escapades occurring.
"It was a dead funny tour, in the van everyday with our mates… then Sheffield happened," says Callum.
Mike tells the story of the band getting barred from The Harley and being kicked out of the Leadmill.
"We did the gig and smashed up the dressing room, then we went back the hotel and put a window through. Sheffield is a great city because every time I go it draws out the inner nutcase in people, they have really good music pubs, I feel like a kid in a sweetshop."
Last year, the band released their debut single 'Faded Days.'  Callum says it was "rather rushed because we just wanted to get it out, people who came to the gigs had nothing to listen to, so we had to get something out. It got us the record deal and loads of gigs and festivals after."
Something the singer is particularly proud of, is the lyrics.  "There is a line about the minimum wage and a line about drugs, it is properly about Widnes. This is all we have ever known, we have always had shit jobs, so has my mum and dad and so does his mum and dad."
Mike believes "it was right for the time, we had been in a band for two years and had to get something out, I love it."  Dom adds "it's proper rough and ready and sounds like us on stage. I haven't heard a bad word against it and people also come up to us after gigs for photos."
Ahead of their next single, 'Know It For A Fact,' The Racket have recently recorded a music video to accompany it. Mike describes it as a 'mind-numbing' day.'
"It was a very long day but it's something you know you have to do. If anyone thinks it's exciting, it is honestly not at all. We were sat there listening the same three-minute track for eight hours, I love listening it but 100 times one after another you feel like 'Christ here we go again.'
The guitarist also admits doing the video did help them practice the way they play the song, "we changed the arrangement when we recorded it, so we had to get used to playing it a new way."
Callum adds that shooting the video was 'a good day out' but he would like to do a video at a gig so then it looks "natural with sweat coming off your face."
Something Mike feels has an impact on the band is coming from Widnes.
"It influences us as people, a lot of people in our circles can't experience what we do when we go on stage, it is quite special to us."
The band are proud of being from Widnes, with Callum stating, "we are from Widnes and we always get tagged as a Liverpool band, we're not, do your research."
Dom believes bands like The Jam, The Clash and Oasis all act as influences, whilst Callum jokingly adds 'Wham' to the list.
Callum admits "I like pop songs and the way that they are arranged, you need that balance in a song and have that catchiness."
When forming the band, Mike doesn't believe it was a conscious decision instead it "all sort of came together, we all knew each and had crossed paths at some point."
"I met Colby when I was 17 at a party full of chavs. A lot of drum and bass was on and he requested 'I Bet You Look Good on the Dancefloor.' After being on for 30 seconds, the DJ turned it off and I just remember Colby drunkenly asking, 'what the fuck is going on.' That was the night I met him, and we just started chatting about music."
After Dom, Callum and Mike first started practicing they knew they needed a bass player as "we were actually playing alright and that something was happening."
Despite Colby never having played before, Mike saw him as a perfect choice as he could play guitar and looked "cool as fuck," and "the rest is history."
Before becoming known as The Racket, the four-piece have had plenty of names.
"We had a load of shit ones," says Callum, "we were called the Frosty Jacks once. When I was 17 I had a fake id with the name Callum Coddington, so we were called the Coddington's a one point."
"This is the most normal we've had, we couldn't even think of a logo, so I cut it out of a paper and now it's on t-shirts and posters"
Mike adds by saying "it's hard thinking of a decent name, we were called the Rocking Horse People and the Mrs Robinsons."
Referencing Peep Show the guitarist proudly announces, "I think we should've been called 'The Swan and Paedo'" A name change that could certainly give the bands manager a few sleepless nights.
In 12 months' time, Dom jokes that the band will be headlining Wembley, but genuinely believes the next single "is going to do really well and when it comes out will hopefully get radio play."
Mike hopes that they can 'scale up' and get themselves in a position where they can get out there and make people listen.  "The aim should be to play the next place up in every city and keep on building the fan base and write more tunes.
Meanwhile Callum has dreams of Glastonbury, "I don't think it is too unrealistic even on a low stage, it has always been my dream."
"We will do a few more singles that'll do good for and hopefully next year we'll do a lot more festivals, I think people will love us. We've been quiet for a long while, but it is the first time we are going to travel round, and I think 'Push Your Luck' will do really well."
Comments
comments