The popular Deer Shed festival is back for 2018 with a jam-packed quality lineup, Getintothis Janaya Pickett looks forward to the party at Baldersby Park.
One of the best family festivals in the UK, Deer Shed returns July 20 for its ninth edition with the theme 'making waves'.
Now, don't let the term 'family festival' put you off; such events conjure up images of bouncy castles and craft tables and a less than exciting lineup. But Deer Shed has proven once again for 2018 that this does not have to be the case.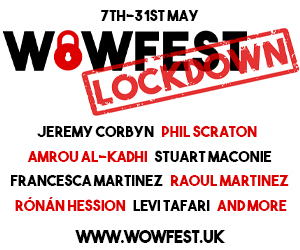 In fact, Deer Shed 9's lineup is absolutely bursting with (to put it quite simply) class acts. From the well established to the up and coming and everything in between, the team behind Deer Shed obviously take their music very seriously.
It wouldn't be a family festival without the crafts and activities for tots and in this area, Deer Shed also excels. Their Science Tent offers a plethora of demonstrations and even a wreck shop where little ones (and big, if you fancy it) can help disassemble electrical goods ready for recycling.
Deer Shed's commitment to the environment is another area where this festival leads the charge from using recyclable goods in their workshops to drinks being served in specially designed reusable goblets. This year Deer Shed has teamed up with Waste Aid UK in a bid to further improve its eco-friendliness.
Geintothis Album Club #27: Let's Eat Grandma, Snail Mail, SOPHIE, Death Grips and more
If your summer festivals revolve around drugs and alcohol then we can say with some certainty that Deer Shed is probably not going to be your idea of a good time – here, the highest person you're likely to see is a pre-schooler on too much sugar who just can't handle all the excitement.
You will see some damn fine acts though and if the idea of getting trollyed, or navigating those who are, doesn't float your boat then we would highly recommend Deer Shed.
There are of course the headliners, a finely selected bunch including the legendary Goldfrapp, Public Service Broadcasting, Gaz Coombes and Field Music (featuring the Open Here Orchestra).
The enigmatic Nadine Shah and 2016 GIT award winner Bill Ryder Jones will also grace the bill as well as Joan As Police Woman, Dream Wife, The Orielles and many more. The list of quality acts at Deer Shed could go on and on but below, in no particular order, we've picked our top 7 that we'll be looking out for.
Drenge
Drenge are no strangers to Getintothis pages and we are very much looking forward to witnessing the Sheffield based brothers first hand. Also known as Eoin and Rory Loveless, Drenge have since 2013 gathered much praise and many a dedicated fan with their cacophonous live performances.
The Ninth Wave
Glaswegian band The Ninth Wave are, in Deer Shed's own words, "set to be the most glamorous group of goths to ever grace Baldersby Park". Their post-punk/nu wave theatrics they describe as 'like The Cure but darker' and we kind of agree. This group sound comfortingly familiar yet still refreshing and one act we're looking forward to the most.
HMLTD
HMLTD are an avant garde rock band whose music takes you on unexpected journeys. Hailed recently by one of the Deer Shed crew as "one of the most thrilling new live bands we've seen in years" it safe to say that excitement for HMLTD's set is reaching fever pitch. [Ed – You're not wrong there]
Boy Azooga
Most recently enjoyed by Getintothis staff at the Shipping Forecast, Boy Azooga are becoming fast favourites. The Cardiff based quartet, recently signed to Heavenly Recordings, seem to be thoroughly enjoying their musical journey with an enthusiasm that is infectious. Their performance at Deer Shed follows the release of their debut album 1, 2, Kung Fu! last month.
Anna Burch
Anna Burch is another Heavenly signing we'll be pitching up for. The accomplished singer-songwriter released her debut solo album Quit the Curse earlier this year and we're imagining that, if the sunshine sticks as well as it has of late, her intelligent surf pop sound will make a perfect festival experience.
Public Service Broadcasting
PSB will be supporting headliners Goldfrapp on the Main Stage on Saturday night. The spellbinding duo who's aim it is to 'inform educate and entertain' have come a long way since their debut performance at Deer Shed 4 back in 2013. Deer Shed Festival has come a long way also and now boasts the technological prowess needed to support a show as multi-faceted as a modern-day PSB performance.
Avalanche Party
The lineup for Deer Shed 9 is heavier than previous Deer Shed's and Avanlche Party continues that theme. The festival also prides itself on nurturing up and coming local talent and one couldn't get more local and up and coming than this garage-punk outfit – 'born and bred on the Yorkshire Moors'.
Comments
comments