Immix Ensemble reveals a very special new collaboration, Getintothis' Kieran Donnachie reports on the latest in their series for Liverpool Biennial.
The city's artistic organ Liverpool Biennial is working overtime, its Festival of Contemporary Art in full swing.
Looking to be the cherry on the art cake, Immix Ensemble is bringing yet another of its series of collaborations to town in September.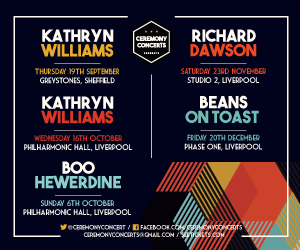 It comes hot on the heels of last week's show with Jennifer John and Stuart McCallum.
Now they have a collaboration with Kelly Lee Owens and visual artist Thomas Gill, at Invisible Wind Factory on September 20.
With Owens' 2017 eponymous debut as a seed, the artists promise a unique performance combining Owens' ambient electronics, and the modern classical compositions of Immix. All this with an enticing visual accompaniment from Gill.
Immix themselves will also be premiering new works from members Andrew PM Hunt and Daniel Thorne, Composer-in-Residence and Artistic Director respectively.
Though it's only Liverpool Biennial and Immix Ensemble's second programme of the festival, the latter have been collaborating with local artists for some years now, including Ex-Easter Island Head, Jane Weaver and Stealing Sheep.
Tickets will be a £5, with limited free ticketing for those claiming JSA.
Comments
comments