Here with a design for life, it's Getintothis' David Hall with all of this week's live Liverpool happening, plus some valuable advice.
Let's talk about gig etiquette this week. It's important stuff. How to go to a gig and not come across as the biggest tit in the world is not exactly rocket science. Here are some helpful pointers.
Make sure the person behind you can see. If you're unsure, ask them. If you're the tallest person in history, please fuck off to the back of the room. You're built like a lighthouse, it's tough to see for us mere mortals.
Turn up to see the support band. Literally your favourite act was once on first, they have all been bottom of the bill at some point. Get there early, find something new. Oh, and if you're only there to see the support act, shut up. Nobody cares that you're so much indier than thou that you refuse to see the band that people have heard of.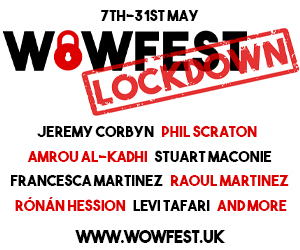 When the band is playing, shut up. We've all paid money for this show, not to hear your opinions on whatever. Or definitely anything about your life and relationships.
But above all else, enjoy what Liverpool has to offer this week.

Striking Matches: Arts Club, Tuesday July 24
Americana two piece Striking Matches wrap up the UK leg of their tour in the Arts Club loft in midweek. The duo embark on a US tour, before returning to these shores in September. But catch them now, as they play Glasgow, Sheffield and Bristol then.
Striking Matches' tight boy-girl vocal harmonies have been featured in the TV series Nashville, and their album was produced by the legendary T Bone Burnett.
Barrier: EBGBs, Thursday July 26
A hardcore punk quartet from Chicago, Barrier headline Liverpool's EBGBs on their first ever tour across European and UK shores.
Main support Lotus Eater meanwhile are another five piece, this time from Glasgow. They mix elements of hardcore with groove and doom metal to create a distinctive sound. Further support comes from Liverpool's Cut Short and BLEACH from Manchester.
Cartier 4 Everyone 2nd Birthday: Dumbulls, Friday July 27
Anz., Kleft, Michael Brailey, BFTT, Clemency, Iceboy Violet, MtMt and others line up to help local promoter Cartier 4 Everyone celebrate their second anniversary.
Lovers of all things electronic and cutting edge will find their appetite satisfied in the docklands this Friday.
Pennylands: Sound Food and Drink, Friday July 27
Not just a Magnetic North track, Pennylands are a local four piece playing this week's basement show du jour.
BINES, Springbar and Polar Tide appear in support down in Sound Basement to kick off your weekend in subterranean style.
The Americas: Phase One, Saturday July 28
Vinyl Junkie spends this coming Saturday moving into Jacaranda Records' new digs Phase One. The jazzy new venue plays host to The Americas. Anyone expecting Horse With No Name will leave disappointed, but anyone expecting a rock 'n' roll trio from the West Midlands will be satisfied.
A stacked support bill features the likes of Black Smoke, Ty Freeman and Mike Blue.
Liverpool Pride Weekend: City Centre, Saturday July 28
The culmination of Pride Month, Liverpool Pride caps off July in style. A day of city centre parades and celebrations, there are also plenty of live dates and club nights in honour of Saturday's show of LGBT solidarity.
Check your favourite venue's listings to see if they're up to anything for Pride. Chances are they're having a shindig.
The Fernweh, Marvin Powell, Niamh Rowe: EBGBs, Saturday July 28
Some things are just meant to be. Having had to be called off because of Liverpool FC's fateful Champions League final match a few months ago, The Fernweh finally get their EBGBs day in the sun. At night. Whatever.
They're celebrating the release of their debut self-titled album on Skeleton Key Records, with friends Marvin Powell and Niamh Rowe.
We forgot, there's no gigs on at the Echo Arena this week, so that gig etiquette was probably misplaced. Anyway, here's Getintothis' Gigbites.
Out of the Bedroom Open Mic Night with Johnny Sands: Leaf On Bold Street, Tuesday July 24
North Dock Summer BBQ: Meraki, Friday July 27
Joe Symes & The Loving Kind: Arts Club, Saturday July 28
Ultrasonix featuring Neil Craven, Tim Clansey, DEG SEY, Lee Petersand more: Hangar 34, Saturday July 28
Upcoming gigs to keep an eye on:
The Vryll Society: Phase One, Friday August 3
Short notice on this one, so spring into action. Breakout Liverpool act of recent times The Vryll Society are soon to release their debut album. Before that happens though, you can get an exclusive preview in the city centre next week.
At Jacaranda Records' Seel Street outpost Phase One, you'll get an album playback next Friday. With doors at 8pm and the listening preview commencing at 9pm, it's a premiere of Vryll's full-length. Please note that this isn't a live set, but a DJ set follows late into the night.
Comments
comments