The second coming: Father John Misty lays to rest the the ghost of Liverpool past, Getintothis' Neal McGrath witnesses the Josh Tilliman that Liverpool wished they saw the first time.
Armenian support act Bedouine resplendent in her green velvet smock kept the crowd entertained with her Leonard Cohen style balladry on nylon guitar. Perfunctory and pleasant she satisfied, but the audience grew restless during the traditional Armenian folk song, as is sadly the case when a non partisan artist attempts to show their wares.
The gospel according to John commenced with Hollywood Forever Cemetery Sings, mournful trumpets, thumping drums and raucous guitar, which paved the way for a Scouse epiphany. This was followed by the self-titled Mr Tillman and, as the song proclaimed, it was clear tonight he was feeling good and, feeling so fine.
Our Father John Misty,
Who are at the Liverpool Olympia,
Hallowed be thy gig. pic.twitter.com/lH3Bp2CKH0

— Dean w (@limberstar) October 27, 2018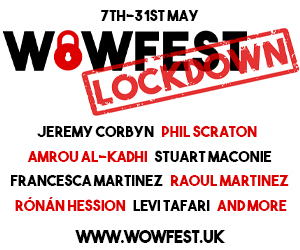 In stark contrast to two years ago when he headlined a much-hyped affair staged at Mountford Hall. Riding high on the back of being the critics' darling, having a hit album and a rabid fan base, he rolled into Liverpool with expectation aplenty.
Sadly the hipster cognoscenti were left deflated due to an underwhelming, unengaging performance but this time things were very, very different. He was clever, warm, funny, charismatic and his charm had the crowd hanging off his every word.
Hyderdub Records: a buyers guide to Burial, Kode 9, DJ Rashad
This was a joyful John and as he passionately danced across the stage, the women danced and the men sang along. Rarely has the Olympia been so jubilant at anything other than a broken jaw or a detached retina as its history of combat sports would attest, and at only yards away from the infamous Grafton you would think West Derby Road has been the sight of many a triumph.
I doubt Josh Tillman had 'grab-a-granny' in mind when he finally conquered Liverpool, but conquer it he certainly did. Spellbound and satisfied the crowd thinned out into the night:
I'm the second coming, Oh, I'm the last to know, I didn't get invited but I know where to go.
@CanFlub Amazing show at Liverpool tonight courtesy of #FatherJohnMisty Thanked everyone for coming to the show on such a cold night rather than staying in with a lamb curry and bottle of Shiraz! If I had stayed in my night would have consisted of a #roganJoshTillman ❤❤ pic.twitter.com/aNQqcXNspJ

— Russ B (@Gerontious) October 27, 2018
Images by Getintothis' Lucy McLachlan
Comments
comments