Another week, another batch of essential underground sounds, it's what Unknown Pleasures was designed for and Getintothis' Mike Stanton is once more your erstwhile guide.
Invoking the spirit of all that is coldwave, HOLYGRAM conjure the moody and dark new-wave flecked sound of reverb-soaked guitars, drums and vocals pitched against the backdrop of long, swept, haunting synths. It's all very dramatic, pulling the listener into their chasm of echoing rock ambience.
The German post-wave band have announced their debut album Modern Cults, a follow-up to their eponymous 2016 EP and by this evidence it is going to be a shadowy and fog-cloaked affair. Formed in 2015, HOLYGRAM consist of Patrick Blümel (vocals), Sebastian Heer (drums), Marius Lansing (guitars), Pilo Lenger (synthesizers) and Bennett Reimann (bass). The new album explores themes such as big cities, alienation and anonymity, hope and memories, love and identity.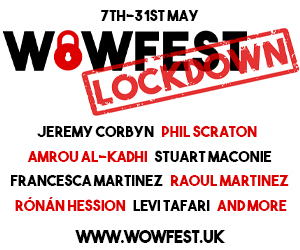 Signals is dusted in coldwave cobwebs that belie an emotionally torn lyric, elevating the deeply melancholy chorus ("Sometimes when I close my eyes I see you walk away / And everytime the sun comes up the feeling is the same") to pop-like anthemic posturing, "illustrating that in this world people are only cogs in a much bigger, increasingly autonomous machine."
Having recently returned from supporting OMD on their European tour, HOLYGRAM have emerged with an enhanced reputation for immersive and atmospheric live performances.
Signals is lush, expansive and darkly seductive and is out now.

Boy Bjorn (Photo: Kate Holl) Wisconsin-based Brian Holl (AKA Boy Bjorn) tackles his anxiety head-on by expressing how it feels to be inside his head during an attack, as well as when his mind is clear and perspective has been restored.
Now I'm Running is sweeping and symphonic with wide, multi-lane atmospherics that are upbeat and thrusting. Holl's trademark ethereal tones are elevated skywards as if in emotional liberation. This cathartic act of releasing his fears and anxieties has manifested itself in a beautifully poignant and dreamily melodic pop song of hope and liberation.
"I wrote [Now I'm Running] as an olive branch to others who have suffered or suffer" he says, "I needed that insight when I was in the worst of it. I needed to know that others couldn't control it as well, that I wasn't doing anything wrong.
"I needed to learn that every day was a step towards healing. It's ultimately a celebration of the scars it left me with. That I wouldn't give up my experience for softer skin."
TV ME aka Tom McConnell has been around for a few years now delighting everyone who encounters his warmly melodic and trippy pop songs. Circuits, his latest release, demonstrates how he has mastered the fine art of creating the classic pop and gentle psychedelia of the 60s and early 70s. The musical splendour of Circuits is luxurious and so rich in effortless craft that the immersion is dizzying.
Using a myriad of reference points from the 1960s and 1970s, the 'golden age' of songwriting, McConnell weaves fresh and fun uptempo pop songs invoking the spirit of the likes of ELO, The Beatles and 10cc. It's just great pop music that never dulls, retaining the optimistic sheen of dreamy pop that proves just what an ace tunesmith McConnell really is.
Circuits is out now.
Comments
comments