As Vic Godard returns to Liverpool this December, Getintothis' Cath Bore looks forward to the complete and utter legend's visit.
Throughout his career, it's safe to say Vic Godard has followed his heart. Following trends is not his method of doing things.
Going his own way, always, he starting off in punk, moving into jazz when the mood took him and later exploring his love of Northern Soul; the last time he played Liverpool, two years ago, he shared spoken word and poetry along with Subway Sect classics and fresh solo work.
The release of Singing A Song in Prison earlier this year, a collection of his songs by other artists such as Jesus and Mary Chain, Blue Orchids, Orange Juice, The Secret Goldfish and more goes some way in showing the high regard in which Godard is held.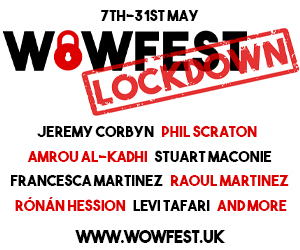 The proceeds go to Amnesty International, in memory of Vic's wife George. The digital album was compiled by Liverpool musician and DJ Joe McKechnie.
Kazimier Winter Ball revealed as New Rituals comes to Invisible Wind Factory
London-based Godard is featured in recent Scottish pop documentaries Big Gold Dream (2017) and Teenage Superstars (2018), talking about his musical relationship with the post-punk scene above the borders, which continues to this day.
Vic Godard returns to town on December 8. His haunting and spectacular interpretation of Velvet Underground's Heroin at Buyers Club in 2016 stays in the memory of everyone present, and we await in nothing less than excitement to find out what he has in store for us this time.
The full UK tour dates are:
November 23 – Star and Shadow Cinema, Newcastle
November 24 – Cabaret Voltaire, Edinburgh
November 25 – Mono, Glasgow
December 7 – Eiger Studios, Leeds
December 8 – YES, Manchester
December 9 – 81 Renshaw, Liverpool  
December 22 -The Water Rats, London
Comments
comments