Bill Ryder-Jones brought his album launch party and record signing to Jacaranda Phase One, Getintothis' Lucy McLachlan was there for quite a bit longer than anticipated.
On the day of Bill Ryder-Jones' newest album release, we find ourselves joining the back of a queue to get into the Phase One record store.  People are eagerly awaiting to be given the bright blue Jacaranda Records bag containing brand spanking new album Yawn.  How long before we can break it out and have a listen?
As the ex The Coral guitarist appears onstage to set up his guitar, the background music goes quiet, all eyes are on him Put the music back on, not starting now… he calls out to the sound desk which gets a laugh and sets the tone for a night of spellbinding music and funny tales.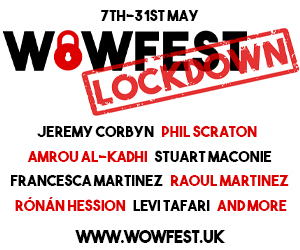 We had heard that the live music part of the evening was only supposed to go on for maybe half an hour with a record signing after.  It'll be over by 9pm… But about an hour and a half later we're still here.
Ryder-Jones came on confessing to having a Bailey's before the show and was therefore feeling quite chatty. Did you all think you were coming to a lecture? he asked as his introduction to the new album went on longer than first thought. Each song had a story behind it and we're introduced to cello player Lucy who takes the role of side kick to Bill's banter.  The songs are unexpectedly backed by a rhythm section of fireworks going off outside It's like Toxteth vs Norris Green out there he chuckles away, getting distracted.
"The tyranny of collecting" – why I gave away my entire record collection
We hear about his babysitter, the real story behind the moon tattoo on his right hand, his approach to songwriting and more.  It felt less like a gig and more of an old friend playing you his new songs in a living room.  The whole set up was incredibly intimate and special, a one off.  Even so when Ryder-Jones goes off stage for a minute to return with a whole bottle of wine casually pouring out a large glass whilst introducing the next tune.
We're treated to There's Something on your Mind, Recover and No One's Trying to Kill You from Yawn, then requests were taken until whenever someone told him to stop.  All were backed by a lush deep cello which added huge depths to each song.  The audience were deadly quiet and fixated to the point where even the flicker of a camera shutter disrupted the atmosphere.
bill ryder-jones – yawn.

it's sad. very sad. just a warning. (but so damn beautiful oh my god) pic.twitter.com/1EUO26xEbX

— Lisa Lovegood (@babycakees__) November 2, 2018
Put It Down Before You Break It, Daniel, The Lemon Tree and Seabirds were all called out, played and introduced as the best song ever written alongside a cheeky smile.  Each time asking if there was time for one more, with seemingly no reply he carried on until finally it was time for a smoke break and to crack open some Sharpies for the record signings.
Give it a few plays before you decide it's wank plzhttps://t.co/arRvxcBHfn pic.twitter.com/bOjtOM1C1q

— Bill Ryder-Jones (@BRyderJones) November 2, 2018
Images by Getintothis' Lucy McLachlan
Comments
comments