Juniore brought their eclectic brand of French pop to the Shipping Forecast for a Liverpool first and Getintothis' Peter Goodbody had his eyes opened by a band that lived up to the hype.
We'll admit to coming into this one pretty blind, knowing little of Juniore save some advertising spiel on this event's Facebook page.
Add into the mix the sweeping generalisation that French music tends not to travel too well, at least over the channel. There are exceptions, of course – Air, Daft Punk – but not many.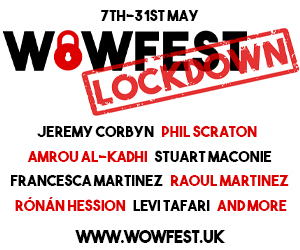 We were promised "… a quite brilliant group from Paris who've got a couple of beautiful records in the bag". Not that helpful, really.
"Bon soir. We are Juniore and this is our first time in Liverpool". And immediately we are taken, not to Paris, but a Lou Reed, New York Sweet Jane riff as the band kick off with En Cavale, the last track of recent issue Ouh là là and a seven plus minutes garagey, punk pop statement of intent.
The trio – guitar, drums and a masked Star Trek keyboard player are, well we're not quite sure. There's more pace and heavier guitar and drums than we're expecting. This is not Europop by any stretch of the imagination, although it's catchy and there's a kind of Je ne sais quoi about the proceedings. In a good way. It's hard to pigeonhole. But being able to do that isn't necessarily a virtue anyway.
Later songs in the set have a more Gallic feel about them. There's echoes of Serge Gainsbourg, perhaps not surprisingly, but we also get glimpses of influences as diverse as Kurt Weill and The Cramps (that garage thing again) along with a touch of Nouvelle Vague thrown in for good measure.
It's hard to tell if the audience was any more knowledgeable about the band than we were before we arrived, but it was a decent sized crowd and they appeared well impressed what was unfolding before them. So, nice work, Juniore, you impressed Liverpool at least.
We've since listened to the band's releases on our iPod and we get why they were plugged as described above on this gig's event page on Facebook. But, as is so often the case, the live experience is a very different animal and they produced a much more powerful gig than may be expected by anyone who only knows their recorded output.
Deep Cuts Christmas Carnage comes to Jacaranda Records Phase One featuring RongoRongo
In a first for us, Juniore have branded packs of crayons for sale on the merch stand. This maybe the best metaphor for this band. Colour in your own narrative and make of it as you will. It's part art, part band, part music, part theatre, part Threepenny Opera. It's all quite confusing, even more so when we see the band rotate their instruments, so the masked keyboard player becomes the guitarist and so on, but we can live with that. The world is a confusing place right now. Juniore fit right in.
Support act Hannah and the Wick Effect are building a strong following and The Shipping Forecast basement is busy when they strike up. We wonder whether Hannah brought in more people than would have done Juniore on their own, such is their draw. Jangly, edgy guitar driven indie / psych pop. Hannah's voice is strong and effective, especially on slower numbers such as Birthday Song.
There's a Lindi Ortega kind of twang rustling around in the background at least to start with. "Right, I'm going to do one by myself now. This song's called Is it the Worst? Hope it's not" quips Hannah before giving us a haunting ballad, with no more guitar than needed and that voice put to work again.
Penultimate tune, Thursday, being apt for the occasion, is perhaps the heaviest of the set tonight and gets a few heads bobbing along. But the last song, Stripe, is the band's showpiece. Starting slowly and building into a prog rock masterpiece. It's a powerful end to the set.
This was an accomplished set from a band that seems to be growing in quality and the confidence to go with it. There was more than one comment we heard to the effect Hannah has one of the best new bands in Liverpool right now. That may depend on where you set your parameters, but there's no dispute, they're good.
Merseyrail Sound Station alumnus, Niki Kand, was first on stage tonight. Another first for us and we were rewarded with soft, textured, layered pop from her electric piano and absolutely lovely voice. She has a song called Day Dreamer, which is nothing like the other song of the same name. It was a short 20 minute set, but we hope to see more of her. There's a definite catchy edge to some of the songs that sets her apart.
All round it was a classy evening.
Images by Getintothis' John Middleton
Comments
comments