With their debut album on the horizon RongoRongo return to the stage for Getintothis' Deep Cuts six band festive special, Peter Guy looks ahead to a gruesome happening.
Tis the season to be grim. Yep, winter is upon us and life is about to get much, much worse.
You've got no cash. The bills are mounting up. You're lonely. And the entire music industry is about to fuck off for a month and a half break leaving you with little but Bradley Walsh and Daniel O'Donnell Christmas compilations. Yep, Broken Britain is here to stay and times are truly stacked against us.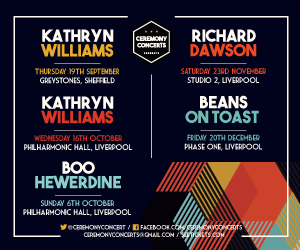 But what's this we spy on the horizon? Something fitting for the festive season: a grizzly aural gorefest guaranteed to inject something shocking to the system. An assault to your ears and innards. A truly sinister sonic spell to send you home a nervous wreck and wonder why on earth you left the cold confines of your living room sofa.
YES. That's it. Deep Cuts – Christmas Carnage. As bleak as an Eastenders omnibus with added Mitchell brother sweating profusely of alcohol.
Thursday, December 6 at Jacaranda Records Phase One is the when the true horror unfolds and we've cooked up a real cauldron of raw meaty music to sink your teeth into.
Back to unleash their apocalyptic progressive drone is RongoRongo. Regular readers will be well versed with the lashings of superlatives that have oozed from these web pages – and we're not done yet. For RongoRongo Mk II is shaping up to be something truly special. Having moved rehearsal and studio space, lead singer Mick and guitarist/visual architect Jonny, have been honing the band's new music and there's a whiff in the air that a debut album isn't far away.
There's whispers of independent record labels sniffing about and various new tracks thrown into the mix alongside a clutch of live favourites. All of which suitably whets our appetite when they make their live return for us on December 6.
Adding to the prevailing sense of unease are newcomers Prison Behaviour and LONESAW. The former is the new project of Cavalier Song vocalist and poet Mark Greenwood; think Suicide meets The Fall spewed through Jason Williamson's speed-freak persona (check him out here), the latter a truly horrendous sprawl of industrial thrash and visceral electronic dissonance.  Essentially it's two live performers to send you into a spiraling state of mental uncertainty and physical anxiety.
If that's not put you off – meet Claire Welles. One of Liverpool's finest underground provocateurs. Fiercely singular in her approach to music yet with a musical nous you simply can't teach.
A long history of recording music, Claire has straddled almost every musical styling yet imbues her music with a rich melodic tendency which makes her experimental pop ease into your being over time. If you let it. Her prodigious recording rate saw 2018's summer release Sniper At Work quickly followed by latest single Fade off the forthcoming album Blush, due in January 2019. A rare live performer – here's your chance to see the sonic sniper in action.
Completing the bill are the yin to the aforementioned bleaker yang. Think of it as our gig equivalent to It's A Wonderful Life – there's some redemption. Some hope. We're not the fucking Snowman – that's truly tragic.
Yep, Nolan Garrett and Denio provide much needed light to the darkness elsewhere on our Christmas Carnage wrapping. Nolan is a relative newcomer, studying in the city away from his hometown in Seattle, he blends textured multi-tracked vocals to autumnal blissful pop. You could easily see his music sitting on Captured Tracks such is its understated charm.
Denio, meanwhile, have been on a significant gap since bursting out the blocks in 2016. The London/Liverpool quartet are back with new single Born Again which is reminiscent of their original sound; all catchy hooks, radio-ready melodies with percussion skills of early Foals. They very much the after dinner liqueur on our Deep Cuts feast.
If you need anymore persuasion as where to be on Thursday, December 6 – get this playlist down you.
Finally, it'd be remiss if we didn't recap on a right good time during our November Deep Cuts. Bobhowla making his debut with full band opened in style, Pharoahe Rocher juxtaposed dusty Mo'Wax grooves with an impassioned stage presence before Ana Mae dazzled with her dreamy chamber pop.
Indica Gallery proved the big new discovery for many with their winsome vocal harmonies aligned to some incredible rock and roll musicianship. Loka's cosmic visuals married to their progressive psychedelia before the inimitable Organ Freeman – dressed as pig and farmhands – brought the night to a fitting climax complete with audience participation, head-banging, Mick Jagger jokes and, well, you just had to be there. Sensational, even if we do say so ourselves.
Pictures from November's Deep Cuts by Getintothis' Christopher Flack.
Comments
comments