Sheffield based band, Sheafs, are currently enjoying a huge Autumn tour, Getintothis' Amos Wynn caught up with them as they say they "thriving off every second of it."
Sheafs are a band on the up, tied in with the This Feeling crowd and gaining headline and support slots country wide, the last year has seen them make big moves.
The band are Lawrence Feenstra (vocals), Chris Goodacre (guitar/backing vocals), Charlie Eastap (drums), Charles Mellor (guitar) and Callum Wright (bass), and they say that each gig is "going down well" at the moment and that they "cannot complain."
So far, the band has released three singles: Mind Pollution, This Is Not a Protest and Shock Machine.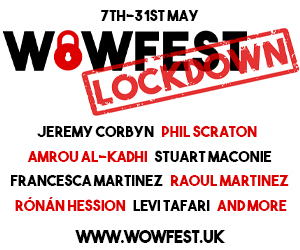 Sheafs believe "each one of our songs seems to have its own unique presence," and believe Shock Machine is a "fire-starter."
Out of the cities they have toured, the five-piece believe it's hard to pick one favourite venue to play, as "each city has its own buzz."
"The fact that we are actually going on tour is the biggest thing for us, as touring was one of the reasons behind why we wanted to form a band."
Among the bands current UK tour, a date at the Arts Club will offer Liverpool based fans to see them in action on Tuesday, November 13.
One of the best experiences for the band since forming in 2015, was performing at Y Not? Festival: "We went from playing our set for This Feeling to then playing in front of 2000 people on the Quarry Stage after Nadia Rose dropped out. The gig started with a can bring thrown at Lawrence; but ended with a flurry of mosh pits."
The band came together when Charles, Chris and Lawrence met whilst studying at Sheffield Hallam University, with Charlie and Callum joining later.
Album Club #32: Szun Waves, Pale Waves, High On Fire, TVAM, All Them Witches and more
Forming in Sheffield has, quite obviously, heavily influenced the band's music: "As well as obvious bands like the Arctic Monkeys and Milburn, who we rate very highly, we are also fans of lesser known Sheffield bands like Little Man Tate and Dead Sons, the list goes on."
Seeing other bands from the area having success, gives Sheafs confidence going forward with their music: "We try to watch as many gigs possible, by doing that we can certainly confirm there are some top bands both locally and nationally."
Music has always been a part of Sheafs lives, with each of them having great passion for the band: "We all have different reasons for joining but share the same drive to create something from scratch and perform it to people."
The name is simply after The River Sheaf that flows through Sheffield, but the band say: "there's also an area where everything has sheaf on it, we thought it had a ring to it so stuck with it."
The band describe the "unreal" support they have received from their friends and family: "From hassling our mates to come and watch us, to borrowing a van from Charlie's dad, we've been heavily reliant on them and they've never buckled. There is not a chance we would be doing what we are doing without them."
In twelve months' time, the band joke that they hope to have "a bigger tour van." They will also be looking to continue their success that they have enjoyed so far.
But whilst they accept guitar music is not at its strongest at the current moment, they have no doubt it's going to come back around because "it always does!'
Comments
comments