As Teenage Fanclub celebrate their Creation back catalogue with a series of live shows, Getintothis' Paul Higham considers the impact of nostalgia, increasing uncertainty and the end of an era.
When Teenage Fanclub announced a series of three-night gigs to celebrate their cherished Creation Records oeuvres it always promised to be something special. Yet little did we know when we eagerly snapped up our season tickets for the Birmingham nights that there would be an added frisson to the much-anticipated dates.
The recently announced departure of founder and bassist Gerry Love saw to that, giving rise to a near unbearable emotional resonance and sadness that competed with the valedictory euphoria that threatened at times to overwhelm.
For although Teenage Fanclub will continue, it seems hard to contemplate the band continuing as a songwriting duo rather than as a trio. Despite Norman Blake and Raymond McGinley's intention to fly the Fannies' flag in Australia and Japan in 2019, it did feel like the end.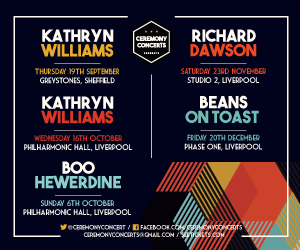 For those who have grown up with the band as an increasingly infrequent constant – but a constant nonetheless – in an age of tumultuous uncertainty, it really did seem that the end of an era was approaching. For those gathered in Birmingham, it was apparent how much Teenage Fanclub mean to so many.
They were more than just a band. They were something to cling to. A reassurance. A comfort blanket. Whatever life could throw at us they were always there. Norman. Gerry. Raymond.
A trio of individual songwriters who together created something infinitely greater than the sum of their not insubstantial parts. Their understanding of each other that shines brightest in their songs, the delicious harmonies and the complementary and unfussy musicianship each add. It seemed that they would endure forever as an immovable triumvirate, a testament to affable friendship and a reassurance that the good guys can succeed.
Pigs Pigs Pigs Pigs Pigs Pigs Pigs talk Brexit, the seven deadly sins and filthy guitar
Teenage Fanclub was always destined to be the story with the happy ending. The life-affirming and cynic-busting tale of joyful longevity and harmonious comradeship. Lifelong friends sharing the simple pleasures of their music as it told the story of them getting old together.
It felt like it would last forever, never to end.
Yet, for many, end it has. And for their devotees, this is a seismic event. If Teenage Fanclub can go their separate ways, if the unbreakable songwriting union can be torn asunder, then there is a sense that anything is possible. Accepted certainties are no more, the equilibrium has been shattered.
There was, however, the small matter of twelve concerts. Four sets of three in Glasgow, Manchester, Birmingham, and London, to promote the reissue of their 1990s Creation releases. Nights devoted to the critical majesty of Bandwagonesque, the alt-rock squall of the often overlooked Thirteen; to the power-pop gem of Grand Prix, the anti-Britpop perfection of Songs from Northern Britain; the quirkiness of Howdy and a rare opportunity to hear some offcuts hewn from an age when the B-side really mattered.
Whole album nights are easily derided. They can be formulaic and surprise-free, we all know what comes next. A set-list of unerring predictability. Equally, there is a strong case for regarding the album and the live show as distinct entities, separate art forms each with their own identity.
Live album shows that strive to recreate, nay replicate, the sounds from the studio fail to hit the recorded heights (and they're nearly always highs – who bestows such grandiosity on lesser works), while at the same time fail to take advantage of the freewheeling possibilities of the live setting.
Then there is the nostalgia element.
Manic Street Preachers set for Liverpool Olympia, Yemen fundraiser and Marmalade exclusive
Nostalgia can be corrosive and regressive. Obliging us to look back reverentially to recreate memories we hoped we had at the time but didn't quite. Forcing us to try to recreate a past experience we wished we had but never did. Rose tinted glasses that gaze only over seas of regret and missed opportunities.
Try as we might, we can never really recreate the past. We can't look to relive the experience. It's a delusion and a marketing ploy. Nostalgia has become its own market designed to resell to us things that we have either already experienced or, worse still wished we had but never did.
It feels like an inexorable journey to where memory lane turns into sadness street. A glimpse of our fading youth and a reminder of our own mortality. Even if we are able to enjoy it in the moment, the after-effects are rarely worth it. Going back is seldom worth the return journey to reality.
The nostalgia market inevitably has a stifling effect on the creativity of today. The relentless commercial juggernaut that looks to sell our past back to us has a detrimental impact on today's art. It denies us the opportunity to live in the moment, to celebrate what's around us right now. Art that is being created now and shaped by the environment that we live in and the mood of the moment.
Approaching the live recreations of albums of our past always generates a mixture of emotions. Yes, we always want to hear the songs that we've grown up alongside. Songs that have soundtracked our lives. First loves. Lost loves. Marriages. Births. Deaths. Each tune transcending itself and imparting a different meaning on each present.
Equally, we are anxious to avoid the nostalgia trap, keen to hear something new and fresh, hopeful that the band can breathe new life into well-worn classics. Optimistic that a soullessly tepid recreation can be avoided and that through a window into the past a glimpse of the present can also be detected.
The key to an adroit navigation of such a potential tightrope lies in the quality of the material and its place in history. Fortunately for Teenage Fanclub, the early gaucheness of A Catholic Education aside, they have never been embedded in a particular scene, indeed their songs revel in their timelessness. Consequently, the three nights here were never going to be shameless nostalgia trips. You'd (both hopefully and thankfully) never find Bellshill's finest on bill wedged between Shed Seven and Dodgy.
It's not a celebration of an era or a moment in musical time. On the contrary, it's a rejoicing in the enduring craft of some of this country's finest and most unassuming of songwriters. To pass them on the street (as we did with Raymond on Sunday afternoon) you'd barely detect any hint that they were a group held in utmost reverence by a core of devoted followers.
Yet in the tightly packed medium room at Birmingham's O2 Institute, the reverence in which the band is held was clearly evident. While the songs are of the past, this was no mining of nostalgic whimsy. Groups of thirty-somethings looking for one last debauched fling with their lost youth are notable only by their absence. Such pleasures, however dubious, could be found elsewhere in the building, as 90s throwbacks Sleeper entertained a much larger crowd in the venue's biggest space.
A ticketing cock-up by See Tickets made for a later than billed start on the Friday evening, which allowed for the tension to build, the room thick with steam evaporating from the coats of those forced to queue like cattle to collect season tickets in the deluge outside. With little fanfare, the band made to the stage and, after a few pleasantries, launched into the familiar sounds of The Concept.
Fighting the touts – a Getintothis investigation into ticket resale
The anticipation burst as if pricked by a pin and whoops of euphoria gave way to beaming smiles, warm nudges of companions and, dare we say it, a few misty eyes. While whole albums don't always work, hearing the songs in their context, not as part of a more career-spanning set made sense.
Everything felt leaner and more taut, the abrasive edges and cascades of noise summoned by Raymond McGinley seemed more forthright and intense. The vocals buried themselves a bit deeper into the mix. It seemed that not only were the band enjoying themselves but were channeling the spirit of 1991 while reminding why Bandwagonesque stands worthily alongside Loveless and Nevermind as among the very best of its era.
It also helps having Brendan O'Hare back behind the drum kit. How very Teenage Fanclub. While songs from Bandwagonesque still form an integral part of their live set, the band have always stated that it wouldn't feel right playing the whole album without the original drummer. You may part ways with Teenage Fanclub, but you never truly leave and there is no hint of any enduring acrimony (none either in the case of Paul Quinn, the mid-90s drummer who was on duty Saturday and Sunday for Grand Prix, SFNB and Howdy).
The inclusion of Brendan was inspired in more ways than one. The one drawback of whole album shows is their predictability, you always know what is coming next. Not with O'Hare. Making like a walking breathing art installation he injected a sense of chaos to proceedings, whether while actively participating or entertaining with sprawling anecdotes in his distinctive often indecipherable drawl.
Or else on nights two and three prowling the stage giving instant feedback and ratings, monitoring health and safety from behind a clipboard and generally keeping everyone on their toes, the band included. He even turned the stage backdrop into an expanding gallery of impromptu artwork, and by Sunday evening was encouraging those in attendance to submit their own efforts for inclusion. How do you stop your whole album shows becoming a boring run-through. Easy. Take Brendan O'Hare along for the ride.
All three nights offered a fantastical journey of perfection. From beginning to end it was entirely a pleasure. Gerry attacked Star Sign as if he were playing it for the first time while night one ended with a coruscating version of a true Fannies' classic as Gene Clark afforded plentiful opportunity to lose oneself amid its swirling alt-rock majesty. It was utterly triumphant.
Saturday was the most eagerly anticipated night – it saw the most outward signs of affection from the crowd to the soon to be departing Love. A clumsily reworded and quickly tiresome version of Haddaway's What is Love sung in the direction of Love between near enough every song became a source of irritation to band and audience alike. Gerry, by nature, doesn't seek out attention and his increasing sense of discomfort was all too apparent. Thank heavens for O'Hare's mood-lightening intervention: "On behalf of the band, Fuck Off!"
What most surprisingly stood out on Saturday was not Grand Prix but Songs from Northern Britain. In many ways, this was their anti-Britpop record. A defiant – yet nice – statement of their difference from the prevailing scene. Songs of love and settling down intermingle with a pastoral contentment, finding joy in the every day and the environment. This is a record as far removed from the washed-up excesses of a bloated, coked-up London-centric scene as it was possible to get.
This sense of separation from its time has helped it endure. What was striking was the relevancy of its themes and humanity. Whereas Britpop placed its bands in the center of a shrinking universe, here, there is freedom from bombast and a broader recognition of man's relative insignificance. Songs like Planets, It's A Bad World and Mount Everest emerge not as anthems of nostalgia but as prescient emblems of our more troubled times.
Sunday and night three was always going to be difficult. Yes, we didn't learn too much new, Howdy contains some gems (I Need Direction anyone?) but falls short when measured critically against its two preceding albums – although hearing Raymond's My Uptight Life is always a source of joy. This was as much about the raw emotion as it was the music. The joy coupled with the sadness amid the knowledge that things never will really be the same again. And how does the set end? If I never See you Again. Quite.
The second set saw the band mine their B-side material and found them in freer, looser mood, doubtless buoyed by the relief of having got through the previous sixty-odd different songs unscathed. High points here were clear. A cover of the Bevis Frond's He'd Be a Diamond giving way to a wracked and poignant Broken – with the band pretty much downing tools three quarters through to give way to the audience's gently harmonic lullabied sing-back. By this point, there was barely a dry eye.
Fittingly the last word was reserved for Gerry Love. Although doubtless few were expecting a cover of Like a Virgin to close out proceedings. Taken from their deleted on release and for contractual fulfillment purposes only second album The King it broke the tension for sure.
And with that the band were off, and, while they seem certain to continue, it's clear that things won't ever quite be the same again.
Comments
comments