The Prodigy brought the noise to the Echo Arena, a mere seven albums in and still bouncing, Getintothis' Steven Doherty was there to feel the special.
Anyone who encountered The Prodigy on the release of their supposed-one-hit-wonder Charly back in the heady days of 1990, would be flabbergasted to find them, seven albums in, still playing to massive venues such as this, their first Liverpool gig since 2008.
Here in support of latest release No Tourists,  their most critically acclaimed album since their imperious period of the late 90's, garnering much praise for updating rather than re-inventing the Prodigy sound.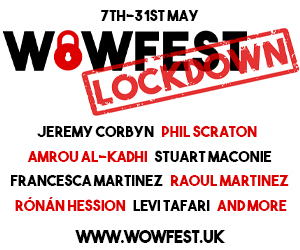 First up were HO9909, an angry trio, singers resplendent in miners headlamp and hi-vis jackets.  Bleak shout outs over rampant dance beats, their drummer earning his living by creating an assault on the ears.
Brutal.
Unknown Pleasures #178 ft. Rude Audio, Massimo Discepoli, möd
As the clock strikes 9.20, The Prodigy take to the stage. They start with 1997's number one Breathe, however, this is no trip down memory lane.
Their new material blends seamlessly alongside the hits from years gone by, with no drop in ferocity or quality. Recent singles Need Sum1 and Light Up The Sky sound huge.
Unlike some "heritage" bands (hello U2), there's something for everyone tonight, whichever album was your entry level, with tracks from each and every one (with the exception of the widely-regarded-to-be-a-mis-step album Always Outnumbered, Never Outgunned).
The two frontmen, Keith Flint and Maxim (who at one stage shouts 'Wednesday night is my party night' before someone points out to him that it is actually Thursday) never stop.
Prowling the stage, as well as both coming into the audience, covering every inch of the ghostly London bus crash set-up.
So I got last minute tickets for @the_prodigy @EchoArena They never fail to blow the bloody doors off #Liverpool pic.twitter.com/0ui4vSk4ec

— Vicky M Andrews (@PlanetVicster) November 8, 2018
They, coupled with the genius beat-making of Liam Howlett (tonight helped out with a live guitarist and drummer) are the reason this dance behemoth is still as relevant today as they have ever been.
Traditional rock bands would give their front teeth to be able to create an atmosphere such as this, in what can be a cavernous, unatmospheric space.
They end their main set with controversial single Smack My Bitch Up and are gone.
Prodigy (a) Liverpool…into these lads early pic.twitter.com/0J83N0ZjOr

— Paul Kendrick (@PKendrickWIG) November 8, 2018
With a peerless encore of new album standout We Live Forever, an always (sadly) relevant Their Law and a massive Take Me To The Hospital, this was relentless from start to finish.
So, from perceived novelty act all those years ago to their current national treasure status, hopefully, we won't have to wait another 10 years for the next time they play here.
Special.
Pictures by Getintothis' Chris Everett
Comments
comments