As 2018 draws to a close, Getintothis' Nathan Pang dishes out some awards while rounding up the year's televisual highs and lows.
The divergence of viewing habits means that the television we deem worthy of our dwindling leisure time is increasingly more personal.
The subscription : broadcast TV ratio is unique to everyone, as is the UK/US or overseas ratio, drama/reality, high-brow/crowd-pleaser etc, etc, etc. A decent personality test is to just take a look at a person's whole spectrum of television consumption. Also, you know, there's too many shows.
So, we figure a 'Top 10' is almost redundant at this point. There could be four or five Top 10 lists that omit incredible shows that just haven't appeared on one's radar. 2018 has been a banner year for spies (The Americans, Counterpart), for horror (Haunting of Hill House, Chilling Adventures of Sabrina) and even kidnapping children (Save Me, Kiri). But these haven't made the awards. (Again, there's too many shows)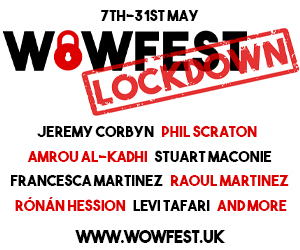 Meanwhile, heavy hitters Game of Thrones, Stranger Things, Line of Duty, Peaky Blinders and The Crown have all taken a break this year, to allow for this year's crop of new shows to take centre stage. So what are we going to remember from 2018, besides the relentless downward spiral into chaos?
Welcome to the Getintothis Television Awards 2018. The first and probably only ever instalment (of 2018, that is – we've done this before). The awards are pretty arbitrary, entirely subjective, but absolutely 100% correct. There's no 'Best Show' because there are so many great shows that it's pointless to choose a winner (It's Jane the Virgin), most of which we missed, or even may not have had access to. Either way, there's just too many shows.
Best Original Song: No One Else Is Singing My Song – Crazy Ex-Girlfriend
Since we're Getintothis, let's start with some music. This is basically just a clash between Bob's Burgers and Crazy Ex-Girlfriend, two of the most (or only) musically desert-filled shows. Why aren't there more musicals on TV??
Bob's Burgers had the instant-classic I Do in the season 8 finale, but the Crazy Ex-Girlfriend premiere gave us No One Else Is Singing My Song. The song's "ever-changing rhythm" takes home the crown.
Best New Theme Tune: A Very English Scandal
Each new Russell T Davies drama is inevitably one of the best shows of their respective years. A Very English Scandal chronicles the far too absurd true story of Liberal Party leader Jeremy Thorpe's (surely a BAFTA winning performance from Hugh Grant?) homosexual sex scandal with his "bunny" Norman Scott (Ben Whishaw). A nearly 20 year story condensed into three robustly amusing and sinister episodes. Murray Gold scored the show, including the endlessly hummable theme.
Best New Title Sequence: The Little Drummer Girl
We are pretty sick of this wave of "prestige dramas" creating pretentious title sequences with increasingly tiny text that require a telephoto lens to read. They look… professional, and stylish, and we're sure there's meaning behind each shot, but they feel so flavourless.
Visionary director Park Chan-wook made The Little Drummer Girl the best directed drama of the year, which also carries the best title sequence. It's composed of gliding shadows, drifting characters, and a theme tune that slowly submerges you into its strings. Is it an art-deco-ish, Edward Hopper Nighthawks look? We're not even sure, but it feels perfect.
It's not on YouTube unfortunately, but if you head over to iPlayer you can see its beauty. You may as well sit through the six hours while you're there.
Miraculous Recovery of the Year: Brooklyn Nine Nine
The best trend that began last year was when Netflix and the Wachowski brothers announced a surprise movie-length finale for Sense8, after it was cliff-hangingly cancelled. Timeless got the same treatment this year, with the trailer for their movie length finale just released. But because people are crazy, no one watches them anyway.
Brooklyn Nine-Nine is the show that made the headlines for their miraculous revival. They did a network bump and are now with NBC, which allows more swearing (with comedy bleeps) and… probably everything else will stay exactly the same! Don't fix what ain't broke. NINE NINE!
Why the Fuck Aren't You Watching This Yet??: The Marvelous Mrs Maisel
The reason you haven't is probably because you have Netflix instead of Amazon Prime. But honestly, this show single handedly is worth switching for. The most dazzlingly choreographed marvel to watch, with the Palladino's (Gilmore Girls) signature wit and charm. It was showered with Emmys and Golden Globes for season one, and season two looks to be heading back for more.
Best Finale: Whatever Remains, However Improbable – Elementary
This formulaic crime procedural is understandably overlooked by its British cousin, the globe-trotting mega hit Sherlock. But while series four of Sherlock threw all sense of caution to the wind and became an all-flash Bond-esque thriller, with increasingly cartoonish villains, without any actual crimes to solve… Elementary continued churning out hundreds of hours of honest to God character development, and simple honest dramatic storytelling.
The cases in each episode are superfluous really, but Jonny Lee Miller and Lucy Liu's relationship as Sherlock and Joan gave us a pseudo-series finale (before it was picked up for one final season) that was satisfying, unexpected, and true. Miller and Liu may not be the most iconic version of this duo, but I'd argue their relationship is by far the most interesting and complex of any Sherlock Holmes adaptation.
Worst Finale: The Battle of Ranskoor Av Kolos – Doctor Who
As a whole, series 11 of Doctor Who was a hit. For the first time in several years, it felt like a show that existed in the time and place in which we're watching. Rosa and Demons of the Punjab were both near-flawless hours of television. And all the guest writers, none of whom had written for the show before, delivered in spades.
But our new lord and master Chris Chibnall, holding the sacred title of lead writer and executive producer… Chibnall, who opened the series with a stunning premiere episode. Chibnall, who then crushed our (certainly mine, at least) hopes of giving the fantastic talent and enthusiastic ambassador Jodie Whittaker a great series, by writing that flaming Slitheen-shit of a finale.
An episode that was plotless, joyless and tensionless, with more missed opportunities than we can count. And no one can even remember the episode title, we've been calling it The Battle of Bullshit, it's got a nice ring to it. He wrote the four worst episodes of the series (including this finale), which naturally gives a hefty portion of the fandom pause for the show's near future.
Let's hope New Year's Day turns things around.
Best Cliffhanger: Chapter Eighty-One – Jane the Virgin
The criminally overlooked Jane the Virgin revels in its telenovela pastiches, and so their big plot twist cliffhangers are more outrageous, more daring and more unexpected that its competition. But even for Jane, the season four finale ended on a note that was so out the blue, we're still reeling several months later, and still trying to piece together the implications.
Better than that, it's a show that has consistently kept a toe firmly in reality, so no matter how ridiculous the plot gets, you can still trust the creative team to maintain its emotional reality and grounded drama. The final season arrives in 2019, Goddamnit Jane will be missed. It's all available on Netflix; 3, 2, 1, START.
It Just Won't Stay Dead (thank God): Luther
We do love the BBC's policy of just leaving every show on an indefinite hiatus until schedules sync back up again. Luther has "ended" several times already, but as long as Idris Elba and writer Neil Cross are up for more twisted crime-fighting adventures, we're up for it. The four-part series begins on New Years Day, with all four parts shown that week, so our anticipation alone bags this award.
It Just Won't Stay Dead (for the love of God): The Big Bang Theory (and Young Sheldon)
This show is the world's biggest punching bag, for good reason. A show that claims to be about nerds and yet the entirety of its comedy is drawn from insulting them, that's not a great place to stand in an era where nerds have supposedly inherited the Earth. Either way, it's ending next year, and while that's good, they did just bring in Young Sheldon. It just can't be killed.
Best Death: Julia Montague in Bodyguard 
It's been a long time since a single drama series gripped the nation week by week the way Jed Mercucio's Bodyguard did. With enough twists and mysteries to keep your knuckles white until the finale, it also threw in a completely unexpected wrench in episode three when a bomb explodes during Julia Montague's (Keeley Hawes) speech. Mercucio is the master of the adrenaline fuelled guessing game, but even fans of Line of Duty were not expecting such a blast.
Worst Westworld Episode: Every episode!
They're all bad! we didn't actually watch any of season two, but unless they started from scratch after season one, we're going to determine they were all bad anyway.
Getintothis guestlist selections Part One: staff writers and photographers on 2018
Most Binge-worthy: GLOW
What are the qualities of a binge-worthy show? Gripping dramas can be hard to pause, but those that are too dark and dour can be too heavy to sink a day into. Comedies are easy bite-sized delights, but those that are episodic can be put down at any point. The fantastic second season of GLOW is 10 episodes of pure sugar, 30 minutes apiece. But more importantly, with enough dramatic heft and complicated characters to be absorbed by. The wrestling is fun, too.
Worst Binge-worthy Show: Lost In Space
Netflix's Lost In Space is bad. It isn't well written, or particularly well acted, or interesting or new. And yet… surprisingly difficult to put down? Is it the allure of the 'sexy' robot? Is it the jazzy production values? God knows, it didn't deserve my attention, but it got it.
Inventive Concept of the Year: Jeremy Bearimy – The Good Place
The Good Place is one of the most inventive, silly and cleverest shows on TV. In season three, Tahani was briefly a unicorn, Janet became everybody (or everybody became Janet?) and Michael McKean walks across Canada to donate $85 to a snail charity. But the best thing that came out of this season is "Jeremy Bearimy". Ever wondered how time works in the afterlife?
Best Actor: Darren Criss in The Assassination of Gianni Versace: American Crime Story
There have been a range of villainous male leads this year, from the climax of Jimmy McGill's (Bob Odenkirk) devolution in Better Call Saul, to Jason Isaacs'mirror universe twist in Star Trek: Discovery.
But at the centre of the second season of American Crime Story was Darren Criss' magnetic blend of overbearing charisma and manipulative monster Andrew Cunanan, a man both twisted and tragic. A performance that never quite lets you know just how many layers into the onion you've peeled, he'll keep you guessing just how far he can take it. Criss' chameleonic serial killer won't let you look away, even at his worst.
Best Actress: Florence Pugh in The Little Drummer Girl
This year was filled with shows with incredible leading women. Both Jodie Comer and Sandra Oh absolutely killed it in their international cat and mouse chase in Killing Eve, and Rhea Seehorn is endlessly overlooked as Kim Wexler in Better Call Saul.
But Florence Pugh's grounded, punchy Charlie Ross was mesmerising to watch, as she goes from actress to spy in The Little Drummer Girl. Her confidence is constantly challenged by Kutz and Gadi's (Michael Shannon and Alexander Skarsgård) narrative breadcrumbs, and her loyalty is pushed to the limit as she infiltrates a terrorist cell.
Like Darren Criss, Pugh's character is about performance, but instead of using masks, she creates the fiction out of raw grit and an acerbic British snark. Charlie Ross' biggest role was also Florence Pugh's best so far. And she's only 22.
Best Facial Expression: Jodie Whittaker in Doctor Who
Presented without comment.
Best One Liner: Carolyn Martens in Killing Eve
"I once saw a rat drink from a can of Coke there. Both hands. Extraordinary."
Best In Show: David the Chimpanzee in Dynasties
There are fewer animals on TV than we'd first thought. Homecoming brought a very expensive pelican on set (Gimlet Media's behind the scenes podcast is worth a listen if you enjoyed the show), and Norman Scott's dog gets unceremoniously murdered in A Very English Scandal. Meanwhile, BoJack Horseman, one of the most unique animated shows around, continues to paint life in its messy complexity wrapped in endless quips. 'Free Churro' might have won it ("My mom died and all I got was this free churro"), if not for Attenborough's new documentary.
David Attenborough's current voyage takes on endangered species, and makes the Chimpanzee David into a Shakespearean struggle. He presents the story of politics, survival and power, and every chess move that each chimpanzee makes in the wild. Since filming ended, it's come to light that other members of his troop actually killed David in the end. You were a mighty leader, you will be missed.
Scariest "Comedy" Episode: Teddy Perkins – Atlanta
Combining comedy and horror is increasingly popular (comedies aren't just getting more horrifying, horror is even getting more comedic). Several years ago, Louie made an episode literally set in Louie's fucked up nightmares, just for the hell of it. Inside No. 9 routinely scars me. This year's episode To Have and to Hold haunts me to this day, as well as their recent live Halloween special… but more on that later. 
And yet it doesn't win. Atlanta is a show we can still barely get our head around, after two seasons. Sure, it's funny, dramatic, absurd, experimental, but Donald Glover barely lets his creative juices settle for a single episode, to the point that you can never predict what's around the corner. Teddy Perkins was a 40 minute horror movie. Glover created and portrays the titular character in a soft spoken doll-like whiteface, guiding Darius (Lakeith Stanfield) into a nightmarish trap. It's Atlanta's wildest trip yet.
Mad Experiment of the Year: Dead Line – Inside No. 9, and Bandersnatch – Black Mirror
I'd recommend you view both these episodes, before even reading about them, on iPlayer and Netflix, respectively.
Inside No 9 and Black Mirror are spiritual cousins, though it's a shame that 9 is so often viewed in the shadow of the latter. "Like Black Mirror, but funny" is its subtitle. It's very much its own beast, but it just hasn't managed to grasp the cultural consciousness by the scruff of its neck like Black Mirror has done, though it absolutely deserves to.
The horror of Inside No 9 is always at its best when it toys with its audience. Last years The Devil of Christmas' (an incredible televisual treat, especially for fans of BBCs 1970s/80s programming) gave us a twist ending that was so grim and dark because it took a step outside of its fictional reality. I still fear for actress Jessica Raine, because of this episode. Their latest episode, the Halloween live special Dead Line took this to a whole other level.
If you missed its live broadcast, you missed a hell of an event. Tackling a live show is always a fun game to play; half the audience willing them to not mess up, the other half excitedly anticipating a blunder. But Pemberton and Shearsmith are reliably always two steps ahead of us, so they gave us that blunder on purpose, and glitched out the audio a few minutes in. What then follows is 20-odd minutes of an absolutely fascinating "live haunting" of the television studio.
Reece Shearsmith live tweets from within the episode, and later on actress Stephanie Cole dies on set. It's a game they play of just how long does it take the audience to realise that it was all set up, but even once you realise, it just heightens the hysterical ingenuity. Does it match the level of live-paranoia that the infamous 1992 broadcast of Ghostwatch created? Probably not, but we live in a different television landscape, and Pemberton and Shearsmith know exactly what game they're playing, and how to push our 2018 buttons.
Hot off the presses, the latest Black Mirror came relatively out of the blue, as a one-off experiment. Netflix have a handful of titles, all kids shows, that have used this choose-your-own-adventure concept, but just like Inside No 9, you just know that Charlie Brooker doesn't half-arse a concept. Crafting a story about the nature of choice and free will, through the prism of a mental breakdown, Bandersnatch creates meta-narrative upon meta-narrative, to a mind-boggling degree. It is reminiscent of the video game The Stanley Parable from a few years ago, but this feels utterly original to television. Nobody does existential dread like Black Mirror.
Most Overhyped: The End of the F**king World
Two weird kids taking a road trip across the country and leaving a trail of blood and fear. The two leads are fantastic, the concept is bold, the direction is confident. And yet, the whole thing feels a little less than the sum of its parts. It takes a page from films like Submarine and Sightseers, but not nearly as satisfying as either of them, this show was just almost great. It's undeniable this was a hit with audiences so clearly this is an unpopular opinion, but that's the nature of overhype.
Most Underhyped: Mum
In between Lesley Manville's Academy Award nominated Hollywood career, she has quietly resided in a very understated suburban home for the past few years, in the BBC Two sitcom Mum. Next year's third series will be its last, so I implore you to catch up. On the surface it's a warm, charmingly British comedy, but the intensely reserved emotional weight that bubbles underneath its main characters becomes utterly engrossing to watch. Writer Stefan Golaszewski (Him & Her) has somehow made Cathy and Michael's (Manville and Peter Mullan) half-chats and polite smiles an excruciating exercise in restraint, that will leave you in tears.
Comments
comments