After a two year hiatus, indie group Bombay Bicycle Club have announced they will return to music this year, Getintothis' Luke Halls on why it's so important.
Bombay Bicycle Club surprised fans in 2016 when they announced they would be taking an indefinite hiatus to focus on personal projects and aspirations.
Earlier this week, the critically-acclaimed group lifted said pause, revealing they would be coming back together with new music and shows in the pipeline for 2019.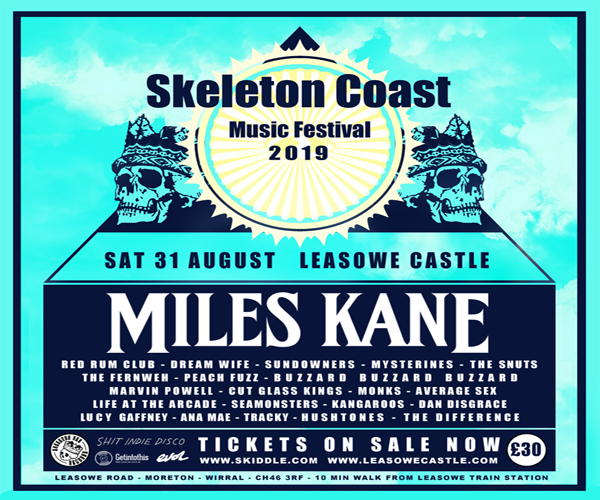 Posted across their social media platforms, the band released a statement addressing their return:
"Hello,
With a new year ahead of us, we thought now would be a good moment to five you a bit of news about what the four of us have been up to recently and what we have planned.
Since late last year we've been getting back into the swing of playing music together. We were initially a little rusty but also nostalgic playing songs that have been around since we were teenagers. More than anything it just felt great to be in the same room playing again. It made us realise what a good thing we have and has given us renewed energy and enthusiasm for the future.
The joy we were getting out of playing the old songs seemed to naturally lead onto us working on new material, so we're becoming immersed in that as we speak. Hopefully it won't be too long before we have something new for you guys to hear.
We're also planning some shows for later this year and beyond. We'll have news on that front over the coming months.
Can't wait to see you all. We've missed you.
Jack, Ed, Jamie, Suren x"
To many, including myself, Bombay Bicycle Club were a unique entity in the 10s English indie scene.
Both live and on record, the London four-piece won hearts with their never-ending drive, constantly developing their artistic persona through uncapped sonic experimentation and spellbinding live replication.
At the time of writing, their back-catalogue continues to be played by over 1.3 million Spotify listeners a month.
Every studio release the band put out was an artistic endeavour quite unlike its predecessor.
In seemingly inconceivable succession, the band frequently leapt from genre to genre, influence to influence: 2009's debut I Had the Blues But I Shook Them Loose was an adrenaline-fueled encapsulation of teenage life in London, full of raucous guitar-centric energy tapping into the likes of Dinosaur Jr.
Sound City 2019 add Shame, Blaenavon and Confidence Man in second line up announcement
Sophomore effort Flaws was a considered alt-folk release that saw the band hang up their electric guitars in a moment of quiet reflection; and 2011's A Different Kind of Fix and 2013's So Long See You Tomorrow played with electronic music, flirted with Bollywood and played heavily with sampling – all the while retaining characteristic tonality and musical motifs that have made the band so inimitable.
In 2014, the group played their supposed 'final' show at Earls Court Arena in London (also the arena's last show prior to demolition), marking an end to what had become one of the most celebrated British bands of the decade.
Everyone who went to a Bombay Bicycle Club show, including myself, will remember just how dynamic their live performances were: a multi-sensory experience that transcended anything my former teenage self had experienced at the time. Since closing up shop, there has been a personal gap that no band has since filled.
I've always seen the Bombay Bicycle Club live experience as the epitome of the group's essence. In every facet, their annual tours were always a welcoming space for their fans, but also up-and-coming musicians destined for stardom.
Opening acts over the years featured a number of particularly noteworthy names – Lianne La Havas, Rae Morris, Lucy Rose, Flyte, Peace – the list goes on and on.
This forging of a community of talent further extended to the band's live line-up. Singer/songwriter Lucy Rose regularly frequented the stage, as well as Cash+David's Liz Lawrence, Rae Morris and multi-instrumentalist Louis Bhose.
The band went all out on their final few tours, further welcoming a three-piece brass section into the mix and, at their final show, Pink Floyd's David Gilmour.
At this top end of the indie music roster, I'm yet to have experienced a similar sense of togetherness from the UK's indie music community.
As a wide-eyed teenager, it was indescribably inspiring to see so many musicians from different walks of life working so closely together, producing truly unforgettable experiences that seemed so timeless, yet so inseparable from the moment.
This is why the return of Bombay Bicycle Club fills me with such hope for the UK's top indie music. I am genuinely overjoyed to see what the band has planned for the year, and can't wait to see them return to their roots.
I've long considered Bombay Bicycle Club to rather be treated as a celebration of music itself: whilst a tint of nostalgia is more than present (perhaps overwhelmingly so) in this piece, I am certain that the band's return will be a turning point for the UK's indie community once more.
Comments
comments