As Cardiff Psych and Noise Fest announces its dates and the first wave of acts Getintothis' Josh McMahon has all the details of this bank holiday weekender.
Cardiff Psych & Noise Fest will return in 2019 for the May 24-26 bank holiday weekend, taking place across three venues on the legendary Womanby Street in Cardiff.
The weekend festival is aimed at those of us that are dying for a shot of all things psych, noisy, experimental and generally weird It boasts a whole host of scuzzy, mind warping acts on offer.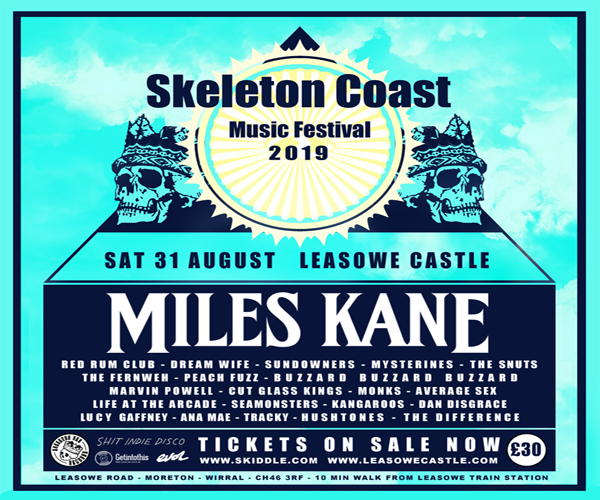 If you're looking for soft-pop, we doubt you'll find it here, however, If you want to taste some new, shocking, fresh music, this my friend, is the indulgence for you.
Islet will be taking to the stage to provide some mucky-goodness alongside other great left-field artists such as the wonderfully electro-gressive Teeth of the Sea, genre-straddling Kapil Seshasayee, the dissonantly exhilarating USA Nails, Raketkanon, Gallops, Sly & the Family Drone, Ill, El Goodo and Sendelica.
With such a wide variety in the line-up there is sure to be something to tantalise your hardened, noise-craving musical tastebuds.
Vryll Society vocalist Michael Ellis parts ways with band as tour is cancelled – exclusive
In all there are slated to be 60+ acts taking over the three venues being used for the festival – The Moon, Clwb Ifor Bach and Tiny Rebel.
There will be an additional warm up event on Thursday,  May 23, as yet to be announced.
Tickets start at £15 for a day ticket and £25 for a weekend ticket They go on sale at the end of January.
The full current line up includes:
20 Guilders, Aaronson, Bad Vibes, Blue Amber, Borrowed Atlas, Bruxa Maria, Conformist, Conqueror Worm, Dead Arms, El Goodo, Free Beer & Bacon, Fuzz Club, Gallops, Gravves, Ill, Infinity Forms Of Yellow Remember, Islet, Jaxson Payne, Kapil Seshasayee, Kaywoo, Lacertilia, Lunar Bird, Made Of Teeth, Massa Circles, Meadows, Moe, Mute Group(S), News From Nowhere, Obey Cobra, Olanza, Perfect Body, Raketkanon, Ratatosk, Sendelica, Slumb Party, Sly & The Family Drone, Smudges, Stereocilia, Teeth Of The Sea, Telgate, This Is Wreckage, Twin Siblings, USA Nails, Vieon, Wylderness
Comments
comments