After last years spectacular anniversary shows Ben Ottewell returns for another solo jaunt, Getintothis' Howard Doupé catches the Gomez frontman.
Not a man to be kept down, one may bask in the successful celebratory of former achievements for years. Not the gravelly baritone of Ben Ottewell.
We caught the sold-out 20-year anniversary 'hometown' gig of Gomez' debut Bring It On last year, along with Ottewell's solo show downstairs at the O2 Academy 2 in 2017, now he's back at it again.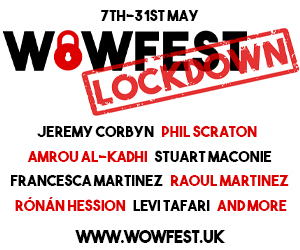 This time around, the current annual hat-trick is complete with a stop off at the out of town but hugely impressive Ullet Road Unitarian Church. It's a curveball move for this troubadour, but one that may just prove to be his live Liverpool masterstroke.
With no new release to promote, this date feels like a celebration of the live music experience, rather than the eternal cogs of promotion grinding along. His O2 show was a quiet, midweek affair, poorly attended and a little underwhelming. This is a Saturday night, muso-appreciating Toxteth…
Walking up to the church, it looks barely alive tonight. The outside lights are down, there's hardly a flicker where you'd expect light bleeding through the stained-glass windows on to the pavements below. It's only once we're through the gates does it reveal the clues- it's evident the side door is the way in tonight.
Bypassing the main entrance, we are guided into the side room of the church. Now, this is a first. Stepping in, you could be mistaken in thinking that the SATNAV's done a fast one and has delivered you to Rufford Old Hall. This room is staggeringly beautiful. There's wood parquet flooring, fine oak beans, wooden panelling and stone pillars. Not forgetting the finest mock Tudor walls you'll ever see.
Dig Vinyl – look inside the Bold Street record shop's new Liverpool home
Casting an eye upwards there're fairy lights stretching side to side, complimenting the hanging mock-candle lights that adorn the walls around the hall.  There's a keen and attentive crowd that's watered and sat by the time Tom Blackwell takes to the stage. Delivering a set of bluesy- drawn tunes.
He rattles through some of his finest at break-neck speed, conscious of how long he's got to play. Singing tales of souls forlorn and restless hearts, with echoes of early John Smith if filtered through a road worn highway rather than an English orchard. it's a fine start to this evening's proceedings.
There's still a steady flow of people arriving and the noise slightly bubbles up from the pin-drop silence Blackwell enjoyed. In no time at all Michael Blyth & The Wild Braid take to the stage, as a five-piece.  They've roped in the help of some label mates too. Blyth is a bluesy-singer who's found his voice and only months ago released his debut in his 60's. No easy feat in this game.
Blyth is a man with years of wisdom to share, the gravelly tone of his voice invites you in the way a worldly traveller may seek solace in a travelling companion.  His band offers solid musicianship that seems to envelop and pirouette around these stories, sincerely offered up by this road-worn Chris Rea. The masterful sound on his debut Indigo Train is perfectly captured live. Each song giving Blyth the space he needs to maximum effect.
He makes quite the songwriting partnership with bandmate Pete Wilkinson, evident as the tunes become bolder and more direct as the set progresses. With a cover of Warren Zevon's Keep Me In Your Heart For A While slotted in, seamlessly born from the same musical place as his own material.
Despite finishing with a track that is left fighting with the ambient noise at the back of the hall, overall, it's a calming experience. Blyth goes down like a decent glass of a single blend. There's a warm glow emanating through the room.
Festival Guide 2019: the UK and North West's best music festivals and major events
In what's rapidly become a packed out room there's a celebratory buzz in the air for Ottewell. It's as if all those who forgot to go to that Academy show have bothered to use their Xmas calendars this year. So much so, before he's even squared up to the mic we're pondering over the decision to not use the main chapel for tonight's gig.
Ottewell starts with two tracks from 2017's A Man Apart. Steal Away and Man Apart are delivered on a half-sized guitar, looking strangely like a child's in Ottewell's lumberjack-sized frame.
The room is instantaneously enthralled- the only noise remotely audible coming from the rustling of empty bottles by the clearing bar staff.  Ottewell mentions that in his other role fronting that Mercury Prize-winning group he's the odd one out- a Derbian within a band of Sandgrounders. Joining an already tight group was a daunting task. One that thankfully motivated Ottewell enough to pen a few himself. His first contribution to the Gomez arsenal follows, Free To Run. Not a bad start to any songwriting career.
The Gomez tunes come a-plenty throughout the set including a fragile Rhythm and Blues Alibi and their debut single 78 Stone Wobble which in its stripped back incarnation oozes of the original magic.
A brief mention of the yoga class Ottewell observed earlier on today in the same space follows with his own current physical challenge of the contorting stretch to the floor for his glass. Once maneuvered, said glass is raised to drinking in church. The congregation willingly approves of the statement.
As the set flows we're treated to Blackbird from his debut solo album Shapes and Shadows. Surprisingly it's not the other shared namesake tune that's familiar to these parts. As some sort on consolation, we're given a line of Penny Lane. Sounds pretty good with that voice too, maybe Ottewell should consider adding it.
It's Chicago from the same album that brings the room down into silence once more, the first real pin-drop moment of the night. A classic re-visiting of a The Temptations' The Way You Do The Things You Do, once covered by Gomez lets the mood lighten as the room resumes a little hustle n bustle at the back. It's all good, all still on course here.
As the main set comes to a close, in danger of a non-encore a refilled glass hurriedly makes its way to Ottewell's hand. 'I'm only obliged to play for the drink' laughs Ottewell. There's no surprise the final track of the night is the magnificent Tijuana Lady.  As the final applause rings out it's fair to say Ottewell took and owned that masterful stroke. In a venue he's sure of returning to he's proved there's plenty of love left in Liverpool.
Images by Getintothis' Marty Saleh
Comments
comments