Vinyl Staircase played Sound's underground lair and Getintothis' Paul Fitzgerald found it an altogether marvellous experience.
The last time we came across Vinyl Staircase was when, as tour support for Annabel Allum last October, they appeared at Studio 2.
They were undoubtedly the stars of the show that night.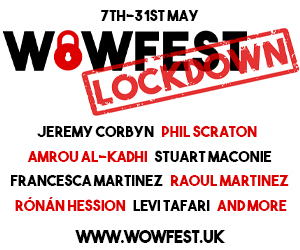 Fresh, full flavoured, energetic pop songs ticking all the right boxes. The real highlight of the evening.
Allum was somewhat lacking sparkle that night, and the earlier support Courting were impressive if only for their abject lack of anything even remotely impressive to sing, play or say.
They made me want to start smoking again.
Just to give me an excuse to go and stand outside in the freezing cold. I hoped we wouldn't cross paths again. Sadly, that was not to be.
With a summer of festivals ahead of them, and a string of support slots with the likes of Wolf Alice and Sunflower Bean behind them, Dorking's Vinyl Staircase are hitting their stride in a most hitty and strident way.
Here on their first headline tour, they've brought their fat 'n' fuzzy sound to Sound, and it was pretty sound, to be fair.
Their's is a heady, frenetic amalgam of all the good stuff.
Coloured by the post punk of Talking Heads and The Cure, with glossy, overdriven notes of heavy end Spiritualized, and the chunky storm of The Lemonheads, all laced with the jangle of Orange Juice, it all makes for a pretty impressive set.
It works so well because of the sheer simplicity of it all, really.
These are just great big tunes, played really well and with a hook on every corner. Unlike so many these days, they pay attention to their lyrics, thinking things out rather than just coughing them out as if by mistake, like some sort of add-on.
Feel It is a snarling, twisted pulser, which jumps from fuzzed-up darkness to anthemic chorus with bewildering ease, there's high drama in the vocal, and a hint of joyous threat to the whole thing. It really is quite the thing.
New single On The Radio was another highlight moment.
Urgent, energetic and insistent, and built round huge choppy guitars, it's heavy 70s influence worn proudly and passionately, and quite rightly so. And catchy. As catchy as you like, and we do like it catchy, don't we?
Vinyl Staircase – and we're still in two minds about that name – understand catchy like it's going out of fashion. Which of course, it isn't. This is pop music. Joyous, celebratory pop music. Done well. Done really well.
Last I Heard, all sweet Johnny Marr jangle and Robert Smith vocal, floats in on a summer breeze, before picking up into another almost natural chorus.
It feels like this song has been around for ever. Like it just grew somewhere, and Dorking's finest just plucked it for us. Harmonies, a great melody, leading to a set ending wig out.
Music this good wins people over with such ease, and the Sound crowd didn't let them down. Arms raised in the unison of the moment,  clearly loving every minute. And who could blame them. Vinyl Staircase are the best thing to come out of Dorking since the A25. Or Laurence Olivier.
After The Sway had begun the evening with swaggering style, holding the room with a Scouse flavoured (red cabbage, not beetroot), and all too short set of impressive Rizla rock, the time had come for the new improved Courting.
Nope. Neither new nor improved.
We're actually starting to believe that the chaotic nature of the 'songs', the endless in-jokes and constant pleading for crowd participation is the act. It's the point. Because they still don't have any songs. Maybe this meandering sonic mess they create is the joke, and we just don't get it? Maybe.
But frankly, we couldn't be arsed enough to find out. We went outside half way through the set and pretended to be smokers.
We noticed the singer hung around to catch Vinyl Staircase's set. He might've learnt something.
Images by Getintothis' Courtney Hughes
Comments
comments